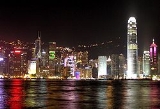 Skyline
A
skyline
is the overall or partial view of a
city's
City
A city is a relatively large and permanent settlement. Although there is no agreement on how a city is distinguished from a town within general English language meanings, many cities have a particular administrative, legal, or historical status based on local law.For example, in the U.S...
tall buildings and structures consisting of many skyscrapers in front of the sky in the background. It can also be described as the artificial
horizon
Horizon
The horizon is the apparent line that separates earth from sky, the line that divides all visible directions into two categories: those that intersect the Earth's surface, and those that do not. At many locations, the true horizon is obscured by trees, buildings, mountains, etc., and the resulting...
that a city's overall structure creates. Skylines serve as a kind of
fingerprint
Fingerprint
A fingerprint in its narrow sense is an impression left by the friction ridges of a human finger. In a wider use of the term, fingerprints are the traces of an impression from the friction ridges of any part of a human hand. A print from the foot can also leave an impression of friction ridges...
of a city, as no two skylines are alike. For this reason news and sports programs, television shows, and movies often display the skyline of a city to set location.
The Sky Line of New York City
was a new term in 1896, when it was the title of a color lithograph by Charles Graham for the color supplement of the
New-York Journal
.
Paul D. Spreiregen,
FAIA
FAIA
Fellow of the American Institute of Architects is a postnomial, designating an individual who has been named a fellow of the American Institute of Architects...
, has called a skyline "a physical representation [of a city's] facts of life ... a potential work of art ... its collective vista."
In general, larger cities have broader and taller skylines, though lower density cities often have smaller skylines than expected for city size. Taller buildings are found where either land value or desire for visibility is higher, and the tallest buildings in a city are usually office buildings. Because of this, the skyline of a city can be seen as symbolic of the city's influence and economy.
External links