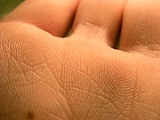 Fingerprint
A
fingerprint
in its narrow sense is an impression left by the friction ridges of a human
finger
Finger
A finger is a limb of the human body and a type of digit, an organ of manipulation and sensation found in the hands of humans and other primates....
. In a wider use of the term, fingerprints are the traces of an impression from the friction ridges of any part of a human
hand
Hand
A hand is a prehensile, multi-fingered extremity located at the end of an arm or forelimb of primates such as humans, chimpanzees, monkeys, and lemurs...
. A print from the
foot
Foot
The foot is an anatomical structure found in many vertebrates. It is the terminal portion of a limb which bears weight and allows locomotion. In many animals with feet, the foot is a separate organ at the terminal part of the leg made up of one or more segments or bones, generally including claws...
can also leave an impression of friction ridges. A friction ridge is a raised portion of the
epidermis
on the fingers and
toe
Toe
Toes are the digits of the foot of a tetrapod. Animal species such as cats that walk on their toes are described as being digitigrade. Humans, and other animals that walk on the soles of their feet, are described as being plantigrade; unguligrade animals are those that walk on hooves at the tips of...
s (digits), the palm of the hand or the
sole
Sole (foot)
The sole is the bottom of the foot.In humans the sole of the foot is anatomically referred to as the plantar aspect. The equivalent surface in ungulates is the hoof.- Human sole :...
of the foot, consisting of one or more connected ridge units of friction ridge skin.
A
fingerprint
in its narrow sense is an impression left by the friction ridges of a human
finger
Finger
A finger is a limb of the human body and a type of digit, an organ of manipulation and sensation found in the hands of humans and other primates....
. In a wider use of the term, fingerprints are the traces of an impression from the friction ridges of any part of a human
hand
Hand
A hand is a prehensile, multi-fingered extremity located at the end of an arm or forelimb of primates such as humans, chimpanzees, monkeys, and lemurs...
. A print from the
foot
Foot
The foot is an anatomical structure found in many vertebrates. It is the terminal portion of a limb which bears weight and allows locomotion. In many animals with feet, the foot is a separate organ at the terminal part of the leg made up of one or more segments or bones, generally including claws...
can also leave an impression of friction ridges. A friction ridge is a raised portion of the
epidermis
on the fingers and
toe
Toe
Toes are the digits of the foot of a tetrapod. Animal species such as cats that walk on their toes are described as being digitigrade. Humans, and other animals that walk on the soles of their feet, are described as being plantigrade; unguligrade animals are those that walk on hooves at the tips of...
s (digits), the palm of the hand or the
sole
Sole (foot)
The sole is the bottom of the foot.In humans the sole of the foot is anatomically referred to as the plantar aspect. The equivalent surface in ungulates is the hoof.- Human sole :...
of the foot, consisting of one or more connected ridge units of friction ridge skin. These are sometimes known as "epidermal ridges" which are caused by the underlying interface between the dermal papillae of the dermis and the interpapillary (rete) pegs of the epidermis. These epidermal ridges serve to amplify
vibration
Vibration
Vibration refers to mechanical oscillations about an equilibrium point. The oscillations may be periodic such as the motion of a pendulum or random such as the movement of a tire on a gravel road.Vibration is occasionally "desirable"...
s triggered, for example, when fingertips brush across an uneven surface, better transmitting the signals to
sensory nerve
Sensory nerve
Sensory nerves are nerves that receive sensory stimuli, such as how something feels and if it is painful, smooth, rough, etc.They are made up of nerve fibers, called sensory fibers .Sensory neurons are neurons that are activated by sensory input Sensory nerves are nerves that receive sensory...
s involved in fine texture perception. These ridges also assist in gripping rough surfaces, as well as smooth wet surfaces.
Impressions of fingerprints may be left behind on a surface by the natural secretions of sweat from the eccrine glands that are present in friction ridge skin, or they may be made by ink or other substances transferred from the peaks of friction ridges on the skin to a relatively smooth surface such as a fingerprint card. Fingerprint records normally contain impressions from the pad on the last joint of fingers and thumbs, although fingerprint cards also typically record portions of lower joint areas of the fingers.
For identification
Fingerprint identification, known as dactyloscopy, or hand print identification, is the process of comparing two instances of friction ridge skin impressions (see
Minutiae
Minutiae
Minutiae are, in everyday English, minor or incidental details.In biometrics and forensic science, minutiae are major features of a fingerprint, using which comparisons of one print with another can be made...
), from human fingers, the palm of the hand or even toes, to determine whether these impressions could have come from the same individual. The flexibility of friction ridge skin means that no two finger or palm prints are ever exactly alike in every detail; even two impressions recorded immediately after each other from the same hand. Fingerprint identification, also referred to as individualization, involves an expert, or an
expert computer system
Expert system
In artificial intelligence, an expert system is a computer system that emulates the decision-making ability of a human expert. Expert systems are designed to solve complex problems by reasoning about knowledge, like an expert, and not by following the procedure of a developer as is the case in...
operating under threshold scoring rules, determining whether two friction ridge impressions are likely to have originated from the same finger or palm (or toe or sole).
An intentional recording of friction ridges is usually made with black printer's
ink
Ink
Ink is a liquid or paste that contains pigments and/or dyes and is used to color a surface to produce an image, text, or design. Ink is used for drawing and/or writing with a pen, brush, or quill...
rolled across a contrasting white background, typically a white card. Friction ridges can also be recorded digitally using a technique called Live Scan. A "latent print" is the chance recording of friction ridges deposited on the surface of an object or a wall. Latent prints are invisible to the naked eye, whereas "patent prints" or "plastic prints" are viewable with the un-aided eye. Latent prints are often fragmentary and require chemical methods,
powder
Fingerprint powder
Fingerprint powders are fine powders used in dusting for fingerprints by crime scene investigators and others in law enforcement. The process of dusting for fingerprints involves various methods intended to get the particles of the powder to adhere to residue left by friction ridge skin on the...
, or alternative light sources in order to be made clear. Sometimes an ordinary bright flashlight will make a latent print visible.
When friction ridges come into contact with a surface that will take a print, material that is on the friction ridges such as perspiration, oil, grease, ink or blood, will be transferred to the surface. Factors which affect the quality of friction ridge impressions are numerous. Pliability of the skin, deposition pressure, slippage, the material from which the surface is made, the roughness of the surface and the substance deposited are just some of the various factors which can cause a latent print to appear differently from any known recording of the same friction ridges. Indeed, the conditions surrounding every instance of friction ridge deposition are unique and never duplicated. For these reasons, fingerprint examiners are required to undergo extensive training. The scientific study of fingerprints is called
dermatoglyphics
Dermatoglyphics
Dermatoglyphics is the scientific study of fingerprints. The term was coined by Dr. Harold Cummins, the father of American fingerprint analysis, even though the process of fingerprint identification had already been in use for several hundred years. All primates have ridged skin...
.
Exemplar
Exemplar prints, or known prints, is the name given to fingerprints deliberately collected from a subject, whether for purposes of enrollment in a system or when under arrest for a suspected criminal offense. During criminal arrests, a set of exemplar prints will normally include one print taken from each finger that has been rolled from one edge of the nail to the other, plain (or slap) impressions of each of the four fingers of each hand, and plain impressions of each thumb. Exemplar prints can be collected using Live Scan or by using ink on paper cards.
Latent
Although the word latent means hidden or invisible, in modern usage for forensic science the term latent prints means any chance or accidental impression left by friction ridge skin on a surface, regardless of whether it is visible or invisible at the time of deposition. Electronic, chemical and physical processing techniques permit visualization of invisible latent print residues whether they are from natural sweat on the skin or from a contaminant such as motor oil, blood, ink, paint or some other form of dirt. The different types of fingerprint patterns, such as arch, loop and whorl, will be described below.
Latent prints may exhibit only a small portion of the surface of a finger and this may be smudged, distorted, overlapped by other prints from the same or from different individuals, or any or all of these in combination. For this reason, latent prints usually present an "inevitable source of error in making comparisons," as they generally "contain less clarity, less content, and less undistorted information than a fingerprint taken under controlled conditions, and much, much less detail compared to the actual patterns of ridges and grooves of a finger."
Patent
Patent prints are chance friction ridge impressions which are obvious to the human eye and which have been caused by the transfer of foreign material from a finger onto a surface. Some obvious examples would be impressions from flour and wet clay. Because they are already visible and have no need of enhancement they are generally photographed rather than being lifted in the way that latent prints are. An attempt to preserve the actual print is always made for later presentation in court, and there are many techniques used to do this. Patent prints can be left on a surface by materials such as ink, dirt, or blood.
Plastic
A plastic print is a friction ridge impression left in a material that retains the shape of the ridge detail. Although very few criminals would be careless enough to leave their prints in a lump of wet clay, this would make a perfect plastic print. Commonly encountered examples are melted candle wax, putty removed from the perimeter of window panes and thick grease deposits on car parts. Such prints are already visible and need no enhancement, but investigators must not overlook the potential that invisible latent prints deposited by accomplices may also be on such surfaces. After photographically recording such prints, attempts should be made to develop other non-plastic impressions deposited from sweat or other contaminants.
Electronic recording
There has been a newspaper report of a man selling stolen watches sending images of them on a
mobile phone
Mobile phone
A mobile phone is a device which can make and receive telephone calls over a radio link whilst moving around a wide geographic area. It does so by connecting to a cellular network provided by a mobile network operator...
, and those images included parts of his hands in enough detail for police to be able to identify fingerprint patterns.
Classifying
Before computerisation replaced manual filing systems in large fingerprint operations, manual fingerprint classification systems were used to categorize fingerprints based on general ridge formations (such as the presence or absence of circular patterns on various fingers), thus permitting filing and retrieval of paper records in large collections based on friction ridge patterns alone. The most popular ten-print classification systems include the Roscher system, the
Juan Vucetich
Juan Vucetich
Juan Vucetich was a Croatian-born Argentine anthropologist and police official who pioneered the use of fingerprinting.-Biography:...
system, and the
Henry Classification System
Henry Classification System
The Henry Classification System is a long-standing method by which fingerprints are sorted by physiological characteristics for one-to-many searching. Developed by Sir Edward Henry in the late 19th century for criminal investigations in British India, it was the basis of modern day AFIS...
. Of these systems, the Roscher system was developed in Germany and implemented in both Germany and Japan, the Vucetich system (developed by a Croatian-born Buenos Aires Police Officer) was developed in
Argentina
Argentina
Argentina , officially the Argentine Republic , is the second largest country in South America by land area, after Brazil. It is constituted as a federation of 23 provinces and an autonomous city, Buenos Aires...
and implemented throughout South America, and the Henry system was developed in India and implemented in most English-speaking countries.
In the Henry system of classification, there are three basic fingerprint patterns: loop, whorl and arch, which constitute 60–65%, 30–35% and 5% of all fingerprints respectively. There are also more complex classification systems that break down patterns even further, into plain arches or tented arches, and into loops that may be radial or ulnar, depending on the side of the hand toward which the tail points. Ulnar loops start on the pinky-side of the finger, the side closer to the
ulna
Ulna
The ulna is one of the two long bones in the forearm, the other being the radius. It is prismatic in form and runs parallel to the radius, which is shorter and smaller. In anatomical position The ulna is one of the two long bones in the forearm, the other being the radius. It is prismatic in form...
, the lower arm bone. Radial loops start on the thumb-side of the finger, the side closer to the
radius
Radius (bone)
The radius is one of the two large bones of the forearm, the other being the ulna. It extends from the lateral side of the elbow to the thumb side of the wrist and runs parallel to the ulna, which exceeds it in length and size. It is a long bone, prism-shaped and slightly curved longitudinally...
. Whorls may also have sub-group classifications including plain whorls, accidental whorls, double loop whorls, peacock's eye, composite, and central pocket loop whorls.
Other common fingerprint patterns include the tented arch, the plain arch, and the central pocket loop.
The system used by most experts, although complex, is similar to the Henry System of Classification. It consists of five fractions, in which
R
stands for right,
L
for left,
i
for index finger,
m
for middle finger,
t
for thumb,
r
for ring finger and
p
(pinky) for little finger. The fractions are as follows:
Ri/Rt + Rr/Rm + Lt/Rp + Lm/Li + Lp/Lr.
The numbers assigned to each print are based on whether or not they are whorls. A whorl in the first fraction is given a 16, the second an 8, the third a 4, the fourth a 2, and 0 to the last fraction. Arches and loops are assingned values of 0. Lastly, the numbers in the numerator and denominator are added up, using the scheme:
(Ri + Rr + Lt + Lm + Lp)/(Rt + Rm + Rp + Li + Lr)
and a 1 is added to both top and bottom, to exclude any possibility of division by zero. For example, if the right ring finger and the left index finger have whorls, the fractions would look like this:
0/0 + 8/0 + 0/0 + 0/2 + 0/0 + 1/1, and the calculation: (0 + 8 + 0 + 0 + 0 + 1)/(0 + 0 + 0 + 2 + 0 + 1) = 9/3 = 3.
Using this system reduces the number of prints that the print in question needs to be compared to. For example, the above set of prints would only need to be compared to other sets of fingerprints with a value of 3.
Footprints
Friction ridge skin present on the soles of the feet and toes (plantar surfaces) is as unique in its ridge detail as are the fingers and palms (palmar surfaces). When recovered at crime scenes or on items of evidence, sole and toe impressions can be used in the same manner as finger and palm prints to effect identifications. Footprint (toe and sole friction ridge skin) evidence has been admitted in courts in the United States since 1934.
The footprints of infants, along with the thumb or index finger prints of mothers, are still commonly recorded in hospitals to assist in verifying the identity of infants. Often, the only identifiable ridge detail that can be seen on a baby's foot is from the large toe or adjacent to the large toe.
It is not uncommon for military records of flight personnel to include bare foot inked impressions. Friction ridge skin protected inside flight boots tends to survive the trauma of a plane crash (and accompanying fire) better than fingers. Even though the US
Armed Forces DNA Identification Laboratory
Armed Forces DNA Identification Laboratory
The Armed Forces DNA Identification Laboratory is a forensics laboratory specializing in DNA profiling run by the United States Armed Forces and located in Rockville, Maryland....
(AFDIL), as of 2010, stored refrigerated DNA samples from all active duty and reserve personnel, almost all casualty identifications are effected using fingerprints from military ID card records (live scan fingerprints are recorded at the time such cards are issued). When friction ridge skin is not available from military personnel's remains, DNA and dental records are used to confirm identity.
Livescan devices
Fingerprint image acquisition is considered to be the most critical step in an automated
fingerprint authentication
Fingerprint authentication
fingerprint verification or fingerprint authentication refers to the automated method of verifying a match between two human fingerprints. Fingerprints are one of many forms of biometrics used to identify individuals and verify their identity...
system, as it determines the final fingerprint image quality, which has a drastic effect on the overall system performance. There are different types of fingerprint readers on the market, but the basic idea behind each is to measure the physical difference between ridges and valleys.
All the proposed methods can be grouped into two major families: solid-state fingerprint readers and optical fingerprint readers. The procedure for capturing a fingerprint using a sensor consists of rolling or touching with the finger onto a sensing area, which according to the physical principle in use (optical, ultrasonic, capacitive or thermal) captures the difference between valleys and ridges. When a finger touches or rolls onto a surface, the elastic skin deforms. The quantity and direction of the pressure applied by the user, the skin conditions and the projection of an irregular 3D object (the finger) onto a 2D flat plane introduce distortions, noise and inconsistencies in the captured fingerprint image. These problems result in inconsistent, irreproducible and non-uniform irregularities in the image. During each acquisition, therefore, the results of the imaging are different and uncontrollable. The representation of the same fingerprint changes every time the finger is placed on the sensor plate, increasing the complexity of any attempt to match fingerprints, impairing the system performance and consequently, limiting the widespread use of this biometric technology.
In order to overcome these problems, as of 2010, non-contact or touchless 3D fingerprint scanners have been developed . Acquiring detailed 3D information, 3D fingerprint scanners take a digital approach to the analog process of pressing or rolling the finger. By modelling the distance between neighboring points, the fingerprint can be imaged at a resolution high enough to record all the necessary detail.
Latent detection
Since the late nineteenth century, fingerprint identification methods have been used by police agencies around the world to identify suspected criminals as well as the victims of crime. The basis of the traditional fingerprinting technique is simple. The skin on the palmar surface of the hands and feet forms ridges, so-called papillary ridges, in patterns that are unique to each individual and which do not change over time. Even identical twins (who share their
DNA
DNA
Deoxyribonucleic acid is a nucleic acid that contains the genetic instructions used in the development and functioning of all known living organisms . The DNA segments that carry this genetic information are called genes, but other DNA sequences have structural purposes, or are involved in...
) do not have identical fingerprints. The best way to render latent fingerprints visible, so that they can be photographed, can be complex and may depend, for example, on the type of surfaces on which they have been left. It is generally necessary to use a 'developer', usually a powder or chemical reagent, to produce a high degree of visual contrast between the ridge patterns and the surface on which a fingerprint has been deposited.
Developing agents depend on the presence of organic materials or inorganic salts for their effectiveness, although the water deposited may also take a key role. Fingerprints are typically formed from the aqueous-based secretions of the eccrine glands of the fingers and palms with additional material from sebaceous glands primarily from the forehead. This latter contamination results from the common human behaviors of touching the face and hair. The resulting latent fingerprints consist usually of a substantial proportion of water with small traces of amino acids and chlorides mixed with a fatty, sebaceous component which contains a number of fatty acids and triglycerides. Detection of a small proportion of reactive organic substances such as urea and amino acids is far from easy.
Fingerprints at a crime scene may be detected by simple powders, or by chemicals applied
in situ
. More complex techniques, usually involving chemicals, can be applied in specialist laboratories to appropriate articles removed from a crime scene. With advances in these more sophisticated techniques, some of the more advanced crime scene investigation services from around the world were, as of 2010, reporting that 50% or more of the fingerprints recovered from a crime scene had been identified as a result of laboratory-based techniques.
Laboratory techniques
Although there are hundreds of reported techniques for fingerprint detection, many of these are only of academic interest and there are only around 20 really effective methods which are currently in use in the more advanced fingerprint laboratories around the world. Some of these techniques, such as
ninhydrin
Ninhydrin
Ninhydrin is a chemical used to detect ammonia or primary and secondary amines. When reacting with these free amines, a deep blue or purple color known as Ruhemann's purple is produced...
,
diazafluorenone
1,8-Diazafluoren-9-one
1,8-Diazafluoren-9-one, also known as DFO, is a chemical that is used to find fingerprints on porous surfaces. It makes fingerprints glow when they are lit by blue-green light....
and
vacuum metal deposition
Evaporation (deposition)
Evaporation is a common method of thin film deposition. The source material is evaporated in a vacuum. The vacuum allows vapor particles to travel directly to the target object , where they condense back to a solid state...
, show great sensitivity and are used operationally. Some fingerprint reagents are specific, for example ninhydrin or diazafluorenone reacting with amino acids. Others such as
ethyl cyanoacrylate
Ethyl cyanoacrylate
Ethyl cyanoacrylate , a cyanoacrylate ester, is an ethyl ester of 2-cyano-2-propenoic acid. It is a colorless liquid with low viscosity. It is the main component of cyanoacrylate glues and can be encountered under many trade names. Super glue and Krazy glue are believed to be virtually 100% ECA...
polymerisation, work apparently by water-based catalysis and polymer growth. Vacuum metal deposition using gold and zinc has been shown to be non-specific, but can detect fat layers as thin as one molecule. More mundane methods, such as the application of fine powders, work by adhesion to sebaceous deposits and possibly aqueous deposits in the case of fresh fingerprints. The aqueous component of a fingerprint, whilst initially sometimes making up over 90% of the weight of the fingerprint, can evaporate quite quickly and may have mostly gone after 24 hours. Following work on the use of argon ion lasers for fingerprint detection, a wide range of fluorescence techniques have been introduced, primarily for the enhancement of chemically-developed fingerprints; the inherent fluorescence of some latent fingerprints may also be detected. The most comprehensive manual of the operational methods of fingerprint enhancement is published by the UK Home Office Scientific Development Branch and is used widely around the world.
Research
The International Fingerprint Research Group (IFRG) which meets biennially, consists of members of the leading fingerprint research groups from Europe, the US, Canada, Australia and Israel and leads the way in the development, assessment and implementation of new techniques for operational fingerprint detection.
One problem for the early twenty-first century is the fact that the organic component of any deposited material is readily destroyed by heat, such as occurs when a gun is fired or a bomb is detonated, when the temperature may reach as high as 500°C. Encouragingly, however, the non-volatile inorganic component of eccrine secretion has been shown to remain intact even when exposed to temperatures as high as 600°C.
A technique has been developed that enables fingerprints to be visualised on metallic and electrically conductive surfaces without the need to develop the prints first. This technique involves the use of an instrument called a scanning Kelvin probe (SKP), which measures the voltage, or electrical potential, at pre-set intervals over the surface of an object on which a fingerprint may have been deposited. These measurements can then be mapped to produce an image of the fingerprint. A higher resolution image can be obtained by increasing the number of points sampled, but at the expense of the time taken for the process. A sampling frequency of 20 points per mm is high enough to visualise a fingerprint in sufficient detail for identification purposes and produces a voltage map in 2–3 hours. As of 2010, this technique had been shown to work effectively on a wide range of forensically important metal surfaces including iron, steel and aluminium. While initial experiments were performed on flat surfaces, the technique has been further developed to cope with irregular or curved surfaces, such as the warped cylindrical surface of fired cartridge cases. Research during 2010 at
Swansea University
Swansea University
Swansea University is a university located in Swansea, Wales, United Kingdom. Swansea University was chartered as University College of Swansea in 1920, as the fourth college of the University of Wales. In 1996, it changed its name to the University of Wales Swansea following structural changes...
has found that physically removing a fingerprint from a metal surface, for example by rubbing with a tissue, does not necessarily result in the loss of all fingerprint information from that surface. The reason for this is that the differences in potential that are the basis of the visualisation are caused by the interaction of inorganic salts in the fingerprint deposit and the metal surface and begin to occur as soon as the finger comes into contact with the metal, resulting in the formation of metal-ion complexes that cannot easily be removed.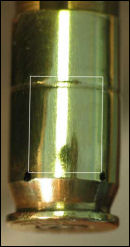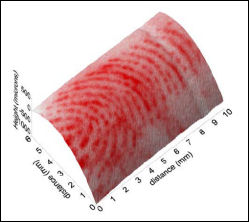 Another problem for the early twenty-first century is that during crime scene investigations, a decision has to be made at an early stage whether to attempt to retrieve fingerprints through the use of developers or whether to swab surfaces in an attempt to salvage material for DNA profiling. The two processes are mutually incompatible, as fingerprint developers destroy material that could potentially be used for DNA analysis, and swabbing is likely to make fingerprint identification impossible.
The application of the new scanning Kelvin probe (SKP) fingerprinting technique, which makes no physical contact with the fingerprint and does not require the use of developers, has the potential to allow fingerprints to be recorded whilst still leaving intact material that could subsequently be subjected to DNA analysis. A forensically usable prototype was under development at Swansea University during 2010, in research that was generating significant interest from the British
Home Office
Home Office
The Home Office is the United Kingdom government department responsible for immigration control, security, and order. As such it is responsible for the police, UK Border Agency, and the Security Service . It is also in charge of government policy on security-related issues such as drugs,...
and a number of different police forces across the UK, as well as internationally. The hope is that this instrument could eventually be manufactured in sufficiently large numbers to be widely used by forensic teams worldwide.
Disappearance of children's latent prints
In 1995, researchers at the
Oak Ridge National Laboratory
Oak Ridge National Laboratory
Oak Ridge National Laboratory is a multiprogram science and technology national laboratory managed for the United States Department of Energy by UT-Battelle. ORNL is the DOE's largest science and energy laboratory. ORNL is located in Oak Ridge, Tennessee, near Knoxville...
, at the instigation of Detective Art Bohanan of the Knoxville Police Department, discovered that children's fingerprints are considerably more short-lived than adult fingerprints. The rapid disappearance of children's fingerprints was attributed to a lack of the more waxy oils that become present at the onset of puberty. The lighter fatty acids of children's fingerprints evaporate within a few hours. As of 2010, researchers at Oak Ridge National Laboratory are investigating techniques to capture these lost fingerprints.
Detection of drug use
The secretions, skin oils and dead cells in a human fingerprint contain residues of various chemicals and their
metabolite
Metabolite
Metabolites are the intermediates and products of metabolism. The term metabolite is usually restricted to small molecules. A primary metabolite is directly involved in normal growth, development, and reproduction. Alcohol is an example of a primary metabolite produced in large-scale by industrial...
s present in the body. These can be detected and used for forensic purposes. For example, the fingerprints of
tobacco smokers
Tobacco smoking
Tobacco smoking is the practice where tobacco is burned and the resulting smoke is inhaled. The practice may have begun as early as 5000–3000 BCE. Tobacco was introduced to Eurasia in the late 16th century where it followed common trade routes...
contain traces of
cotinine
Cotinine
Cotinine is an alkaloid found in tobacco and is also a metabolite of nicotine. The word "cotinine" is an anagram of "nicotine". Cotinine is used as a biomarker for exposure to tobacco smoke and has also been sold as an antidepressant under the brand name Scotine.Similarly to nicotine, cotinine...
, a
nicotine
Nicotine
Nicotine is an alkaloid found in the nightshade family of plants that constitutes approximately 0.6–3.0% of the dry weight of tobacco, with biosynthesis taking place in the roots and accumulation occurring in the leaves...
metabolite; they also contain traces of nicotine itself. Caution should be used, as its presence may be caused by mere contact of the finger with a tobacco product. By treating the fingerprint with gold
nanoparticle
Nanoparticle
In nanotechnology, a particle is defined as a small object that behaves as a whole unit in terms of its transport and properties. Particles are further classified according to size : in terms of diameter, coarse particles cover a range between 10,000 and 2,500 nanometers. Fine particles are sized...
s with attached cotinine
antibodies
Antibody
An antibody, also known as an immunoglobulin, is a large Y-shaped protein used by the immune system to identify and neutralize foreign objects such as bacteria and viruses. The antibody recognizes a unique part of the foreign target, termed an antigen...
, and then subsequently with a fluorescent agent attached to cotinine antibodies, the fingerprint of a smoker becomes fluorescent; non-smokers' fingerprints stay dark. The same approach, as of 2010, is being tested for use in identifying heavy
coffee
Coffee
Coffee is a brewed beverage with a dark,init brooo acidic flavor prepared from the roasted seeds of the coffee plant, colloquially called coffee beans. The beans are found in coffee cherries, which grow on trees cultivated in over 70 countries, primarily in equatorial Latin America, Southeast Asia,...
drinkers,
cannabis smokers
Cannabis smoking
Cannabis smoking involves inhaling vapors released by heating the flowers and subtending leaves of the Cannabis plants, known as marijuana. Alternatively, the cannabis plant flowers may be finely sifted producing kief, a powder especially rich in the oil-glands or trichomes which contain the...
, and users of various other drugs. In 2008, British researchers developed methods of identifying users of marijuana, cocaine and methadone from their fingerprint residues.
United States databases and compression
In the United States, the
FBI
Federal Bureau of Investigation
The Federal Bureau of Investigation is an agency of the United States Department of Justice that serves as both a federal criminal investigative body and an internal intelligence agency . The FBI has investigative jurisdiction over violations of more than 200 categories of federal crime...
manages a fingerprint identification system and database called the
Integrated Automated Fingerprint Identification System
Integrated Automated Fingerprint Identification System
The Integrated Automated Fingerprint Identification System is a national automated fingerprint identification and criminal history system maintained by the Federal Bureau of Investigation . IAFIS provides automated fingerprint search capabilities, latent searching capability, electronic image...
, or IAFIS, which currently holds the fingerprints and criminal records of over 51 million criminal record subjects and over 1.5 million civil (non-criminal) fingerprint records. US Visit currently holds a repository of the fingerprints of over 50 million people, primarily in the form of two-finger records. In 2008, US Visit hoped to have changed over to a system recording FBI-standard ten-print records.
Most American law enforcement agencies use
Wavelet Scalar Quantization
Wavelet Scalar Quantization
The Wavelet Scalar Quantization algorithm is a compression algorithm used for gray-scale fingerprint images. It is based on wavelet theory and has become a standard for the exchange and storage of fingerprint images...
(WSQ), a wavelet-based system for efficient storage of compressed fingerprint images at 500
pixels per inch
Pixels per inch
Pixels per inch or pixel density is a measurement of the resolution of devices in various contexts; typically computer displays, image scanners, and digital camera image sensors....
(ppi). WSQ was developed by the FBI, the Los Alamos National Lab, and the National Institute for Standards and Technology (NIST). For fingerprints recorded at 1000 ppi spatial resolution, law enforcement (including the FBI) uses
JPEG 2000
JPEG 2000
JPEG 2000 is an image compression standard and coding system. It was created by the Joint Photographic Experts Group committee in 2000 with the intention of superseding their original discrete cosine transform-based JPEG standard with a newly designed, wavelet-based method...
instead of WSQ.
Antiquity and the medieval period
Fingerprints have been found on ancient Babylonian clay tablets, seals, and pottery. They have also been found on the walls of Egyptian tombs and on Minoan, Greek, and Chinese pottery, as well as on bricks and tiles from ancient Babylon and Rome. Some of these fingerprints were deposited unintentionally by the potters and masons as a natural consequence of their work, and others were made in the process of adding decoration. However, on some pottery, fingerprints have been impressed so deeply into the clay that they were possibly intended to serve as an identifying mark by the maker.
Fingerprints were used as signatures in ancient Babylon in the second millennium BCE. In order to protect against forgery, parties to a legal contract would impress their fingerprints into a clay tablet on which the contract had been written. By 246 BCE, Chinese officials were impressing their fingerprints into the clay seals used to seal documents. With the advent of silk and paper in China, parties to a legal contract impressed their handprints on the document. Sometime before 851 CE, an Arab merchant in China, Abu Zayd Hasan, witnessed Chinese merchants using fingerprints to authenticate loans. By 702, Japan had adopted the Chinese practice of sealing contracts with fingerprints.
Although ancient peoples probably did not realize that fingerprints could uniquely identify individuals, references from the age of the Babylonian king
Hammurabi
Hammurabi
Hammurabi Hammurabi Hammurabi (Akkadian from Amorite ʻAmmurāpi, "the kinsman is a healer", from ʻAmmu, "paternal kinsman", and Rāpi, "healer"; (died c...
(1792-1750 BCE) indicate that law officials would take the fingerprints of people who had been arrested. During China's
Qin Dynasty
Qin Dynasty
The Qin Dynasty was the first imperial dynasty of China, lasting from 221 to 207 BC. The Qin state derived its name from its heartland of Qin, in modern-day Shaanxi. The strength of the Qin state was greatly increased by the legalist reforms of Shang Yang in the 4th century BC, during the Warring...
, records have shown that officials took hand prints, foot prints as well as finger prints as evidence from a crime scene. In China, around 300 CE, handprints were used as evidence in a trial for theft. By 650, the Chinese historian Kia Kung-Yen remarked that fingerprints could be used as a means of authentication. In his
Jami al-Tawarikh
Jami al-Tawarikh
The Jāmiʿ al-tawārīkh, , or Universal History is an Iranian work of literature and history written by Rashid-al-Din Hamadani at the start of the 14th century.-The author:...
(Universal History), the Persian physician Rashid-al-Din Hamadani (also known as "Rashideddin", 1247–1318) refers to the Chinese practice of identifying people via their fingerprints, commenting: "Experience shows that no two individuals have fingers exactly alike." In Persia at this time, government documents may have been authenticated with thumbprints.
Europe in the 17th and 18th centuries
In 1684, the English physician, botanist, and microscopist
Nehemiah Grew
Nehemiah Grew
Nehemiah Grew was an English plant anatomist and physiologist, very famously known as the "Father of Plant Physiology"...
(1641–1712) published the first scientific paper to describe the ridge structure of the skin covering the fingers and palms. In 1685, the Dutch physician
Govard Bidloo
Govert Bidloo
Govert Bidloo or Govard Bidloo was a Dutch Golden Age physician, anatomist, poet and playwright. He was the personal physician of William III of Orange-Nassau, Dutch stadholder and king of England....
(1649–1713) and the Italian physician
Marcello Malpighi
Marcello Malpighi
Marcello Malpighi was an Italian doctor, who gave his name to several physiological features, like the Malpighian tubule system.-Early years:...
(1628–1694) published books on anatomy which also illustrated the ridge structure of the fingers. A century later, in 1788, the German anatomist Johann Christoph Andreas Mayer (1747–1801) recognized that fingerprints are unique to each individual.
Modern era
Jan Evangelista Purkyně
Jan Evangelista Purkyne
Jan Evangelista Purkyně was a Czech anatomist and physiologist. He was one of the best known scientists of his time. His son was the painter Karel Purkyně...
or Purkinje (1787–1869), a Czech physiologist and professor of anatomy at the University of Breslau, published a thesis in 1823 discussing 9 fingerprint patterns, but he did not mention any possibility of using fingerprints to identify people. Some years later, the German anatomist
Georg von Meissner
Georg Meissner
Georg Meissner was a German anatomist and physiologist born in Hannover.He studied medicine at the University of Göttingen, where he worked closely with Rudolf Wagner . In 1851 he accompanied Wagner and Theodor Billroth on an expedition to Trieste, where he performed scientific studies of torpedo...
(1829–1905) studied friction ridges, and five years after this, in 1858, Sir William James Herschel initiated fingerprinting in India. In 1877 at Hooghly (near Calcutta) he instituted the use of fingerprints on contracts and deeds to prevent the then-rampant repudiation of signatures and he registered government pensioners' fingerprints to prevent the collection of money by relatives after a pensioner's death. Herschel also fingerprinted prisoners upon sentencing to prevent various frauds that were attempted in order to avoid serving a prison sentence.
In 1880, Dr
Henry Faulds
Henry Faulds
Dr Henry Faulds was a Scottish scientist who is noted for the development of fingerprinting.-Early life:Faulds was born in the Scottish town of Beith, North Ayrshire into a family of modest means...
, a Scottish surgeon in a Tokyo hospital, published his first paper on the subject in the scientific journal
Nature
Nature (journal)
Nature, first published on 4 November 1869, is ranked the world's most cited interdisciplinary scientific journal by the Science Edition of the 2010 Journal Citation Reports...
, discussing the usefulness of fingerprints for identification and proposing a method to record them with printing ink. He also established their first classification and was also the first to identify fingerprints left on a vial. Returning to the UK in 1886, he offered the concept to the
Metropolitan Police
Metropolitan police
Metropolitan Police is a generic title for the municipal police force for a major metropolitan area, and it may be part of the official title of the force...
in London but it was dismissed at that time. Faulds wrote to
Charles Darwin
Charles Darwin
Charles Robert Darwin FRS was an English naturalist. He established that all species of life have descended over time from common ancestry, and proposed the scientific theory that this branching pattern of evolution resulted from a process that he called natural selection.He published his theory...
with a description of his method but, too old and ill to work on it, Darwin gave the information to his cousin, Francis Galton, who was interested in anthropology. Having been thus inspired to study fingerprints for ten years, Galton published a detailed statistical model of fingerprint analysis and identification and encouraged its use in forensic science in his book
Finger Prints
. He had calculated that the chance of a "false positive" (two different individuals having the same fingerprints) was about 1 in 64 billion.
Juan Vucetich
Juan Vucetich
Juan Vucetich was a Croatian-born Argentine anthropologist and police official who pioneered the use of fingerprinting.-Biography:...
, an Argentine chief police officer, created the first method of recording the fingerprints of individuals on file, associating these fingerprints to the anthropometric system of
Alphonse Bertillon
Alphonse Bertillon
Alphonse Bertillon was a French police officer and biometrics researcher who created anthropometry, an identification system based on physical measurements. Anthropometry was the first scientific system used by police to identify criminals. Before that time, criminals could only be identified...
, who had created, in 1879, a system to identify individuals by anthropometric photographs and associated quantitative descriptions. In 1892, after studying Galton's pattern types, Vucetich set up the world's first fingerprint bureau. In that same year, Francisca Rojas of
Necochea
Necochea
Necochea is a port city in the southwest of the province of Buenos Aires, Argentina, located on the Atlantic coast, on the edge of the Quequén Grande river, from Buenos Aires City and southwest from Mar del Plata...
, was found in a house with neck injuries, whilst her two sons were found dead with their throats cut. Rojas accused a neighbour, but despite brutal interrogation, this neighbour would not confess to the crimes. Inspector Alvarez, a colleague of Vucetich, went to the scene and found a bloody thumb mark on a door. When it was compared with Rojas' prints, it was found to be identical with her right thumb. She then confessed to the murder of her sons.
A Fingerprint Bureau was established in Calcutta (
Kolkata
Kolkata
Kolkata , formerly known as Calcutta, is the capital of the Indian state of West Bengal. Located on the east bank of the Hooghly River, it was the commercial capital of East India...
), India, in 1897, after the Council of the Governor General approved a committee report that fingerprints should be used for the classification of criminal records. Working in the Calcutta Anthropometric Bureau, before it became the Fingerprint Bureau, were
Azizul Haque
Azizul Haque
Azizul Haque Azizul Haque Azizul Haque (also Azizul Hacque , Khan Bahadur Qazi Azizul Huq, Quazi Syed Azizul Haque was a police officer of British India who worked with Edward Henry to develop the Henry Classification System of fingerprints. Haque, reportedly, provided the mathematical basis for...
and
Hem Chandra Bose
Hem Chandra Bose
Rai Bahadur Hem Chandra Bose with Azizul Haque, the two Indian employees of the Calcutta Anthropomorphic Bureau , working under the supervision of Edward Henry have been credited with the primary development of the fingerprint classification system eventually named after their supervisor, and is...
. Haque and Bose were Indian fingerprint experts who have been credited with the primary development of a fingerprint classification system eventually named after their supervisor,
Sir Edward Richard Henry
Edward Henry
Sir Edward Richard Henry, 1st Baronet GCVO KCB CSI KPM was the Commissioner of Police of the Metropolis from 1903 to 1918....
. The
Henry Classification System
Henry Classification System
The Henry Classification System is a long-standing method by which fingerprints are sorted by physiological characteristics for one-to-many searching. Developed by Sir Edward Henry in the late 19th century for criminal investigations in British India, it was the basis of modern day AFIS...
, co-devised by Haque and Bose, was accepted in England and Wales when the first United Kingdom Fingerprint Bureau was founded in
Scotland Yard
Scotland Yard
Scotland Yard is a metonym for the headquarters of the Metropolitan Police Service of London, UK. It derives from the location of the original Metropolitan Police headquarters at 4 Whitehall Place, which had a rear entrance on a street called Great Scotland Yard. The Scotland Yard entrance became...
, the
Metropolitan Police
Metropolitan police
Metropolitan Police is a generic title for the municipal police force for a major metropolitan area, and it may be part of the official title of the force...
headquarters, London, in 1901. Sir Edward Richard Henry subsequently achieved improvements in dactyloscopy.
In the United States, Dr Henry P. DeForrest used fingerprinting in the New York Civil Service in 1902, and by 1906,
New York City Police Department
New York City Police Department
The New York City Police Department , established in 1845, is currently the largest municipal police force in the United States, with primary responsibilities in law enforcement and investigation within the five boroughs of New York City...
Deputy Commissioner Joseph A. Faurot, an expert in the Bertillon system and a finger print advocate at Police Headquarters, introduced the fingerprinting of criminals to the United States.
The Scheffer case of 1902 is the first case of the identification, arrest and conviction of a murderer based upon fingerprint evidence.
Alphonse Bertillon
Alphonse Bertillon
Alphonse Bertillon was a French police officer and biometrics researcher who created anthropometry, an identification system based on physical measurements. Anthropometry was the first scientific system used by police to identify criminals. Before that time, criminals could only be identified...
identified the thief and murderer Scheffer, who had previously been arrested and his fingerprints filed some months before, from the fingerprints found on a fractured glass showcase, after a theft in a dentist's apartment where the dentist's employee was found dead. It was able to be proved in Court that the fingerprints had been made after the showcase was broken. A year later,
Alphonse Bertillon
Alphonse Bertillon
Alphonse Bertillon was a French police officer and biometrics researcher who created anthropometry, an identification system based on physical measurements. Anthropometry was the first scientific system used by police to identify criminals. Before that time, criminals could only be identified...
created a method of getting fingerprints off smooth surfaces and took a further step in the advance of dactyloscopy.
Validity for identification
The validity of forensic fingerprint evidence has been challenged by academics, judges and the media. While fingerprint identification was an improvement on earlier
anthropometric
Anthropometry
Anthropometry refers to the measurement of the human individual...
systems, the subjective nature of matching, despite a very low error rate, has made this forensic practice controversial.
Certain specific criticisms are now being accepted by some leaders of the forensic fingerprint community, providing an incentive to improve training and procedures.
Criticism
The words "
reliability
Reliability (statistics)
In statistics, reliability is the consistency of a set of measurements or of a measuring instrument, often used to describe a test. Reliability is inversely related to random error.-Types:There are several general classes of reliability estimates:...
" and "
validity
Validity (statistics)
In science and statistics, validity has no single agreed definition but generally refers to the extent to which a concept, conclusion or measurement is well-founded and corresponds accurately to the real world. The word "valid" is derived from the Latin validus, meaning strong...
" have specific meanings to the scientific community. Reliability means that successive tests bring the same results. Validity means that these results are judged to accurately reflect the external criteria being measured.
The few tests that have been made of the validity of forensic fingerprinting have not been supportive of the method.
Investigations have been conducted into whether experts can objectively focus on feature information in fingerprints without being misled by extraneous information, such as context. Fingerprints that have previously been examined and assessed by latent print experts to make a positive identification of suspects have then been re-presented to those same experts in a new context which makes it likely that there will be no match. Within this new context, most of the fingerprint experts made different judgments, thus contradicting their own previous identification decisions.
Complaints have been made that there have been no published, peer-reviewed studies directly examining the extent to which people can correctly match fingerprints to one another. Experiments have been carried out using naïve undergraduates to match images of fingerprints. The results of these experiments demonstrate that people can identify fingerprints quite well, and that matching accuracy can vary as a function of both source finger type and image similarity.
Defense
Fingerprints collected at a crime scene, or on items of evidence from a crime, have been used in forensic science to identify suspects, victims and other persons who touched a surface. Fingerprint identification emerged as an important system within police agencies in the late 19th century, when it replaced anthropometric measurements as a more reliable method for identifying persons having a prior record, often under a false name, in a criminal record repository. The science of fingerprint identification has been able to assert its standing amongst forensic sciences for many reasons.
Track record
Fingerprinting has served all governments worldwide during the past 100 years or so to provide accurate identification of criminals. No two fingerprints have ever been found identical in many billions of human and automated computer comparisons. Fingerprints are the fundamental tool for the identification of people with a criminal history in every police agency. It remains the most commonly gathered forensic evidence worldwide and in most jurisdictions fingerprint examination outnumbers all other forensic examination casework combined. Moreover, it continues to expand as the premier method for identifying persons, with tens of thousands of people added to fingerprint repositories daily in America alone — far more than other forensic databases.
Professional standing and certification
Fingerprinting was the basis upon which the first forensic professional organization was formed, the
International Association for Identification
International Association for Identification
The International Association for Identification is the largest forensic organization in the world.The IAI was originally formed as the "International Association for Criminal Identification" in October 1915...
(IAI), in 1915. The first professional certification program for forensic scientists was established in 1977, the IAI's Certified Latent Print Examiner program, which issued certificates to those meeting stringent criteria and had the power to revoke certification where an individual's performance warranted it. Other forensic disciplines have followed suit and established their own certification programs.
Brandon Mayfield and the Madrid bombing
Brandon Mayfield
Brandon Mayfield
Brandon Mayfield is an American attorney in Washington County, Oregon. He is best known for being erroneously linked to the 2004 Madrid train bombings. On May 6, 2004, the FBI arrested Mayfield as a material witness in connection with the Madrid attacks, and held him for over two weeks...
is an
Oregon
Oregon
Oregon is a state in the Pacific Northwest region of the United States. It is located on the Pacific coast, with Washington to the north, California to the south, Nevada on the southeast and Idaho to the east. The Columbia and Snake rivers delineate much of Oregon's northern and eastern...
lawyer who was identified as a participant in the 2004 Madrid train bombings based on a fingerprint match by the FBI. The FBI Latent Print Unit processed a fingerprint collected in Madrid and reported a "100 percent positive" match against one of the 20 fingerprint candidates returned in a search response from their IAFIS — Integrated Automated Fingerprint Identification System. The FBI initially called it an "absolutely incontrovertible match". Subsequently, however, Spanish National Police examiners suggested that the print did not match Mayfield and after two weeks, identified another man whom they claimed the fingerprint did belong to. The FBI acknowledged their error, and a judge released Mayfield, who had spent two weeks in police custody, in May 2004. In January 2006, a U.S. Justice Department report was released which criticized the FBI for sloppy work but exonerated them of some more serious allegations. The report found that the misidentification had been due to a misapplication of methodology by the examiners involved: Mayfield is an American-born convert to
Islam
Islam
Islam . The most common are and . : Arabic pronunciation varies regionally. The first vowel ranges from ~~. The second vowel ranges from ~~~...
and his wife is an
Egypt
Egypt
Egypt , officially the Arab Republic of Egypt, Arabic: , is a country mainly in North Africa, with the Sinai Peninsula forming a land bridge in Southwest Asia. Egypt is thus a transcontinental country, and a major power in Africa, the Mediterranean Basin, the Middle East and the Muslim world...
ian immigrant, but these are not factors that should have affected fingerprint search technology.
On 29 November 2006, the FBI agreed to pay Brandon Mayfield US$2 million in compensation. The judicial settlement allowed Mayfield to continue a suit regarding certain other government practices surrounding his arrest and detention. The formal apology stated that the FBI, which erroneously linked him to the 2004 Madrid bombing through a fingerprinting mistake, had taken steps to "ensure that what happened to Mr Mayfield and the Mayfield family does not happen again."
René Ramón Sánchez
René Ramón Sánchez, a legal
Dominican Republic
Dominican Republic
The Dominican Republic is a nation on the island of La Hispaniola, part of the Greater Antilles archipelago in the Caribbean region. The western third of the island is occupied by the nation of Haiti, making Hispaniola one of two Caribbean islands that are shared by two countries...
immigrant to the US was arrested on July 15, 1995, on a charge of
driving while intoxicated
Driving under the influence
Driving under the influence is the act of driving a motor vehicle with blood levels of alcohol in excess of a legal limit...
(Driving Under the Influence, or DUI). His fingerprints, however, were placed on a card containing the name,
Social Security number
Social Security number
In the United States, a Social Security number is a nine-digit number issued to U.S. citizens, permanent residents, and temporary residents under section 205 of the Social Security Act, codified as . The number is issued to an individual by the Social Security Administration, an independent...
and other data for one Leo Rosario, who was being processed at the same time. Leo Rosario had been arrested for selling
cocaine
Cocaine
Cocaine is a crystalline tropane alkaloid that is obtained from the leaves of the coca plant. The name comes from "coca" in addition to the alkaloid suffix -ine, forming cocaine. It is a stimulant of the central nervous system, an appetite suppressant, and a topical anesthetic...
to an undercover police officer. On October 11, 2000, while returning from a visit to relatives in the
Dominican Republic
Dominican Republic
The Dominican Republic is a nation on the island of La Hispaniola, part of the Greater Antilles archipelago in the Caribbean region. The western third of the island is occupied by the nation of Haiti, making Hispaniola one of two Caribbean islands that are shared by two countries...
, René was mis-identified as Leo Rosario at
John F. Kennedy International Airport
John F. Kennedy International Airport
John F. Kennedy International Airport is an international airport located in the borough of Queens in New York City, about southeast of Lower Manhattan. It is the busiest international air passenger gateway to the United States, handling more international traffic than any other airport in North...
in New York and arrested. Even though he did not match the physical description of Rosario, the erroneously-cataloged fingerprints were considered to be more reliable.
Shirley McKie
Shirley McKie
Shirley McKie
Shirley McKie is a former Scottish police detective who was accused by fingerprint analysis staff of the Scottish Criminal Record Office of leaving her thumb print on the bathroom door frame of a murder crime-scene in Kilmarnock on 14 January 1997....
was a police detective in 1997 when she was accused of leaving her thumb print inside a house in
Kilmarnock
Kilmarnock
Kilmarnock is a large burgh in East Ayrshire, Scotland, with a population of 44,734. It is the second largest town in Ayrshire. The River Irvine runs through its eastern section, and the Kilmarnock Water passes through it, giving rise to the name 'Bank Street'...
, Scotland where Marion Ross had been murdered. Although McKie denied having been inside the house, she was arrested in a dawn raid the following year and charged with
perjury
Perjury
Perjury, also known as forswearing, is the willful act of swearing a false oath or affirmation to tell the truth, whether spoken or in writing, concerning matters material to a judicial proceeding. That is, the witness falsely promises to tell the truth about matters which affect the outcome of the...
. The only evidence the prosecution had was this thumb print allegedly found at the murder scene. Two American experts testified on her behalf at her trial in May 1999 and she was found
not guilty
Acquittal
In the common law tradition, an acquittal formally certifies the accused is free from the charge of an offense, as far as the criminal law is concerned. This is so even where the prosecution is abandoned nolle prosequi...
. The
Scottish Criminal Record Office
Scottish Criminal Record Office
Criminal Justice Information Services is a department of the Scottish Police Services Authority. Previously called the Scottish Criminal Record Office , it established in 1960 with a mission statement "To manage information for the Scottish Police Service, wider Criminal Justice Community and the...
(SCRO) would not admit any error, although Scottish first minister
Jack McConnell
Jack McConnell
Jack Wilson McConnell, Baron McConnell of Glenscorrodale is a British Labour life peer in the House of Lords. He was third First Minister of Scotland from 2001 to 2007, making him the longest serving First Minister in the history of the Scottish Parliament...
later said it had been an "honest mistake".
On February 7, 2006, McKie was awarded
£
Pound sterling
The pound sterling , commonly called the pound, is the official currency of the United Kingdom, its Crown Dependencies and the British Overseas Territories of South Georgia and the South Sandwich Islands, British Antarctic Territory and Tristan da Cunha. It is subdivided into 100 pence...
750,000 in compensation from the
Scottish Executive
Scottish Executive
The Scottish Government is the executive arm of the devolved government of Scotland. It was established in 1999 as the Scottish Executive, from the extant Scottish Office, and the term Scottish Executive remains its legal name under the Scotland Act 1998...
and the Scottish Criminal Record Office. Controversy continued to surround the McKie case and the
Fingerprint Inquiry
Fingerprint Inquiry
The Fingerprint Inquiry is a public inquiry set up by Scottish Government ministers under the Inquiries Act 2005 to look at the steps which were taken to identify and verify the fingerprints associated with the case of HM Advocate v McKie in 1999...
into the affair finished taking evidence in November 2009 and is awaiting publication of the final report.
Stephan Cowans
Stephan Cowans was convicted of attempted murder in 1997 after he was accused of shooting a
police officer
Police officer
A police officer is a warranted employee of a police force...
whilst fleeing a robbery in
Roxbury, Massachusetts
Roxbury, Massachusetts
Roxbury is a dissolved municipality and current neighborhood of Boston, Massachusetts, United States. It was one of the first towns founded in the Massachusetts Bay Colony in 1630, and became a city in 1846 until annexed to Boston on January 5, 1868...
. He was implicated in the crime by the testimony of two witnesses, one of whom was the victim. There was also a fingerprint on a glass mug from which the assailant had drunk some water and experts testified that the fingerprint belonged to Cowans. He was found guilty and sent to prison for 35 years. Whilst in prison, Cowans earned money cleaning up biohazards until he could afford to have the evidence against him tested for
DNA
DNA
Deoxyribonucleic acid is a nucleic acid that contains the genetic instructions used in the development and functioning of all known living organisms . The DNA segments that carry this genetic information are called genes, but other DNA sequences have structural purposes, or are involved in...
. The DNA did not match his and he was released. He had already served six years in prison when he was released on January 23, 2004. Cowans died on October 25, 2007.
Craig D. Harvey
In April 1993, in the
New York State Police Troop C scandal
New York State Police Troop C scandal
The New York State Police Troop C scandal involved the fabrication of evidence used to convict suspects in New York by the New York State Police.-John Spencer:...
, Craig D. Harvey, a New York State Police trooper was charged with fabricating evidence. Harvey admitted he and another trooper lifted fingerprints from items the suspect, John Spencer, touched while in Troop C headquarters during booking. He attached the fingerprints to evidence cards and later claimed that he had pulled the fingerprints from the scene of the murder. The forged evidence was presented during John Spencer's trial and his subsequent conviction resulted in a term of 50 years to life in prison at his sentencing. Three state troopers were found guilty of fabricating fingerprint evidence and served prison sentences.
Fingerprinting of children
Various schools have implemented fingerprint locks or made a record of children's fingerprints. In the United Kingdom there have been fingerprint locks in
Holland Park School
Holland Park School
Holland Park School was opened in London, UK, in 1958. It became the flagship for comprehensive education, and in its heyday had over 2000 in the student body. It became known as the "socialist Eton", and a number of high-profile socialists sent their children to Holland Park School, adding to its...
in London, and children's fingerprints are stored on databases. There have also been instances in Belgium, at the école Marie-José in Liège, in France and in Italy. The
non-governmental organization
Non-governmental organization
A non-governmental organization is a legally constituted organization created by natural or legal persons that operates independently from any government. The term originated from the United Nations , and is normally used to refer to organizations that do not form part of the government and are...
(NGO)
Privacy International
Privacy International
Privacy International is a UK-based non-profit organisation formed in 1990, "as a watchdog on surveillance and privacy invasions by governments and corporations." PI has organised campaigns and initiatives in more than fifty countries and is based in London, UK.-Formation, background and...
in 2002 made the cautionary announcement that tens of thousands of UK school children were being fingerprinted by schools, often without the knowledge or consent of their parents. That same year, the supplier Micro Librarian Systems, which uses a technology similar to that used in US prisons and the German military, estimated that 350 schools throughout Britain were using such systems to replace library cards. By 2007, it was estimated that 3,500 schools were using such systems. Under the United Kingdom Data Protection Act, schools in the UK do not have to ask parental consent to allow such practices to take place. Parents opposed to fingerprinting may only bring individual complaints against schools. In response to a complaint which they are continuing to pursue, in 2010 the
European Commission
European Commission
The European Commission is the executive body of the European Union. The body is responsible for proposing legislation, implementing decisions, upholding the Union's treaties and the general day-to-day running of the Union....
expressed 'significant concerns' over the proportionality and necessity of the practice and the lack of judicial redress, indicating that the practice may break the
European Union
European Union
The European Union is an economic and political union of 27 independent member states which are located primarily in Europe. The EU traces its origins from the European Coal and Steel Community and the European Economic Community , formed by six countries in 1958...
data protection directive.
In Belgium, the practice of taking fingerprints from children gave rise to a question in Parliament on February 6, 2007 by Michel de La Motte (
Humanist Democratic Centre
Humanist Democratic Centre
The Humanist Democratic Centre is a Francophone Christian democratic political party in Belgium. The cdH currently participates in the Government of the Brussels-Capital Region, the Government of the French Community and the Walloon Government.- History :...
) to the Education Minister
Marie Arena
Marie Arena
Marie Arena is a French-speaking Belgian politician, member of the Francophone Socialist Party . She was the Minister-President of the French Community of Belgium from July 2004 until March 2008. She then became Minister for Social Integration, Pensions and Large Cities in the federal government,...
, who replied that it was legal provided that the school did not use them for external purposes, or to survey the private life of children. At
Angers
Angers
Angers is the main city in the Maine-et-Loire department in western France about south-west of Paris. Angers is located in the French region known by its pre-revolutionary, provincial name, Anjou, and its inhabitants are called Angevins....
in France, Carqueiranne College in the Var won the
Big Brother Award
Big Brother Awards
The Big Brother Awards recognize "the government and private sector organizations ... which have done the most to threaten personal privacy".They are named after the George Orwell character Big Brother from the novel Nineteen Eighty-Four.-Countries:...
for 2005 and the Commission nationale de l'informatique et des libertés (
CNIL
CNIL
The Commission nationale de l'informatique et des libertés or CNIL is an independent French administrative authority whose mission is to ensure that data privacy law is applied to the collection, storage, and use of personal data. Its existence was established by French , concerning computers,...
), the official organisation in charge of the protection of privacy in France, declared the measures it had introduced "disproportionate."
In March 2007, the British government was considering fingerprinting all children aged 11 to 15 and adding the prints to a
government database
Government database
Government databases collect personal information for various reasons .-Canada:...
as part of a new
passport
Passport
A passport is a document, issued by a national government, which certifies, for the purpose of international travel, the identity and nationality of its holder. The elements of identity are name, date of birth, sex, and place of birth....
and ID card scheme and disallowing opposition for privacy concerns. All fingerprints taken would be cross-checked against prints from 900,000 unsolved crimes. Shadow Home secretary
David Davis
David Davis (British politician)
David Michael Davis is a British Conservative Party politician who is the Member of Parliament for the constituency of Haltemprice and Howden...
called the plan "sinister". An
Early Day Motion
Early day motion
An Early Day Motion , in the Westminster system, is a motion, expressed as a single sentence, tabled by Members of Parliament for debate "on an early day" . Controversial EDMs are not signed by Government Ministers, PPS or the Speaker of the House of Commons and very few are debated on the floor...
which called on the UK Government to conduct a full and open consultation with stakeholders about the use of biometrics in schools, secured the support of 85 Members of Parliament (Early Day Motion 686). Following the establishment in the United Kingdom of a Conservative and Liberal Democratic coalition government in May 2010, the ID card scheme was scrapped.
Serious concerns about the security implications of using conventional biometric templates in schools have been raised by a number of leading IT security experts, one of whom has voiced the opinion that "it is absolutely premature to begin using 'conventional biometrics' in schools". The vendors of biometric systems claim that their products bring benefits to schools such as improved reading skills, decreased wait times in lunch lines and increased revenues. They do not cite independent research to support this view. One education specialist wrote in 2007: "I have not been able to find a single piece of published research which suggests that the use of biometrics in schools promotes healthy eating or improves reading skills amongst children... There is absolutely no evidence for such claims". The
Ottawa
Ottawa
Ottawa is the capital of Canada, the second largest city in the Province of Ontario, and the fourth largest city in the country. The city is located on the south bank of the Ottawa River in the eastern portion of Southern Ontario...
Police in Canada have had to give advice to parents who fear that their children may be kidnapped to have their fingerprints taken.
Welfare claimants
It has been alleged that taking the fingerprints of
welfare
Welfare
Welfare refers to a broad discourse which may hold certain implications regarding the provision of a minimal level of wellbeing and social support for all citizens without the stigma of charity. This is termed "social solidarity"...
recipients as identification serves as a social stigma that evokes cultural images associated with the processing of criminals.
Log-in authentication and other locks
Since 2000, electronic fingerprint readers have been introduced for security applications such as log-in authentication for the identification of computer users. However, some less sophisticated devices have been discovered to be vulnerable to quite simple methods of deception, such as fake fingerprints cast in
gel
Gel
A gel is a solid, jelly-like material that can have properties ranging from soft and weak to hard and tough. Gels are defined as a substantially dilute cross-linked system, which exhibits no flow when in the steady-state...
s. In 2006, fingerprint sensors gained popularity in the notebook PC market. Built-in sensors in
ThinkPad
ThinkPad
ThinkPad is line of laptop computers originally sold by IBM but now produced by Lenovo. They are known for their boxy black design, which was modeled after a traditional Japanese lunchbox...
s,
VAIO
VAIO
VAIO is a sub-brand used for many of Sony's computer products. Originally an acronym of Video Audio Integrated Operation, this was amended to Visual Audio Intelligent Organizer in 2008 to celebrate the brand's 10th anniversary...
,
HP Pavilion
HP Pavilion (computer)
HP Pavilion is a line of personal computers produced by Hewlett-Packard and introduced in 1995. The name is applied to both desktops and laptops for the Home and Home Office product range....
laptops, and others also double as
motion detector
Motion detector
A motion detector is a device for motion detection. That is, it is a device that contains a physical mechanism or electronic sensor that quantifies motion that can be either integrated with or connected to other devices that alert the user of the presence of a moving object within the field of view...
s for document scrolling, like the
scroll wheel
Scroll wheel
A scroll wheel is a hard plastic or rubbery disc on a computer mouse that is perpendicular to the mouse surface. It is normally located between the left and right mouse buttons.- Functionality :...
.
Electronic registration and library access
Fingerprints and, to a lesser extent, iris scans can be used to validate electronic registration, cashless catering, and library access. By 2007, this practice was particularly widespread in UK schools, and it was also starting to be adopted in some states in the US.
Absence of fingerprints
A very rare medical condition,
adermatoglyphia
Adermatoglyphia
Adermatoglyphia is a rare medical condition which causes a person to have no fingerprints. It is also known as "immigration delay disease". There are only four known extended families worldwide which are affected by this condition....
, is characterized by the absence of fingerprints. Affected persons have completely smooth fingertips, palms, toes and soles, but no other medical signs or symptoms. A 2011 study indicated that adermatoglyphia is caused by the improper expression of the
protein
Protein
Proteins are biochemical compounds consisting of one or more polypeptides typically folded into a globular or fibrous form, facilitating a biological function. A polypeptide is a single linear polymer chain of amino acids bonded together by peptide bonds between the carboxyl and amino groups of...
SMARCAD1
SMARCAD1
SWI/SNF-related matrix-associated actin-dependent regulator of chromatin subfamily A containing DEAD/H box 1 is a protein that in humans is encoded by the SMARCAD1 gene....
. The condition has been called
immigration delay disease
by the researchers describing it, because the congenital lack of fingerprints causes delays when affected persons attempt to prove their identity while traveling. Only four families with this condition have been described as of 2011.
People with Naegeli–Franceschetti–Jadassohn syndrome and
dermatopathia pigmentosa reticularis
Dermatopathia pigmentosa reticularis
Dermatopathia pigmentosa reticularis is a rare, autosomal dominant congenital disorder that is a form of ectodermal dysplasia...
, which are both forms of
ectodermal dysplasia
Ectodermal dysplasia
Ectodermal dysplasia is not a single disorder, but a group of syndromes all deriving from abnormalities of the ectodermal structures. More than 150 different syndromes have been identified. Despite some of the syndromes having different genetic causes the symptoms are sometimes very similar...
, also have no fingerprints. Both of these rare genetic syndromes produce other signs and symptoms as well, such as thin, brittle hair.
The anti-cancer medication
capecitabine
may cause the loss of fingerprints. Swelling of the fingers, such as that caused by bee stings, will in some cases cause the temporary disappearance of fingerprints, though they will return when the swelling recedes.
In other species
Some other animals have evolved their own unique prints, especially those whose lifestyle involves climbing or grasping wet objects; these include many
primate
Primate
A primate is a mammal of the order Primates , which contains prosimians and simians. Primates arose from ancestors that lived in the trees of tropical forests; many primate characteristics represent adaptations to life in this challenging three-dimensional environment...
s, such as gorillas and chimpanzees, Australian koalas and aquatic mammal species such as the North American
fisher
Fisher (animal)
The fisher is a medium-size mammal native to North America. It is a member of the mustelid family, commonly referred to as the weasel family. The fisher is closely related to but larger than the American Marten...
. According to one study, even with an electron microscope, it can be quite difficult to distinguish between the fingerprints of a koala and a human.
Mark Twain
Mark Twain
Mark Twain
Samuel Langhorne Clemens , better known by his pen name Mark Twain, was an American author and humorist...
's memoir
Life on the Mississippi
Life on the Mississippi
Life on the Mississippi is a memoir by Mark Twain, of his days as a steamboat pilot on the Mississippi River before the American Civil War, and also a travel book, recounting his trip along the Mississippi many years after the War....
(1883), notable mainly for its account of the author's time on the river, also recounts parts of his later life, and includes tall tales and stories allegedly told to him. Among them is an involved, melodramatic account of a murder in which the killer is identified by a thumbprint. Twain's novel
Pudd'nhead Wilson
Pudd'nhead Wilson
Pudd'nhead Wilson is a novel by Mark Twain. It was serialized in The Century Magazine , before being published as a novel in 1894.-Plot:...
, published in 1893, includes a courtroom drama that turns on fingerprint identification.
Crime fiction
The use of fingerprints in crime fiction has, of course, kept pace with its use in real-life detection. Sir Arthur Conan Doyle wrote a short story about his celebrated sleuth
Sherlock Holmes
Sherlock Holmes
Sherlock Holmes is a fictional detective created by Scottish author and physician Sir Arthur Conan Doyle. The fantastic London-based "consulting detective", Holmes is famous for his astute logical reasoning, his ability to take almost any disguise, and his use of forensic science skills to solve...
which features a fingerprint:
The Norwood Builder
is a 1903
Sherlock Holmes
Sherlock Holmes
Sherlock Holmes is a fictional detective created by Scottish author and physician Sir Arthur Conan Doyle. The fantastic London-based "consulting detective", Holmes is famous for his astute logical reasoning, his ability to take almost any disguise, and his use of forensic science skills to solve...
short story set in 1894 and involves the discovery of a bloody fingerprint which helps Holmes to expose the real criminal and free his client.
The British detective writer R. Austin Freeman's first Thorndyke novel
The Red Thumb-Mark
was published in 1907 and features a bloody fingerprint left on a piece of paper together with a parcel of diamonds inside a safe-box. These become the center of a medico-legal investigation led by
Dr Thorndyke
Dr Thorndyke
Dr John Evelyn Thorndyke is a fictional detective in a long series of novels and short stories by R. Austin Freeman . Thorndyke was described by his author as a 'medical jurispractitioner': originally a medical doctor, he turned to the bar and became one of the first - in modern parlance - forensic...
, who defends the accused whose fingerprint matches that on the paper, after the diamonds are stolen.
Movies
The movie
Men in Black
Men in Black (film)
Men in Black is a 1997 science fiction comedy film directed by Barry Sonnenfeld, starring Tommy Lee Jones, Will Smith and Vincent D'Onofrio. The film was based on the Men in Black comic book series by Lowell Cunningham, originally published by Marvel Comics. The film featured the creature effects...
, a popular 1997 science fiction thriller, required Agent J, played by
Will Smith
Will Smith
Willard Christopher "Will" Smith, Jr. , also known by his stage name The Fresh Prince, is an American actor, producer, and rapper. He has enjoyed success in television, film and music. In April 2007, Newsweek called him the most powerful actor in Hollywood...
, to remove his ten fingerprints by putting his hands on a metal ball, an action deemed necessary by the MIB agency to remove the identity of its agents. And in a 2009 science fiction movie starring
Paul Giamatti
Paul Giamatti
Paul Edward Valentine Giamatti is an American actor. Giamatti began his career as a supporting actor in several films produced during the 1990s including Private Parts, The Truman Show, Saving Private Ryan, The Negotiator, and Man on the Moon, before earning lead roles in several projects in the...
,
Cold Souls
, a
mule
Mule (smuggling)
A mule or courier is someone who smuggles something with him or her across a national border, including bringing in to and out of an international plane, especially a small amount, transported for a smuggling organization. The organizers employ mules to reduce the risk of getting caught...
who is paid to smuggle souls across borders, wears latex fingerprints to frustrate airport security terminals. She can change her identity by changing her wig, and switching latex fingerprints from the privacy of a restroom, always storing extra fingerprints in a
ziploc
Ziploc
Ziploc is a brand of reusable, re-sealable zipper storage bags and containers originally developed by Dow Chemical Company, and now produced by S. C. Johnson & Son. According to Dow's website, the bags were originally test marketed in 1968....
bag, so she can always assume an
alias
Pseudonym
A pseudonym is a name that a person assumes for a particular purpose and that differs from his or her original orthonym...
that is suitable to her undertaking.
Other reliable identifiers
Other forms of biometric identification utilizing a physical attribute that is unique to every human include
iris recognition
Iris recognition
Iris recognition is an automated method of biometric identification that uses mathematical pattern-recognition techniques on video images of the irides of an individual's eyes, whose complex random patterns are unique and can be seen from some distance....
, the use of dental records in
forensic dentistry
Forensic Dentistry
Forensic dentistry or forensic odontology is the proper handling, examination and evaluation of dental evidence, which will be then presented in the interest of justice. The evidence that may be derived from teeth, is the age and identification of the person to whom the teeth belong...
, the
tongue
Tongue
The tongue is a muscular hydrostat on the floors of the mouths of most vertebrates which manipulates food for mastication. It is the primary organ of taste , as much of the upper surface of the tongue is covered in papillae and taste buds. It is sensitive and kept moist by saliva, and is richly...
and DNA profiling, also known as genetic fingerprinting.
Mutilation
There are several documented cases of people deliberately mutilating their fingerprints in an effort to avoid being identified from marks left on the surfaces they touch. Methods used have included burning the fingertips with acid, which
John Dillinger
John Dillinger
John Herbert Dillinger, Jr. was an American bank robber in Depression-era United States. He was charged with, but never convicted of, the murder of an East Chicago, Indiana police officer during a shoot-out. This was his only alleged homicide. His gang robbed two dozen banks and four police stations...
tried and failed; prints taken during a previous arrest and upon death still exhibited almost complete relation to one another, and surgical alteration.
Further reading
Ashbaugh, David R. 1999. Quantitative-Qualitative Friction Ridge Analysis: An Introduction to Basic and Advanced Ridgeology. Boca Raton, Florida: CRC Press.
Beavan, Colin. 2001. Fingerprints: The Origins of Crime Detection and the Murder Case that Launched Forensic Science. New York: Hyperion.
Cowger, James C. 1992. Friction Ridge Skin: Comparison and Identification of Fingerprints. Boca Raton, Florida: CRC Press.
Quinche, Nicolas, and Margot, Pierre. 2010. Coulier, Paul-Jean (1824–1890) : A precursor in the history of fingermark detection and their potential use for identifying their source (1863). In Journal of Forensic Identification (California), 60 (2), March–April 2010, pp. 129–134.
Scheibert, J, Leurent, S, Provost, A and Debregeas, G. 2009. The role of fingerprints in the coding of tactile information probed with a biomimetic sensor. Science 323: 1503–1506.
External links
General
Errors and concerns
Science and statistics