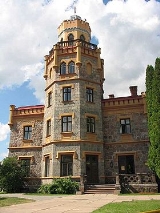 Sigulda
Other
twinnings
Town twinning
Twin towns and sister cities are two of many terms used to describe the cooperative agreements between towns, cities, and even counties in geographically and politically distinct areas to promote cultural and commercial ties.- Terminology :...
:
Keila
Keila
Keila is a town and an urban municipality in Harju County in north-western Estonia. It is also the administrative centre of the surrounding rural municipality – Keila Parish.-History:...
,
Estonia
Estonia
Estonia , officially the Republic of Estonia , is a state in the Baltic region of Northern Europe. It is bordered to the north by the Gulf of Finland, to the west by the Baltic Sea, to the south by Latvia , and to the east by Lake Peipsi and the Russian Federation . Across the Baltic Sea lies...
chiatura
Chiatura
Chiatura is a city in the Imereti region of Western Georgia. In 1989, it had a population of about 30,000. It is inland, in a mountain valley on the banks of the Kvirila River, and since 1879 has been a major centre of manganese production in the Caucasus. There is a rail link to transport...
Georgia
Georgia (country)
Georgia is a sovereign state in the Caucasus region of Eurasia. Located at the crossroads of Western Asia and Eastern Europe, it is bounded to the west by the Black Sea, to the north by Russia, to the southwest by Turkey, to the south by Armenia, and to the southeast by Azerbaijan. The capital of...
External links