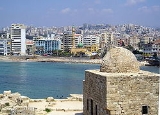 Sidon
Sidon
or
Saïda
is the third-largest city in
Lebanon
Lebanon
Lebanon , officially the Republic of LebanonRepublic of Lebanon is the most common term used by Lebanese government agencies. The term Lebanese Republic, a literal translation of the official Arabic and French names that is not used in today's world. Arabic is the most common language spoken among...
. It is located in the South Governorate of Lebanon, on the
Mediterranean
Mediterranean Sea
The Mediterranean Sea is a sea connected to the Atlantic Ocean surrounded by the Mediterranean region and almost completely enclosed by land: on the north by Anatolia and Europe, on the south by North Africa, and on the east by the Levant...
coast, about 40 km (25 mi) north of Tyre and 40 km (25 mi) south of the capital
Beirut
Beirut
Beirut is the capital and largest city of Lebanon, with a population ranging from 1 million to more than 2 million . Located on a peninsula at the midpoint of Lebanon's Mediterranean coastline, it serves as the country's largest and main seaport, and also forms the Beirut Metropolitan...
. In Genesis, Sidon is the son of Canaan the grandson of
Noah
Noah
Noah was, according to the Hebrew Bible, the tenth and last of the antediluvian Patriarchs. The biblical story of Noah is contained in chapters 6–9 of the book of Genesis, where he saves his family and representatives of all animals from the flood by constructing an ark...
. Its name coincides with the modern Arabic word for fishery.
Sidon is a city of 200,000 inhabitants who are overwhelmingly Muslims.
Sidon has been inhabited since very early in prehistory.