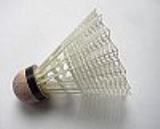 Shuttlecock


A
shuttlecock
, sometimes called a
bird
or
birdie
, is a high-
drag
Drag (physics)
In fluid dynamics, drag refers to forces which act on a solid object in the direction of the relative fluid flow velocity...
projectile
Projectile
A projectile is any object projected into space by the exertion of a force. Although a thrown baseball is technically a projectile too, the term more commonly refers to a weapon....
used in the sport of
badminton
Badminton
Badminton is a racquet sport played by either two opposing players or two opposing pairs , who take positions on opposite halves of a rectangular court that is divided by a net. Players score points by striking a shuttlecock with their racquet so that it passes over the net and lands in their...
. It has an open conical shape: the cone is formed from sixteen or so overlapping feathers, usually goose or duck and from the left wing only, embedded into a rounded cork base. The cork is covered with thin leather.
The shuttlecock's shape makes it extremely aerodynamically stable. Regardless of initial orientation, it will turn to fly cork first, and remain in the cork-first orientation.
The name
shuttlecock
is frequently shortened to
shuttle
. The "shuttle" part of the name was probably derived from its back-and-forth motion during the game, resembling the
shuttle
Shuttle (weaving)
A shuttle is a tool designed to neatly and compactly store weft yarn while weaving. Shuttles are thrown or passed back and forth through the shed, between the yarn threads of the warp in order to weave in the weft....
of a
loom
Loom
A loom is a device used to weave cloth. The basic purpose of any loom is to hold the warp threads under tension to facilitate the interweaving of the weft threads...
; the "cock" part of the name was probably derived from the resemblance of the feathers to those on a cockerel.
The "Shuttlecock" also used in traditional Chinese sports called "TiJianZi" by Chinese spelling, or "Shuttlecock kicking" in English. There is a lot of kinds and sizes of shuttlecock in the sports. The shuttlecock by size 15-15x14-15x14-16cm of weight 24-25 grams is called "Middle Shuttlecock", usually used in "Chinese JJJ" game. It's a most popular shuttlecock kicking game with 90cm height middle net and using inner lines of badminton court, which invented by Mr. John Du in May of 2009. Chinese JJJ uses Soccer's shooting goal techniques in the game, making the shuttlecock sports much closer to Soccer Sports which is the first time happened in the history.
Feathered vs. synthetic shuttlecocks
The feathers are brittle; shuttlecocks break easily and often need to be replaced several times during a game. For this reason, synthetic shuttlecocks have been developed that replace the feathers with a plastic skirt. Players often refer to synthetic shuttlecocks as
plastics
and feathered shuttlecocks as
feathers
.
The cost of good quality feathers is similar to that of good quality plastics, but plastics are far more durable, typically lasting many matches without any impairment to their flight. For this reason, many clubs prefer to play with plastics.
The playing characteristics of plastics and feathers are substantially different. Plastics fly more slowly on initial impact, but slow down less towards the end of their flight. Feather shuttles may come off the strings at speeds in excess of 320 km/h (200 mph) but slow down faster as they drop. For this reason, the feather shuttle makes the game seem faster, but also allows more time to play strokes.
Most experienced and skillful players greatly prefer feathers, and serious tournaments or leagues are always played using feather shuttlecocks. Experienced players generally prefer the "feel" of feathered shuttlecocks, and assert that they are better able to control the flight of feathers than of plastics. Because feather shuttles fly more quickly off the racquet face they also tend to cause less shoulder impact and injury. In Asia, where feather shuttlecocks are more affordable than in Europe and North America, plastic shuttlecocks are hardly used at all. All senior international tournaments use only feather shuttlecocks of the highest quality. Also as opposed to feathers that self correct and drop straight down on the clear shot, plastic never quite returns to a straight drop falling more on a diagonal.
Specifications
A shuttlecock weighs around 4.75 to 5.5 g (0.167551319999282 to 0.194006791578116 ). It has 14-16 feathers with each feather 70 millimetres (2.8 in) in length. The diameter of the cork is 25 to 28 mm (0.984251968503937 to 1.1 ) and the diameter of the circle that the feathers make is around 54 millimetres (2.1 in).
See also