 Shatt al-Hayy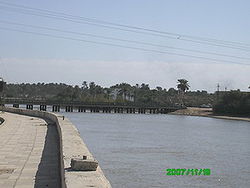 The
Gharraf Canal
,
Shaṭṭ al-Ḥayy
(Arabic: شط الحي), also known as
Shaṭṭ al-Gharrāf
(Arabic: شط الغرّاف) or the
Hai river
, is an ancient
canal
Canal
Canals are man-made channels for water. There are two types of canal:#Waterways: navigable transportation canals used for carrying ships and boats shipping goods and conveying people, further subdivided into two kinds:...
that connects
Tigris
Tigris
The Tigris River is the eastern member of the two great rivers that define Mesopotamia, the other being the Euphrates. The river flows south from the mountains of southeastern Turkey through Iraq.-Geography:...
with
Euphrates
Euphrates
The Euphrates is the longest and one of the most historically important rivers of Western Asia. Together with the Tigris, it is one of the two defining rivers of Mesopotamia...
in
Iraq
Iraq
Iraq ; officially the Republic of Iraq is a country in Western Asia spanning most of the northwestern end of the Zagros mountain range, the eastern part of the Syrian Desert and the northern part of the Arabian Desert....
. As an
Ottoman
Military of the Ottoman Empire
The history of military of the Ottoman Empire can be divided in five main periods. The foundation era covers the years between 1300 and 1453 , the classical period covers the years between 1451 and 1606 , the reformation period covers the years between 1606 and 1826 ,...
defensive line lay along the canal, it was a theater to intense military action during First World War; e.g. the
siege of Kut
Siege of Kut
The siege of Kut Al Amara , was the besieging of 8,000 strong British-Indian garrison in the town of Kut, 100 miles south of Baghdad, by the Ottoman Army. Its known also as 1st Battle of Kut. In 1915, its population was around 6,500...
. Between 1934 and 1939, the
Kut Barrage
Kut Barrage
The Kut Barrage is a barrage on the Tigris river, located in the modern town of Kut in Wasit Governorate, Iraq. It is long, high and consists of 56 gates, each wide. The maximum discharge of the barrage is , but actual discharge has not exceeded in the last 10 years. The barrage supports a road...
was constructed in the Tigris to control the water level of the river and to provide a constant inflow of water into the Shatt al-Hayy.