 Serhiy Zhadan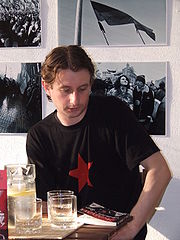 Serhiy Viktorovych Zhadan
(
Ukrainian
Ukrainian language
Ukrainian is a language of the East Slavic subgroup of the Slavic languages. It is the official state language of Ukraine. Written Ukrainian uses a variant of the Cyrillic alphabet....
: Сергі́й Ві́кторович Жада́н; born 23 August 1974) is a
Ukrainian
Ukraine
Ukraine is a country in Eastern Europe. It has an area of 603,628 km², making it the second largest contiguous country on the European continent, after Russia...
poet, novelist, essayist, and translator. Born in
Starobilsk
Starobilsk
Starobilsk is a town near Luhansk in Ukraine. The settlement has been known since 1686. The city status was given in 1938. Population is 22,040 ....
,
Luhansk Oblast
Luhansk Oblast
Luhansk Oblast ) is the easternmost oblast of Ukraine. Its administrative center is Luhansk. The oblast was established in 1938 and bore the name Voroshilovgrad Oblast in honor of Kliment Voroshilov....
, he graduated from
Kharkiv University
Kharkiv University
The University of Kharkiv or officially the Vasyl Karazin Kharkiv National University is one of the major universities in Ukraine, and earlier in the Russian Empire and Soviet Union...
in 1996, then spent three years as a graduate student of
philology
Philology
Philology is the study of language in written historical sources; it is a combination of literary studies, history and linguistics.Classical philology is the philology of Greek and Classical Latin...
. He taught
Ukrainian
Ukrainian literature
Ukrainian literature is literature written in the Ukrainian language. Ukrainian literature had a difficult development because, due to constant foreign domination over Ukrainian territories, there was often a significant difference between the spoken and written language...
and world literature from 2000 to 2004, and thereafter retired from teaching. He lives and works in
Kharkiv
Kharkiv
Kharkiv or Kharkov is the second-largest city in Ukraine.The city was founded in 1654 and was a major centre of Ukrainian culture in the Russian Empire. Kharkiv became the first city in Ukraine where the Ukrainian Soviet Socialist Republic was proclaimed in December 1917 and Soviet government was...
.
Zhadan has translated poetry from
German
German language
German is a West Germanic language, related to and classified alongside English and Dutch. With an estimated 90 – 98 million native speakers, German is one of the world's major languages and is the most widely-spoken first language in the European Union....
,
English
English language
English is a West Germanic language that arose in the Anglo-Saxon kingdoms of England and spread into what was to become south-east Scotland under the influence of the Anglian medieval kingdom of Northumbria...
,
Belarusian
Belarusian language
The Belarusian language , sometimes referred to as White Russian or White Ruthenian, is the language of the Belarusian people...
, and
Russian
Russian language
Russian is a Slavic language used primarily in Russia, Belarus, Uzbekistan, Kazakhstan, Tajikistan and Kyrgyzstan. It is an unofficial but widely spoken language in Ukraine, Moldova, Latvia, Turkmenistan and Estonia and, to a lesser extent, the other countries that were once constituent republics...
, from such poets as
Paul Celan
Paul Celan
Paul Celan was a poet and translator...
and
Charles Bukowski
Charles Bukowski
Henry Charles Bukowski was an American poet, novelist and short story writer. His writing was influenced by the social, cultural and economic ambience of his home city of Los Angeles...
. His own works have been translated into German, English,
Polish
Polish language
Polish is a language of the Lechitic subgroup of West Slavic languages, used throughout Poland and by Polish minorities in other countries...
,
Serbian
Serbian language
Serbian is a form of Serbo-Croatian, a South Slavic language, spoken by Serbs in Serbia, Bosnia and Herzegovina, Montenegro, Croatia and neighbouring countries....
,
Croatian
Croatian language
Croatian is the collective name for the standard language and dialects spoken by Croats, principally in Croatia, Bosnia and Herzegovina, the Serbian province of Vojvodina and other neighbouring countries...
,
Lithuanian
Lithuanian language
Lithuanian is the official state language of Lithuania and is recognized as one of the official languages of the European Union. There are about 2.96 million native Lithuanian speakers in Lithuania and about 170,000 abroad. Lithuanian is a Baltic language, closely related to Latvian, although they...
, Belarusian, Russian,
Hungarian
Hungarian language
Hungarian is a Uralic language, part of the Ugric group. With some 14 million speakers, it is one of the most widely spoken non-Indo-European languages in Europe....
,
Armenian
Armenian language
The Armenian language is an Indo-European language spoken by the Armenian people. It is the official language of the Republic of Armenia as well as in the region of Nagorno-Karabakh. The language is also widely spoken by Armenian communities in the Armenian diaspora...
and
Swedish
Swedish language
Swedish is a North Germanic language, spoken by approximately 10 million people, predominantly in Sweden and parts of Finland, especially along its coast and on the Åland islands. It is largely mutually intelligible with Norwegian and Danish...
.
In March 2008, the Russian translation of his novel
Anarchy in the UKR
made the short list of the
National Bestseller
Prize. It was also a contender for "Book of the Year" at the 2008 Moscow International Book Exhibition.
His novel
Anthem of Democratic Youth
has been adapted for the stage and is being performed at the Ivan Franko National Academic Drama Theater in Kyiv.
Critical estimation

Zhadan's prose is so poetic, his free verse so prosaic. It is difficult to assign a genre to his work: memoir, travelogue, timely or untimely meditation - or a mixture of all these, centered on the themes my generation and our epoch.


There is no summarizing the spicy, hot, sweet, vicious improvisations of Sergei Zhadan - this is verbal jazz. When you read him, you fear for contemporary Russian literature: of those now writing in the Russian language, there is none among them who is so infernally free (and above all, free from "writerly" prose, from the tendency to "produce an impression").

Poetry
General Yuda (Генерал Юда), 1995.
Pepsi (Пепсі), (1998).
The very best poems, psychedelic stories of fighting and other bullshit: Selected Poems, 1992-2000 (Вибрані поезії), 2000.
Ballads of the War and Reconstruction (Балади про війну і відбудову), 2000.
The History of Culture at the Beginning of the Century (Історія культури початку століття), (2003)
Maradona (Марадона), 2007.
Ethiopia (Ефіопія), 2009.
Lili Marlene (Лілі Марлен), 2009.
Prose
Big Mac (Біґ Мак; short story collection), 2003.
Depeche Mode (Депеш Мод), 2004.
Anarchy in the UKR, 2005.
Anthem of Democratic Youth (Гімн демократичної молоді), 2006.
Voroshylovhrad (Ворошиловград), 2010.
Compilations
Capital (Капітал), 2006 - includes everything but The History of Culture at the Beginning of the Century, Big Mac, and Maradona.
Anthologized poetry
Stanislav+2 (Станислав+2), 2001.
"Ch" Time - Verses on Chechnya and Not Only (Время `Ч`. Стихи о Чечне и не только), 2001.
We Will Not Die in Paris (Мы умрем не в Париже), 2002.
The History of Culture (История культуры), 2004.
The Unknown Ukraine (НеИзвестная Украина), 2005.
External links
The poetry of Serhiy Zhadan
Profile at Vavilon.ru
Entry at Speaking in Tongues
Entry at Net Literature
Zhadan's blog
Verses translated by A. Pustogarova
Zhadan reading "Fungi of the Donbass" in Donetsk
Zhadan reading "Lukoil" in Poland
Large collection of materials about Zhadan
Translations
by
Elena Fanailova
Elena Fanailova
Elena Nikolayevna Fanailova is a Russian poet.Born in Voronezh, she graduated from the Voronezh Medical Institute and earned a degree in journalism from Voronezh State University. She worked for six years as a doctor at Voronezh Regional Hospital...