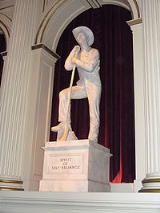 Self-sufficiency
Self-sufficiency
refers to the state of not requiring any outside aid, support, or interaction, for survival; it is therefore a type of personal or collective
autonomy
Autonomy
Autonomy is a concept found in moral, political and bioethical philosophy. Within these contexts, it is the capacity of a rational individual to make an informed, un-coerced decision...
. On a large scale, a totally self-sufficient
economy
Economy
An economy consists of the economic system of a country or other area; the labor, capital and land resources; and the manufacturing, trade, distribution, and consumption of goods and services of that area...
that does not trade with the outside world is called an
autarky
Autarky
Autarky is the quality of being self-sufficient. Usually the term is applied to political states or their economic policies. Autarky exists whenever an entity can survive or continue its activities without external assistance. Autarky is not necessarily economic. For example, a military autarky...
.
The term self-sufficiency is usually applied to varieties of
sustainable living
Sustainable living
Sustainable living is a lifestyle that attempts to reduce an individual's or society's use of the Earth's natural resources and his/her own resources. Practitioners of sustainable living often attempt to reduce their carbon footprint by altering methods of transportation, energy consumption and diet...
in which nothing is consumed outside of what is produced by the self-sufficient individuals. Examples of attempts at self-sufficiency in
North America
North America
North America is a continent wholly within the Northern Hemisphere and almost wholly within the Western Hemisphere. It is also considered a northern subcontinent of the Americas...
include voluntary simplicity,
homesteading
Homesteading
Broadly defined, homesteading is a lifestyle of simple self-sufficiency.-Current practice:The term may apply to anyone who follows the back-to-the-land movement by adopting a sustainable, self-sufficient lifestyle. While land is no longer freely available in most areas of the world, homesteading...
,
survivalism
Survivalism
Survivalism is a movement of individuals or groups who are actively preparing for future possible disruptions in local, regional, national, or international social or political order...
,
DIY ethic
DIY ethic
The DIY ethic refers to the ethic of self-sufficiency through completing tasks oneself as opposed to having others who are more experienced or able complete them for one's behalf. It promotes the idea that an ordinary person can learn to do more than he or she thought was possible...
and the back-to-the-land movement.
Practices that enable or aid self-sufficiency include
autonomous building
Autonomous building
An autonomous building is a building designed to be operated independently from infrastructural support services such as the electric power grid, gas grid, municipal water systems, sewage treatment systems, storm drains, communication services, and in some cases, public roads.Advocates of...
,
permaculture
Permaculture
Permaculture is an approach to designing human settlements and agricultural systems that is modeled on the relationships found in nature. It is based on the ecology of how things interrelate rather than on the strictly biological concerns that form the foundation of modern agriculture...
,
sustainable agriculture
Sustainable agriculture
Sustainable agriculture is the practice of farming using principles of ecology, the study of relationships between organisms and their environment...
, and
renewable energy
Renewable energy
Renewable energy is energy which comes from natural resources such as sunlight, wind, rain, tides, and geothermal heat, which are renewable . About 16% of global final energy consumption comes from renewables, with 10% coming from traditional biomass, which is mainly used for heating, and 3.4% from...
.
The term is also applied to limited forms of self-sufficiency, for example growing one's own food or becoming economically independent of state
subsidies
Subsidy
A subsidy is an assistance paid to a business or economic sector. Most subsidies are made by the government to producers or distributors in an industry to prevent the decline of that industry or an increase in the prices of its products or simply to encourage it to hire more labor A subsidy (also...
.
Influential people
See also
In-situ resource utilization

In-Situ Resource Utilization

In space exploration, in-situ resource utilization describes the proposed use of resources found or manufactured on other astronomical objects to further the goals of a space mission....



Self-sustainability

Self-sustainability

A system is self-sustaining if it can maintain itself by independent effort. The system self-sustainability is:# the degree at which the system can sustain itself without external support...



External links