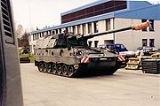 Self-propelled gun
A
self-propelled gun
is form of
self-propelled artillery
Self-propelled artillery
Self-propelled artillery vehicles are combat vehicles armed with artillery. Within the term are covered self-propelled guns and rocket artillery...
, and in modern use is usually used to refer to
artillery
Artillery
Originally applied to any group of infantry primarily armed with projectile weapons, artillery has over time become limited in meaning to refer only to those engines of war that operate by projection of munitions far beyond the range of effect of personal weapons...
pieces such as
howitzer
Howitzer
A howitzer is a type of artillery piece characterized by a relatively short barrel and the use of comparatively small propellant charges to propel projectiles at relatively high trajectories, with a steep angle of descent...
s.
Self-propelled guns are mounted on a motorized wheeled or
tracked
Caterpillar track
Continuous tracks or caterpillar tracks are a system of vehicle propulsion in which modular metal plates linked into a continuous band are driven by two or more wheels...
chassis. As such the gun can be maneuvered under its own power as opposed to a towed gun that relies upon a vehicle or other means to be moved on the battlefield. Self-propelled guns are combat support weapons; they are employed by combat support units fighting in support of, or attached to, the main combat units:
infantry
Infantry
Infantrymen are soldiers who are specifically trained for the role of fighting on foot to engage the enemy face to face and have historically borne the brunt of the casualties of combat in wars. As the oldest branch of combat arms, they are the backbone of armies...
and armour.
It may be
armoured
Vehicle armour
Military vehicles are commonly armoured to withstand the impact of shrapnel, bullets, missiles, or shells, protecting the personnel inside from enemy fire. Such vehicles include tanks, aircraft, and ships....
, in which case it is considered an
armoured fighting vehicle
Armoured fighting vehicle
An armoured fighting vehicle is a combat vehicle, protected by strong armour and armed with weapons. AFVs can be wheeled or tracked....
(AFV).