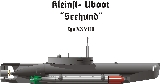 Seehund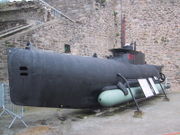 The
Seehund
(German: "seal"), also known as
Type XXVII
, was a successful series of
German
Nazi Germany
Nazi Germany , also known as the Third Reich , but officially called German Reich from 1933 to 1943 and Greater German Reich from 26 June 1943 onward, is the name commonly used to refer to the state of Germany from 1933 to 1945, when it was a totalitarian dictatorship ruled by...
midget submarine
Midget submarine
A midget submarine is any submarine under 150 tons, typically operated by a crew of one or two but sometimes up to 6 or 8, with little or no on-board living accommodation...
s created during
World War II
World War II
World War II, or the Second World War , was a global conflict lasting from 1939 to 1945, involving most of the world's nations—including all of the great powers—eventually forming two opposing military alliances: the Allies and the Axis...
. Designed in 1944, and operated by two man crews, the submarines were used by the
Kriegsmarine
Kriegsmarine
The Kriegsmarine was the name of the German Navy during the Nazi regime . It superseded the Kaiserliche Marine of World War I and the post-war Reichsmarine. The Kriegsmarine was one of three official branches of the Wehrmacht, the unified armed forces of Nazi Germany.The Kriegsmarine grew rapidly...
during the closing months of the war, sinking 9 merchant vessels and damaging an additional 3, with 35 losses mostly attributed to bad weather.
History
The origin of the
Seehund
began with the salvage of the two British
X class submarine
X class submarine
The X class was a World War II midget submarine class built for the Royal Navy during 1943–44.Known individually as X-Craft, the vessels were designed to be towed to their intended area of operations by a full-size 'mother' submarine - - with a passage crew on board, the operational crew...
s HMS
X6
and
X7
which had been sunk during
Operation Source
Operation Source
Operation Source was a series of attacks to neutralise the heavy German warships – Tirpitz, Scharnhorst and Lutzow – based in northern Norway, using X-class midget submarines....
, an attempt to sink the
German battleship Tirpitz
German battleship Tirpitz
Tirpitz was the second of two s built for the German Kriegsmarine during World War II. Named after Grand Admiral Alfred von Tirpitz, the architect of the Imperial Navy, the ship was laid down at the Kriegsmarinewerft in Wilhelmshaven in November 1936 and launched two and a half years later in April...
.
Hauptamt Kriegschiffbau
subsequently produced a design for a two-man submarine based on inspection of the British boats, designated Type XXVIIA and named
Hecht
("Pike")
XXVIIA (Hecht)
Like the British X class boats, the Type XXVIIA was designed to carry explosive charges to be laid beneath enemy ships, but it was markedly smaller and had substantial differences from the X class. It dispensed with a dual diesel/electric propulsion system, relying instead solely on electrical power in the form of a 12 hp AEG torpedo motor, on the basis that since it would operate submerged there was no need for a diesel engine. However, this resulted in a very low endurance of 69 nmi (127.8 km) at 4 kn (2.2 m/s).
Since the boat would need to be able to pass through anti-submarine nets and similar obstacles, it was designed without
hydroplane
Planing (sailing)
Planing is the mode of operation for a waterborne craft in which its weight is predominantly supported by hydrodynamic lift, rather than hydrostatic lift .-History:...
s or fins, her trim being controlled with adjustable weights within the pressure hull. In practice this proved totally ineffective since the weights could not be moved quickly enough and hydroplanes and fins were subsequently fitted. Submerged control was still poor, since
Hecht
was not fitted with
ballast tank
Ballast tank
A ballast tank is a compartment within a boat, ship or other floating structure that holds water.-History:The basic concept behind the ballast tank can be seen in many forms of aquatic life, such as the blowfish or argonaut octopus, and the concept has been invented and reinvented many times by...
s.
Even though
Hecht
had been designed to transport an explosive charge,
Karl Dönitz
Karl Dönitz
Karl Dönitz was a German naval commander during World War II. He started his career in the German Navy during World War I. In 1918, while he was in command of , the submarine was sunk by British forces and Dönitz was taken prisoner...
insisted that a torpedo be carried so that attacks could be carried out on vessels in coastal waters.
Externally,
Hecht
resembled the British
Welman submarine
Welman submarine
The Welman submarine was a Second World War one-man British midget submarine developed by the Special Operations Executive. It only saw action once and was never particularly successful.-Design:...
. The detachable explosive charge was fitted to the nose of the submarine, while the forward section held the battery and a
gyrocompass
Gyrocompass
A gyrocompass­ is a type of non-magnetic compass which bases on a fast-spinning disc and rotation of our planet to automatically find geographical direction...
, the first to be fitted to a German midget submarine and considered essential for navigation if the craft was to operate submerged. Behind this was the control compartment with seats for the two man crew arranged one behind the other on the centerline with the engineer in front and the commander behind him. The commander was provided with a periscope and a clear acrylic dome for navigational purposes.
On 18 January 1944, Dönitz discussed the new design with Adolf Hitler who expressed his approval, and on 9 March contracts were placed with Germaniawerft of
Kiel
Kiel
Kiel is the capital and most populous city in the northern German state of Schleswig-Holstein, with a population of 238,049 .Kiel is approximately north of Hamburg. Due to its geographic location in the north of Germany, the southeast of the Jutland peninsula, and the southwestern shore of the...
for construction of a prototype, followed by a further contract for 52 submarines on 28 March.
The 53
Hechts
were constructed between May and August 1944: in the event, none saw active service but were instead used to train
Seehund
crews.
Type XXVIIB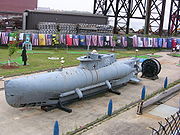 As the orders were being placed,
Hecht
variants were under construction. The first was the Type XXVIIB, which had a greater range, could carry two
G7e torpedo
G7e torpedo
The G7e or more appropriately the G7e/T2, G7e/T3, and G7e/T4 Falke torpedoes were, with the exception of the T4 model, the standard torpedoes for Germany during World War II...
es, and had diesel/electric propulsion. The design was completed at the end of June 1944 and resembled
Hecht
but had a better boat-shaped external casing for improved seakeeping while surfaced, and saddle tanks. Additional room had been made inside the pressure hull by moving the batteries to the keel, while the two torpedoes were slung externally in recesses in the lower hull. A 22 hp diesel engine was fitted for surface use and was estimated to give a surfaced speed of 5.5 kn (3 m/s), with a 25 hp electric motor providing a submerged speed of 6.9 kn (3.8 m/s).
The final variant of the Type XXVII was the Type XXVIIB5, better known as the
Seehund
("Seal") or Type 127.
Seehund
had a small raised platform midships with the air intake mast, magnetic compass, periscope, and a clear dome which could survive depths of 45 m (147.6 ft). The submarine's fixed 10 m (32.8 ft) periscope incorporated lenses which let the commander check the sky above for aircraft before surfacing.
Production
The first contract for
Seehund
construction was placed on 30 July 1944. Enthusiasm for the submarine was so high that most of the contracts and hull numbers were allocated even before the design was completed. A total of 1,000 boats were ordered, Germaniawerft and
Schichau-Werke
Schichau-Werke
The Schichau-Werke was a German engineering works and shipyard based in Elbing, formerly part of the German Empire, and which is today the town of Elbląg in northern Poland. It also had a subsidiary shipyard in Danzig .-Early years:...
to build 25 and 45 boats per month respectively. Other centers involved in
Seehund
production were CRD-Monfalcone on the Adriatic and Klockner-Humbolt-Deutz at
Ulm
Ulm
Ulm is a city in the federal German state of Baden-Württemberg, situated on the River Danube. The city, whose population is estimated at 120,000 , forms an urban district of its own and is the administrative seat of the Alb-Donau district. Ulm, founded around 850, is rich in history and...
.
However, Dönitz would not consent to the production of the Type XXVII U-boat being held up for
Seehund
construction, while shortages of raw material, labor and transport problems, and conflicting priorities in Germany's economy all combined to reduce
Seehund
production. In the end
Seehund
production was undertaken by Germaniawerft at Kiel using a facility which was no longer needed for Type XXI or Type XXIII production.
A total of 285
Seehunds
were constructed and allocated numbers in the range
U-5501
to
U-6442
.
Operational service
From the Allied point of view the
Seehund
s small size made it almost impossible for Asdic to get a return from her hull, while her very quiet slow speed running made her almost immune to detection by
hydrophone
Hydrophone
A hydrophone is a microphone designed to be used underwater for recording or listening to underwater sound. Most hydrophones are based on a piezoelectric transducer that generates electricity when subjected to a pressure change...
. As Admiral Sir
Charles Little
Charles Little
Admiral Sir Charles James Colebrooke Little GCB GBE was a senior Royal Navy officer who went on to be Second Sea Lord and Chief of Naval Personnel.-Naval career:...
,
Commander-in-Chief, Portsmouth
Commander-in-Chief, Portsmouth
The Commander-in-Chief, Portsmouth was a senior commander of the Royal Navy for hundreds of years. Portsmouth Command was a name given to the units, establishments, and staff operating under the post.-History:...
put it, "Fortunately for us these damn things arrived too late in the war to do any damage".
Seehunds
operated mainly around the German coast and in the
English Channel
English Channel
The English Channel , often referred to simply as the Channel, is an arm of the Atlantic Ocean that separates southern England from northern France, and joins the North Sea to the Atlantic. It is about long and varies in width from at its widest to in the Strait of Dover...
, and could attack on the surface in turbulent weather, but had to be almost stationary for submerged attacks. From January to April 1945
Seehunds
performed 142 sorties, during which they sank 8 ships for a total of 17,301 tons and damaged 3 for a total of 18,384 tons; 35
Seehunds
were lost in action.
The last
Seehund
sorties took place on 28 April and 2 May 1945, when two special missions were performed to resupply the cutoff German base at
Dunkirk
with rations, the boats carrying special food containers (nicknamed "butter torpedoes") instead of torpedoes, and on the return voyage using the containers to carry mail from the Dunkirk garrison.
The
French navy
French Navy
The French Navy, officially the Marine nationale and often called La Royale is the maritime arm of the French military. It includes a full range of fighting vessels, from patrol boats to a nuclear powered aircraft carrier and 10 nuclear-powered submarines, four of which are capable of launching...
received four units as war damage, and commissioned them as
S 621
,
S 622
,
S 623
and
S624
. They were used until August 1953.
S 622
is preserved and on display at Brest naval museum.
The U-5075 is on display at the United States Naval Shipbuilding Museum, part of the Massachusetts Military Research Center, in
Quincy, Massachusetts
Quincy, Massachusetts
Quincy is a city in Norfolk County, Massachusetts, United States. Its nicknames are "City of Presidents", "City of Legends", and "Birthplace of the American Dream". As a major part of Metropolitan Boston, Quincy is a member of Boston's Inner Core Committee for the Metropolitan Area Planning Council...
. Occasional
amateur radio
Amateur radio
Amateur radio is the use of designated radio frequency spectrum for purposes of private recreation, non-commercial exchange of messages, wireless experimentation, self-training, and emergency communication...
events are conducted by this museum ship, using the callsign WW2MAN.