 Sea of Azoff naval campaign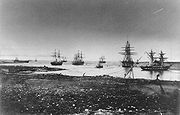 During the
Crimean War
Crimean War
The Crimean War was a conflict fought between the Russian Empire and an alliance of the French Empire, the British Empire, the Ottoman Empire, and the Kingdom of Sardinia. The war was part of a long-running contest between the major European powers for influence over territories of the declining...
(1853–56), a
naval campaign
was fought in the
Sea of Azov
Sea of Azov
The Sea of Azov , known in Classical Antiquity as Lake Maeotis, is a sea on the south of Eastern Europe. It is linked by the narrow Strait of Kerch to the Black Sea to the south and is bounded on the north by Ukraine mainland, on the east by Russia, and on the west by the Ukraine's Crimean...
between the
Royal Navy
Royal Navy
The Royal Navy is the naval warfare service branch of the British Armed Forces. Founded in the 16th century, it is the oldest service branch and is known as the Senior Service...
and the
French Navy
French Navy
The French Navy, officially the Marine nationale and often called La Royale is the maritime arm of the French military. It includes a full range of fighting vessels, from patrol boats to a nuclear powered aircraft carrier and 10 nuclear-powered submarines, four of which are capable of launching...
against the
Russian Navy
between 25 May–22 November 1855. British and French warships struck at every vestige of Russian power along the coast of the Sea of Azov. Except for
Rostov
Rostov
Rostov is a town in Yaroslavl Oblast, Russia, one of the oldest in the country and a tourist center of the Golden Ring. It is located on the shores of Lake Nero, northeast of Moscow. Population:...
and
Azov
Azov
-External links:** *...
, no town, depot, building or fortification was immune from attack and Russian naval power ceased to exist almost overnight. Contrary to established images of the Russian War, here was a campaign which was well-planned, dynamically led and overwhelmingly successful. The British authorities, significantly, issued the bar "Azoff" to the British Crimean War Medal, thus acknowledging the services of those who waged the most successful operations against the Russians during the war of 1854-1856. The bar was awarded only to the Royal Navy, together with units of the
Royal Marines
Royal Marines
The Corps of Her Majesty's Royal Marines, commonly just referred to as the Royal Marines , are the marine corps and amphibious infantry of the United Kingdom and, along with the Royal Navy and Royal Fleet Auxiliary, form the Naval Service...
present during the campaign. The unauthorised French clasp, reading
Mer d'Azoff
, was worn by sailors of the French Navy.