 Sculpture garden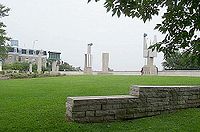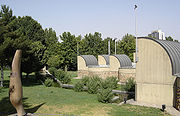 A
sculpture garden
is an outdoor garden dedicated to the presentation of
sculpture
Sculpture
Sculpture is three-dimensional artwork created by shaping or combining hard materials—typically stone such as marble—or metal, glass, or wood. Softer materials can also be used, such as clay, textiles, plastics, polymers and softer metals...
, usually several permanently sited works in durable materials in
landscaped
Landscaping
Landscaping refers to any activity that modifies the visible features of an area of land, including:# living elements, such as flora or fauna; or what is commonly referred to as gardening, the art and craft of growing plants with a goal of creating a beautiful environment within the landscape.#...
surroundings.
A sculpture garden may be private, owned by a museum and accessible freely or for a fee, or public and accessible to all. Some cities own large numbers of
public sculptures
Public art
The term public art properly refers to works of art in any media that have been planned and executed with the specific intention of being sited or staged in the physical public domain, usually outside and accessible to all...
, some of which they may present together in city
park
Park
A park is a protected area, in its natural or semi-natural state, or planted, and set aside for human recreation and enjoyment, or for the protection of wildlife or natural habitats. It may consist of rocks, soil, water, flora and fauna and grass areas. Many parks are legally protected by...
s.
Exhibits range from individual, traditional sculptures to large
site-specific
Site-specific art
Site-specific art is artwork created to exist in a certain place. Typically, the artist takes the location into account while planning and creating the artwork...
installations
Installation art
Installation art describes an artistic genre of three-dimensional works that are often site-specific and designed to transform the perception of a space. Generally, the term is applied to interior spaces, whereas exterior interventions are often called Land art; however, the boundaries between...
.
See also
Earth art
Folly

Folly

In architecture, a folly is a building constructed primarily for decoration, but either suggesting by its appearance some other purpose, or merely so extravagant that it transcends the normal range of garden ornaments or other class of building to which it belongs...



Land art

Land art

Land art, Earthworks , or Earth art is an art movement which emerged in the United States in the late 1960s and early 1970s, in which landscape and the work of art are inextricably linked...



Mary garden

Mary garden

A Mary Garden is a small sacred garden enclosing a statute or shrine of the Virgin Mary, who is known to many Christians as the Blessed Virgin, Our Lady, or the Mother of God. In Christian tradition, Mary is the mother of Jesus of Nazareth, also known as Jesus Christ...



Public art

Public art

The term public art properly refers to works of art in any media that have been planned and executed with the specific intention of being sited or staged in the physical public domain, usually outside and accessible to all...



Sculpture trail

Sculpture trail

A sculpture trail—sculpture walk - also known as "a culture walk" - is a walkway through open-air galleries of outdoor sculptures along a defined route with sequenced viewings encountered from planned preview and principal sight lines.-Settings:...



Sensory garden

Sensory garden

A sensory garden is a garden or other plot specifically created to be accessible and enjoyable to visitors, both disabled and non-disabled. The purpose of such a provision is to provide individual and combined sensory opportunities for the user such that they may not normally experience.A sensory...



Site-specific art

Site-specific art

Site-specific art is artwork created to exist in a certain place. Typically, the artist takes the location into account while planning and creating the artwork...



Spirit of place

Spirit of place

Spirit of place refers to the unique, distinctive and cherished aspects of a place; often those celebrated by artists and writers, but also those cherished in folk tales, festivals and celebrations...



List of sculpture parks

Franklin D. Murphy Sculpture Garden

Franklin D. Murphy Sculpture Garden

The Franklin D. Murphy Sculpture Garden is one of the most comprehensive sculpture gardens in the United States. The garden is located on the campus of the University of California, Los Angeles and is run by the Hammer Museum....



Desert Christ Park

Desert Christ Park

Desert Christ Park is a sculpture garden in Yucca Valley, California. The park was sculpted and created by Antone Martin, a former aircraft worker who died in 1961 at the age of 74. Martin started sculpting the figures during the height of the Cold War atomic bomb scare of the mid-1940s, hoping...



Toronto Sculpture Garden

Toronto Sculpture Garden

The Toronto Sculpture Garden is located at 115 King Street East in a small 80 by 100 foot park directly across the street from Cathedral Church of St. James , in Toronto, Canada. It has operated since 1981-Amenities:...



Vigeland Sculpture Park