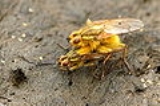 Scathophaga
The
genus
Genus
In biology, a genus is a low-level taxonomic rank used in the biological classification of living and fossil organisms, which is an example of definition by genus and differentia...
Scathophaga
are small to medium sized predatory
flies
Fly
True flies are insects of the order Diptera . They possess a pair of wings on the mesothorax and a pair of halteres, derived from the hind wings, on the metathorax...
that for the most part, have larvae that feed on other insect larva within animal
dung
Feces
Feces, faeces, or fæces is a waste product from an animal's digestive tract expelled through the anus or cloaca during defecation.-Etymology:...
or decaying vegetable matter. Many are highly variable, sometimes producing small, infertile males that superficially resemble females. is an example of an organism which may selectively store the sperm of multiple males, as females have three to four spermathecae.
Species
Scathophaga calida (Haliday

Alexander Henry Haliday

Alexander Henry Haliday, also known as Enrico Alessandro Haliday and Alexis Heinrich Haliday sometimes Halliday , was an Irish entomologist. He is primarily known for his work on Hymenoptera, Diptera and Thysanoptera, but Haliday worked on all insect orders and on many aspects of entomology.Haliday...


in Curtis

John Curtis (entomologist)

John Curtis was an English entomologist and illustrator.-Biography:Curtis was born in Norwich and learned his engraving skills in the workshop of his father, Charles Morgan Curtis...


, 1832)
Scathophaga furcata (Say

Thomas Say

Thomas Say was an American naturalist, entomologist, malacologist, herpetologist and carcinologist. A taxonomist, he is often considered to be the father of descriptive entomology in the United States. He described more than 1,000 new species of beetles and over 400 species of insects of other...


, 1823)
Scathophaga inquinata (Meigen

Johann Wilhelm Meigen

Johann Wilhelm Meigen was a German entomologist famous for his pioneering work on Diptera.-Early years:Meigen was born in Solingen, the fifth of eight children of Johann Clemens Meigen and Sibylla Margaretha Bick. His parents, though not poor, were not wealthy either. The ran a small shop in...


, 1826)
Scathophaga litorea (Fallén

Carl Fredrik Fallén

Carl Fredrik Fallén was a Swedish botanist and entomologist.Fallén taught at the Lund University. He wrote Diptera Sueciae .In 1817, Fallen discovered the Muscina stabulans species of flies....


, 1819)
Scathophaga lutaria (Fabricius

Johan Christian Fabricius

Johan Christian Fabricius was a Danish zoologist, specialising in "Insecta", which at that time included all arthropods: insects, arachnids, crustaceans and others...


, 1794)
Scathophaga pictipennis (Oldenberg, 1923)
Scathophaga scybalaria (Linnaeus

Carolus Linnaeus

Carl Linnaeus , also known after his ennoblement as , was a Swedish botanist, physician, and zoologist, who laid the foundations for the modern scheme of binomial nomenclature. He is known as the father of modern taxonomy, and is also considered one of the fathers of modern ecology...


, 1758

Systema Naturae

The book was one of the major works of the Swedish botanist, zoologist and physician Carolus Linnaeus. The first edition was published in 1735...


)
Scathophaga stercoraria

Scathophaga stercoraria

Scathophaga stercoraria, known as the common yellow dung fly or sometimes called the golden dung fly. It is one of the most familiar and abundant of flies in many parts of the northern hemisphere. As its common name suggests, it is often found on mammal faeces, most notably those of horses and...


(Linnaeus

Carolus Linnaeus

Carl Linnaeus , also known after his ennoblement as , was a Swedish botanist, physician, and zoologist, who laid the foundations for the modern scheme of binomial nomenclature. He is known as the father of modern taxonomy, and is also considered one of the fathers of modern ecology...


, 1758

Systema Naturae

The book was one of the major works of the Swedish botanist, zoologist and physician Carolus Linnaeus. The first edition was published in 1735...


)
Scathophaga suilla (Fabricius

Johan Christian Fabricius

Johan Christian Fabricius was a Danish zoologist, specialising in "Insecta", which at that time included all arthropods: insects, arachnids, crustaceans and others...


, 1794)