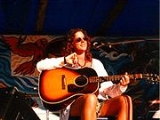 Sarah McLachlan
Sarah Ann McLachlan,
OC
Order of Canada
The Order of Canada is a Canadian national order, admission into which is, within the system of orders, decorations, and medals of Canada, the second highest honour for merit...
,
OBC
Order of British Columbia
The Order of British Columbia is a civilian honour for merit in the Canadian province of British Columbia. Instituted in 1989 by Lieutenant Governor David Lam, on the advice of the Cabinet under Premier Bill Vander Zalm, the order is administered by the Governor-in-Council and is intended to honour...
(born 28 January 1968) is a Canadian musician, singer and songwriter. Known for her emotional ballads and
mezzo-soprano
Mezzo-soprano
A mezzo-soprano is a type of classical female singing voice whose range lies between the soprano and the contralto singing voices, usually extending from the A below middle C to the A two octaves above...
vocal range, as of 2006, she has sold over 40 million albums worldwide. McLachlan's best-selling album to date is
Surfacing
Surfacing (album)
Surfacing is the fourth studio album by Canadian singer-songwriter Sarah McLachlan. Released on July 15, 1997, it was produced by McLachlan's frequent collaborator, Pierre Marchand. McLachlan set about writing Surfacing in 1996, after two and a half years touring for her previous album, 1994's...
, for which she won two
Grammy Award
Grammy Award
A Grammy Award — or Grammy — is an accolade by the National Academy of Recording Arts and Sciences of the United States to recognize outstanding achievement in the music industry...
s (out of four nominations) and four
Juno Award
Juno Award
The Juno Awards are presented annually to Canadian musical artists and bands to acknowledge their artistic and technical achievements in all aspects of music...
s. In addition to her personal artistic efforts, she founded the
Lilith Fair
Lilith Fair
Lilith Fair was a concert tour and travelling music festival, founded by Canadian musician Sarah McLachlan, Nettwerk Music Group's Dan Fraser and Terry McBride, and New York talent agent Marty Diamond. It took place during the summers of 1997 to 1999, and was revived in the summer of 2010. It...
tour, which showcased female musicians.
"I am extremely flattered that Governor Pataki has chosen me as the recipient of this tremendous honor," Sarah McLachlan said. "I just feel that the Lilith Fair was a terrific opportunity to create a platform to celebrate so many great women in music today and to get out a really positive message. I have been so fortunate as a musician and I feel that I have a responsibility and a great opportunity to give something back."

On receiving 'Visionary Award' from Governor George Pataki