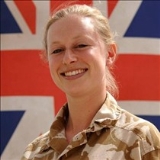 Sarah Bryant (British Army soldier)
Corporal
Sarah Louise Bryant
née Feely (17 December 1981 – 17 June 2008) of the
British Army
British Army
The British Army is the land warfare branch of Her Majesty's Armed Forces in the United Kingdom. It came into being with the unification of the Kingdom of England and Scotland into the Kingdom of Great Britain in 1707. The new British Army incorporated Regiments that had already existed in England...
's Intelligence Corps was the first British
servicewoman
Soldier
A soldier is a member of the land component of national armed forces; whereas a soldier hired for service in a foreign army would be termed a mercenary...
killed in
Afghanistan
Afghanistan
Afghanistan , officially the Islamic Republic of Afghanistan, is a landlocked country located in the centre of Asia, forming South Asia, Central Asia and the Middle East. With a population of about 29 million, it has an area of , making it the 42nd most populous and 41st largest nation in the world...
.
Born in Liverpool and raised in Cumbria Feely joined the Army in 2002, completing basic training at Army Training Regiment
Winchester
Winchester
Winchester is a historic cathedral city and former capital city of England. It is the county town of Hampshire, in South East England. The city lies at the heart of the wider City of Winchester, a local government district, and is located at the western end of the South Downs, along the course of...
as a soldier in the Intelligence Corps. Following specialist training at the
Defence Intelligence and Security Centre
Defence Intelligence and Security Centre
Defence Intelligence and Security Centre is the location of the Headquarters of both the Defence College of Intelligence and the British Army Intelligence Corps...
(DISC),
Chicksands
Chicksands
Chicksands is a village in the Central Bedfordshire district of Bedfordshire, England and part of the civil parish of Campton and Chicksands . It is on the River Flit. Nearby places are Shefford and Campton....
she was initially posted to
Whitehall
Whitehall
Whitehall is a road in Westminster, in London, England. It is the main artery running north from Parliament Square, towards Charing Cross at the southern end of Trafalgar Square...
, London.
This house is so full of people, it makes me sick! When I grow up and get married, I'm living alone!

[in his mind] I wish they would all just disappear.

I took a shower, washing every body part with actual soap, including all my major crevices, including in between my toes and in my belly button, which I never did before but sort of enjoyed. I washed my hair with adult-formula shampoo and used cream rinse for that just-washed shine. I can't seem to find my toothbrush, so I'll pick one up when I go out today. Other than that, I'm in good shape. [applies aftershave] AAAAAAAAAAAAAAAAAGHHHHHHHHHHHH!

A Family Comedy Without The Family.

When Kevin's Family Left For Vacation, They Forgot One Minor Detail: Kevin. But Don't Worry... He Cooks. He Cleans. He Kicks Some Butt.

This Non-Family Comedy is a Real Scream.