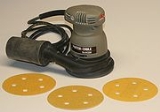 Sander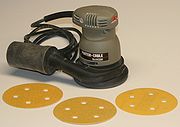 A
sander
is a
power tool
Power tool
A power tool is a tool that is actuated by an additional power source and mechanism other than the solely manual labour used with hand tools. The most common types of power tools use electric motors. Internal combustion engines and compressed air are also commonly used...
used to smooth
wood
Wood
Wood is a hard, fibrous tissue found in many trees. It has been used for hundreds of thousands of years for both fuel and as a construction material. It is an organic material, a natural composite of cellulose fibers embedded in a matrix of lignin which resists compression...
and automotive or wood
finishes
Wood finishing
Wood finishing refers to the process of embellishing and/or protecting the surface of a wooden material. The process starts with surface preparation, either by sanding by hand , scraping, or planing. Imperfections or nail holes on the surface may be filled using wood putty or pores may be filled...
by
abrasion
Abrasion (mechanical)
Abrasion is the process of scuffing, scratching, wearing down, marring, or rubbing away. It can be intentionally imposed in a controlled process using an abrasive...
with
sandpaper
Sandpaper
Sandpaper, also known as glasspaper, is a heavy paper with abrasive material attached to its surface.Sandpaper is part of the "coated abrasives" family of abrasive products. It is used to remove small amounts of material from surfaces, either to make them smoother , to remove a layer of material...
. Sanders have a means to attach the sandpaper and a mechanism to move it rapidly contained within a housing with means to hand-hold it or fix it to a workbench.
Woodworking
Woodworking
Woodworking is the process of building, making or carving something using wood.-History:Along with stone, mud, and animal parts, wood was one of the first materials worked by early humans. Microwear analysis of the Mousterian stone tools used by the Neanderthals show that many were used to work wood...
sanders are usually powered electrically, and those used in auto-body repair work by
compressed air
Pneumatics
Pneumatics is a branch of technology, which deals with the study and application of use of pressurized gas to effect mechanical motion.Pneumatic systems are extensively used in industry, where factories are commonly plumbed with compressed air or compressed inert gases...
. There are many different types of sanders for different purposes. Multi-purpose power tools and electric drills may have sander attachments. Additionally, surface preparation equipment such as the
Easily Manipulated Mechanical Arm
Easily Manipulated Mechanical Arm
EMMA is a product built by Temple Allen Industries. EMMA uses patented technology to allow workers to operate sanding equipment more safely and productively...
feature sanders as an integral component of their system.
Woodworking sanders include:
Flap sander or sanding flap wheel: A sanding attachment shaped like a Rolodex

Rolodex

A Rolodex is a rotating file device used to store business contact information currently manufactured by Newell Rubbermaid. The Rolodex holds specially shaped index cards; the user writes the contact information for one person or company on each card...


and used on a hand-held drill or mounted on a bench grinder for finishing curved surfaces.
Belt sander

Belt sander

A belt sander is a machine used to sand down wood and other materials for finishing purposes. It consists of an electrical motor that turns a pair of drums on which a seamless loop of sandpaper is mounted. Belt sanders can be either hand-held, where the sander is moved over the material, or...


(hand-held or stationary)
Disc sander: A disc sander is most commonly known as a stationary machine

Machine

A machine manages power to accomplish a task, examples include, a mechanical system, a computing system, an electronic system, and a molecular machine. In common usage, the meaning is that of a device having parts that perform or assist in performing any type of work...


that consists of a replaceable circular shaped sandpaper attached to a wheel being electrically spun around. The usually wooden work piece, (although other materials can be shaped and worked on such as plastics, metals and other soft materials), is sat on a front bench that can be adjusted to various angles. It can be used for rough or fine sanding depending on the sanding grit

Mesh (scale)

Mesh material is often used in determining the particle size distribution of a granular material. For example, a sample from a truckload of peanuts may be placed atop a mesh with 5 mm openings. When the mesh is shaken, small broken pieces and dust pass through the mesh while whole peanuts are...


used.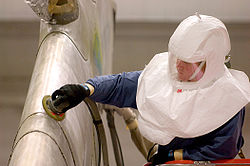 Oscillating spindle sander: A sander mounted on a spindle that both rotates and oscillates in and out or up and down along the axis of the spindle. Good for sanding curves and contours that would be difficult with hand or orbital sanding.
Random orbital sander

Random orbital sander

Random orbit sanders, also called Dual-Action or D.A. sanders are hand-held power sanders where the action is a random orbit. They were first introduced in the early 1990s and quickly became tremendously popular...



Orbital sander: A hand-held sander that vibrates in small circles, or "orbits." Mostly used for fine sanding or where little material needs to be removed.
Straight-line sander: A sander that vibrates in a straight line, instead of in circles. Good for places where hand sanding is tedious or "blocking" is required. Most are air-powered, a few electric. The first pneumatic straight line sander was patented by Otto Hendrickson in 1969.
Detail Sander: A hand-held sander that uses a small vibrating head with a triangular piece of sandpaper attached. Used for sanding corners and very tight spaces. Also known as "Mouse" or "corner" sanders.
Stroke sander: A large production sander that uses a hand-operated platen on a standard sanding belt to apply pressure. For large surfaces such as tabletops, doors, and cabinets.
Table Top Drum sander: A bench top sander that uses a rotating drum. Much like a jointer, the operator adjust the height of the grit, by changing the grit of sandpaper, to adjust the depth of cut. Wood is hand fed overtop the drum to achieve a flat, smooth surface. Can be used for surface sanding, edge sanding, stripping paint, cabinet doors, ect.
Drum sander: A large sander that uses a rotating sanding drum. As with a planer

Planer (metalworking)

A planer is a type of metalworking machine tool that uses linear relative motion between the workpiece and a single-point cutting tool to machine a linear toolpath. Its cut is analogous to that of a lathe, except that it is linear instead of helical...


, the operator adjusts feed rollers to feed the wood into the machine. The sander smooths it and sends it out the other side. Good for finishing large surfaces.
Wide-belt sander: A large sander similar in concept to a planer, but much larger. Uses a large sanding belt head instead of a planer's knife cutterhead, and requires air from a separate source to tension the belt. For rough sanding large surfaces or finishing. Used mainly for manufacturing furniture and cabinets.
External links