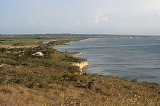 San Fernando de Monte Cristi
San Fernando de Monte Cristi
is the capital of Monte Cristi Province,
Dominican Republic
Dominican Republic
The Dominican Republic is a nation on the island of La Hispaniola, part of the Greater Antilles archipelago in the Caribbean region. The western third of the island is occupied by the nation of Haiti, making Hispaniola one of two Caribbean islands that are shared by two countries...
.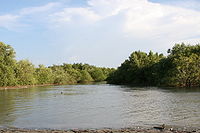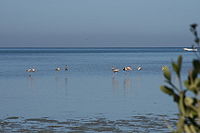 It is located in the northwest of the country in the coastal lowlands, close to the border with
Haiti
Haiti
Haiti , officially the Republic of Haiti , is a Caribbean country. It occupies the western, smaller portion of the island of Hispaniola, in the Greater Antillean archipelago, which it shares with the Dominican Republic. Ayiti was the indigenous Taíno or Amerindian name for the island...
.
History
Populated in 1533 by Juan de Bolaños and 63 families from the Canary Islands. These migrated to various parts of the country after failing to establish successfully. Later repopulated and became a very wealthy port in the mid-to-late 16th century.
In 1606, one hundred years after its founding, it was destroyed as retribution for doing business with pirates. In 1756 the city was rebuilt and again became a prosperous trading center, until the early 20th century.
In 1895, was the site of the signing of el Manifiesto de Montecristi by
Máximo Gómez
Máximo Gómez
Máximo Gómez y Báez was a Major General in the Ten Years' War and Cuba's military commander in that country's War of Independence ....
and
José Martí
José Martí
José Julián Martí Pérez was a Cuban national hero and an important figure in Latin American literature. In his short life he was a poet, an essayist, a journalist, a revolutionary philosopher, a translator, a professor, a publisher, and a political theorist. He was also a part of the Cuban...
, at Máximo Gómez home located on Mella St. They sailed from "La Granja" beach, also in Montecristi, to Cuba to fight for its independence.