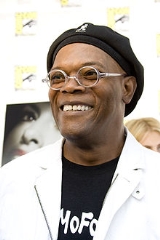 Samuel L. Jackson
Samuel Leroy Jackson
is an American film and television actor and film producer. After becoming involved with the
Civil Rights Movement
Civil rights movement
The civil rights movement was a worldwide political movement for equality before the law occurring between approximately 1950 and 1980. In many situations it took the form of campaigns of civil resistance aimed at achieving change by nonviolent forms of resistance. In some situations it was...
, he moved on to acting in theater at
Morehouse College
Morehouse College
Morehouse College is a private, all-male, liberal arts, historically black college located in Atlanta, Georgia. Along with Hampden-Sydney College and Wabash College, Morehouse is one of three remaining traditional men's colleges in the United States....
, and then films. He had several small roles such as in the film
Goodfellas
Goodfellas
Goodfellas is a 1990 American crime film directed by Martin Scorsese. It is a film adaptation of the 1986 non-fiction book Wiseguy by Nicholas Pileggi, who co-wrote the screenplay with Scorsese...
before meeting his mentor,
Morgan Freeman
Morgan Freeman
Morgan Freeman is an American actor, film director, aviator and narrator. He is noted for his reserved demeanor and authoritative speaking voice. Freeman has received Academy Award nominations for his performances in Street Smart, Driving Miss Daisy, The Shawshank Redemption and Invictus and won...
, and the director
Spike Lee
Spike Lee
Shelton Jackson "Spike" Lee is an American film director, producer, writer, and actor. His production company, 40 Acres & A Mule Filmworks, has produced over 35 films since 1983....
. After gaining critical acclaim for his role in
Jungle Fever
Jungle Fever
Jungle Fever is a 1991 American drama film directed by Spike Lee, starring Wesley Snipes and Annabella Sciorra. It was Lee's fifth feature-length film. The film mainly explores interracial relationships...
in 1991, he appeared in films such as
Patriot Games
Patriot Games (film)
Patriot Games is a 1992 film directed by Phillip Noyce and based on Tom Clancy's the novel of the same name. It is a sequel to the 1990 film The Hunt for Red October. In the movie, Jack Ryan is played by Harrison Ford, Jack's surgeon-wife, Dr...
,
Amos & Andrew
Amos & Andrew
Amos & Andrew is a 1993 comedy starring Nicolas Cage and Samuel L. Jackson, filmed in and around Wilmington, North Carolina. It concerns wealthy African-American playwright Andrew Sterling's purchase of a summer home on a predominantly white island.-Plot:When Andrew Sterling Amos & Andrew is a...
,
True Romance
True Romance
True Romance is a 1993 American romance crime film written by Quentin Tarantino and directed by Tony Scott. The film stars Christian Slater and Patricia Arquette with an ensemble cast consisting of Christopher Walken, Dennis Hopper, Gary Oldman, Chris Penn, Tom Sizemore, Samuel L. Jackson, Kevin...
and
Jurassic Park
Jurassic Park (film)
Jurassic Park is a 1993 American science fiction adventure film directed by Steven Spielberg. The film is based on the novel of the same name by Michael Crichton. It stars Sam Neill, Laura Dern, Jeff Goldblum, Richard Attenborough, Martin Ferrero, and Bob Peck...
.