 Sakia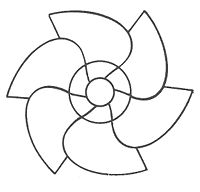 A
sakia
tympanum
or
tablia
is a
water wheel
Water wheel
A water wheel is a machine for converting the energy of free-flowing or falling water into useful forms of power. A water wheel consists of a large wooden or metal wheel, with a number of blades or buckets arranged on the outside rim forming the driving surface...
, somewhat similar to a
noria
Noria
A noria is a machine for lifting water into a small aqueduct, either for the purpose of irrigation or, in at least one known instance, to feed seawater into a saltern....
, and used primarily in
Egypt
Egypt
Egypt , officially the Arab Republic of Egypt, Arabic: , is a country mainly in North Africa, with the Sinai Peninsula forming a land bridge in Southwest Asia. Egypt is thus a transcontinental country, and a major power in Africa, the Mediterranean Basin, the Middle East and the Muslim world...
. It is a large hollow wheel, normally made of
galvanized sheet steel
Hot-dip galvanizing
Hot-dip galvanizing is a form of galvanization. It is the process of coating iron, steel, or aluminum with a thin zinc layer, by passing the metal through a molten bath of zinc at a temperature of around 860 °F...
, with scoops or buckets at the periphery. Its unique characteristic is that water is dispensed near the hub rather than from the top.
Sakias range in diameter from two to five meters. Though traditionally driven by
draught animals
Working animal
A working animal is an animal, usually domesticated, that is kept by humans and trained to perform tasks. They may be close members of the family, such as guide or service dogs, or they may be animals trained strictly to perform a job, such as logging elephants. They may also be used for milk, a...
, they are now increasingly attached to an
engine
Engine
An engine or motor is a machine designed to convert energy into useful mechanical motion. Heat engines, including internal combustion engines and external combustion engines burn a fuel to create heat which is then used to create motion...
. While animal-driven sakias can rotate at 2-4
rpm
Revolutions per minute
Revolutions per minute is a measure of the frequency of a rotation. It annotates the number of full rotations completed in one minute around a fixed axis...
, motorised ones can make as much as 8-15 rpm.
A (animal driven) sakia can pump up water from 10 meters depth, and is thus considerably more efficient than a
shadoof
Shadoof
A shadoof, shaduf, dhenkli, picottah or counterpoise-lift is an irrigation tool...
(which can only pump water from 3 meters).
The earliest evidence of a sakia is from a Hellenistic tomb painting in
Ptolemaic Egypt
Ptolemaic Egypt
Ptolemaic Egypt began when Ptolemy I Soter invaded Egypt and declared himself Pharaoh of Egypt in 305 BC and ended with the death of queen Cleopatra VII of Egypt and the Roman conquest in 30 BC. The Ptolemaic Kingdom was a powerful Hellenistic state, extending from southern Syria in the east, to...
which dates to the 2nd century BC. It shows a pair of yoked oxen driving a compartmented waterwheel, which is for the first time depicted, too. The
Greek
Ancient Greece
Ancient Greece is a civilization belonging to a period of Greek history that lasted from the Archaic period of the 8th to 6th centuries BC to the end of antiquity. Immediately following this period was the beginning of the Early Middle Ages and the Byzantine era. Included in Ancient Greece is the...
sakia gear system is already shown fully developed to the point that "modern Egyptian devices are virtually identical". It is assumed that the scientists of the Museum of Alexandria, at the time the most active Greek research center, may have been involved in its invention. An episode from the Alexandrian War in 48 BC tells of how Caesar's enemies employed geared waterwheels to pour sea water from elevated places on the position of the trapped Romans.
Further reading
Fraenkel, P., (1990) "Water-Pumping Devices: A Handbook for users and choosers" Intermediate Technology Publications.
Molenaar, A., (1956) "Water lifting devices for irrigation" FAO Agricultural Development Paper No. 60, Food and Agriculture Organization of the United Nations, Rome.