 SPAR (platform)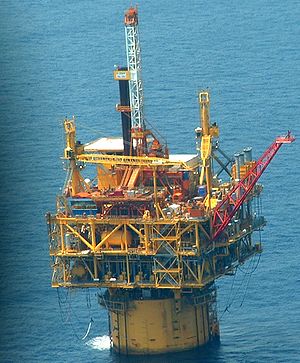 A
spar
, named for logs used as buoys in shipping and moored in place vertically, is a type of floating
oil platform
Oil platform
An oil platform, also referred to as an offshore platform or, somewhat incorrectly, oil rig, is a lаrge structure with facilities to drill wells, to extract and process oil and natural gas, and to temporarily store product until it can be brought to shore for refining and marketing...
typically used in very deep waters. Spar production platforms have been developed as an alternative to conventional platforms.
A spar platform consists of a large-diameter, single vertical
cylinder
Cylinder (geometry)
A cylinder is one of the most basic curvilinear geometric shapes, the surface formed by the points at a fixed distance from a given line segment, the axis of the cylinder. The solid enclosed by this surface and by two planes perpendicular to the axis is also called a cylinder...
supporting a deck.
The first spar platform in the
Gulf of Mexico
Gulf of Mexico
The Gulf of Mexico is a partially landlocked ocean basin largely surrounded by the North American continent and the island of Cuba. It is bounded on the northeast, north and northwest by the Gulf Coast of the United States, on the southwest and south by Mexico, and on the southeast by Cuba. In...
was installed in September 1996.
The world's deepest platform is the Perdido in the Gulf of Mexico, floating in 2,438 meters of water. It is operated by
Royal Dutch Shell
Royal Dutch Shell
Royal Dutch Shell plc , commonly known as Shell, is a global oil and gas company headquartered in The Hague, Netherlands and with its registered office in London, United Kingdom. It is the fifth-largest company in the world according to a composite measure by Forbes magazine and one of the six...
and was built at a cost of $3 billion.
External links