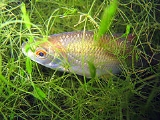 Rutilus
Rutilus
is a genus of fishes in the family Cyprinidae, commonly called
roaches
. Locally, the name "roach" without any further qualifiers is also used for particular
species
Species
In biology, a species is one of the basic units of biological classification and a taxonomic rank. A species is often defined as a group of organisms capable of interbreeding and producing fertile offspring. While in many cases this definition is adequate, more precise or differing measures are...
, particularly the Common Roach (
R. rutilus
).
Species
FishBase
FishBase
FishBase is a comprehensive database of information about fish species . It is the largest and most extensively accessed online database on adult finfish on the web...
lists 17 species:
Rutilus albus Marić, 2010
Rutilus aula

Rutilus aula

Rutilus aula is a species of ray-finned fish in the Cyprinidae family.It is found in Croatia, Italy, Slovenia, and Switzerland.Its natural habitats are rivers and freshwater lakes.-References:* Crivelli, A.J. 2005. . Downloaded on 19 July 2007....


(Bonaparte, 1841)
Rutilus basak

Rutilus basak

Rutilus basak is a species of ray-finned fish in the Cyprinidae family.It is found in Albania, Bosnia and Herzegovina, Croatia, and Serbia and Montenegro.Its natural habitats are intermittent rivers and freshwater lakes....


(Heckel

Johann Jakob Heckel

Johann Jakob Heckel was an Austrian taxidermist, zoologist, and ichthyologist from Mannheim.Though not a formally trained zoologist he worked his way up through the ranks to eventually become the director of the Fish Collection at the Naturhistorisches Museum in Vienna...


, 1843)
Rutilus caspicus (Yakovlev, 1870)
Rutilus frisii (Nordmann

Alexander von Nordmann

Alexander Davidovič von Nordmann was a Finnish biologist.-Biography:Alexander von Nordmann was born in Ruotensalmi on May 24, 1803. Nordmann was a professor at Odessa, and collected natural history specimens in southern Russia. He became professor of Zoology at the university of Helsinki in 1849...


, 1840) (Kutum, Black Sea Roach)
Rutilus heckelii (Nordmann

Alexander von Nordmann

Alexander Davidovič von Nordmann was a Finnish biologist.-Biography:Alexander von Nordmann was born in Ruotensalmi on May 24, 1803. Nordmann was a professor at Odessa, and collected natural history specimens in southern Russia. He became professor of Zoology at the university of Helsinki in 1849...


, 1840)
Rutilus karamani

Rutilus karamani

Rutilus karamani is a species of ray-finned fish in the Cyprinidae family.It is found in Albania, Republic of Macedonia, and Serbia and Montenegro.Its natural habitats are rivers and freshwater lakes.It is threatened by habitat loss.-References:...


Fowler

Henry Weed Fowler

Henry Weed Fowler was an American zoologist born in Holmesburg, Pennsylvania.He studied at Stanford University under David Starr Jordan...


, 1977
Rutilus kutum (Kamensky, 1901) (Caspian White Fish, Caspian Roach)
Rutilus meidingerii

Rutilus meidingerii

Rutilus meidingerii is a species of ray-finned fish in the Cyprinidae family.It is found in Austria, Germany, and Slovakia.-Source:* Kottelat, M. 1996. . Downloaded on 19 July 2007....


(Heckel

Johann Jakob Heckel

Johann Jakob Heckel was an Austrian taxidermist, zoologist, and ichthyologist from Mannheim.Though not a formally trained zoologist he worked his way up through the ranks to eventually become the director of the Fish Collection at the Naturhistorisches Museum in Vienna...


, 1851)
Rutilus ohridanus

Rutilus ohridanus

Rutilus ohridanus is a species of ray-finned fish in the Cyprinidae family.It is found in Albania, Macedonia, and Serbia and Montenegro.Its natural habitat is freshwater lakes.It is threatened by habitat loss.-References:...


(S. L. Karaman

Stanko Karaman

Stanko Karaman was a researcher on amphipods and isopods. Several species are named after him, for example Delamarella karamani Petkovski, 1957 , Stygophalangium karamani Oudemans, 1933 , or Macedonethes stankoi Karaman, 2003 .In 1926 he founded the Macedonian Museum of Natural...


, 1924)
Rutilus panosi Bogutskaya & Iliadou, 2006 (Acheloos roach)
Rutilus pigus (Lacépède, 1803) (Danube Roach)
Rutilus prespensis

Rutilus prespensis

Rutilus prespensis is a species of ray-finned fish in the Cyprinidae family.It is found in Albania, Greece, and Macedonia.Its natural habitat is freshwater lakes.It is threatened by habitat loss.-Source:...


(S. L. Karaman

Stanko Karaman

Stanko Karaman was a researcher on amphipods and isopods. Several species are named after him, for example Delamarella karamani Petkovski, 1957 , Stygophalangium karamani Oudemans, 1933 , or Macedonethes stankoi Karaman, 2003 .In 1926 he founded the Macedonian Museum of Natural...


, 1924)
Rutilus rubilio (Bonaparte, 1837)
Rutilus rutilus (Linnaeus, 1758) (Common Roach)
Rutilus virgo (Heckel

Johann Jakob Heckel

Johann Jakob Heckel was an Austrian taxidermist, zoologist, and ichthyologist from Mannheim.Though not a formally trained zoologist he worked his way up through the ranks to eventually become the director of the Fish Collection at the Naturhistorisches Museum in Vienna...


, 1852)
Rutilus ylikiensis

Rutilus ylikiensis

Rutilus ylikiensis is a species of ray-finned fish in the Cyprinidae family.It is found only in Greece.Its natural habitats are rivers and freshwater lakes.It is threatened by habitat loss.-Source:...


Economidis, 1991