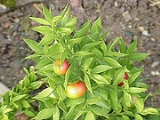 Ruscaceae
Nolinoideae
is a monocot subfamily of the
family
Family (biology)
In biological classification, family is* a taxonomic rank. Other well-known ranks are life, domain, kingdom, phylum, class, order, genus, and species, with family fitting between order and genus. As for the other well-known ranks, there is the option of an immediately lower rank, indicated by the...
Asparagaceae
Asparagaceae
Asparagaceae is the botanical name of a family of flowering plants, placed in the order Asparagales of the monocots.In earlier classification systems, the species involved were often treated as belonging to the family Liliaceae...
in the
APG III system
APG III system
The APG III system of flowering plant classification is the third version of a modern, mostly molecular-based, system of plant taxonomy...
of 2009. It was previously treated as a separate family,
Ruscaceae
s.l. The family name is derived from the
generic name
Binomial nomenclature
Binomial nomenclature is a formal system of naming species of living things by giving each a name composed of two parts, both of which use Latin grammatical forms, although they can be based on words from other languages...
of the
type
Biological type
In biology, a type is one particular specimen of an organism to which the scientific name of that organism is formally attached...
genus
Genus
In biology, a genus is a low-level taxonomic rank used in the biological classification of living and fossil organisms, which is an example of definition by genus and differentia...
,
Nolina
Nolina
Nolina is a genus of tropical xerophytic flowering plants, with the principal distribution being in Mexico and extending into the southern United States. Some botanists have included the genus Beaucarnea in Nolina. In the APG III classification system, it is placed in the family Asparagaceae,...
.
The subfamily includes genera previously placed in a range of different families, including Ruscaceae s.s., Nolinaceae, Dracaenaceae, Convallariaceae and Eriospermaceae. Like many groups of
lilioid monocot
Lilioid monocot
Lilioid monocots or lilioids is an informal name used for a grade of five monocot orders in which the majority of species have flowers with relatively large, coloured tepals, broadly similar to those of lilies...
s, the genera included here were once included in a wide interpretation of the family
Liliaceae
Liliaceae
The Liliaceae, or the lily family, is a family of monocotyledons in the order Liliales. Plants in this family have linear leaves, mostly with parallel veins but with several having net venation , and flower arranged in threes. Several have bulbs, while others have rhizomes...
.
Genera
A possibly incomplete list of the genera included in the Agavoideae is given below. The reference is to the source which places the genus in this subfamily. The genera currently included here have varied widely in their limits and assignment to families and subfamilies; some former family placements other than Agavaceae which will be found in the literature are given below.
Genus
Former family placement(s) other than Ruscaceae s.l.
Aspidistra

Aspidistra

Aspidistra is a genus of flowering plants in the family Asparagaceae, subfamily Nolinoideae, native to Asia, common worldwide as house plants.-Ecology and diversity:...


Ker Gawl.
(including Antherolophus Gagnep., Colania Gagnep.)
Convallariaceae
Beaucarnea

Beaucarnea

Beaucarnea is a genus of four species of flowering plant native to Mexico, Belize, and Guatemala. In the APG III classification system, it is placed in the family Asparagaceae, subfamily Nolinoideae...


Lem.
Dracaenaceae, Agavaceae
Calibanus

Calibanus

Calibanus is a genus of two species of flowering plants, both evergreen succulents from dry areas of Mexico. In the APG III classification system, it is placed in the family Asparagaceae, subfamily Nolinoideae...


Rose
Dracaenaceae, Agavaceae
Campylandra Baker
Convallariaceae
Comospermum

Comospermum

Comospermum is a genus of one species of flowering plant found in in southern Japan. In the APG III classification system, it is placed in the family Asparagaceae, subfamily Nolinoideae ....


Rauschert
Anthericaceae
Convallaria

Convallaria

Convallaria majalis , commonly known as the lily-of-the-valley, is a poisonous woodland flowering plant native throughout the cool temperate Northern Hemisphere in Asia and Europe....


L.
Convallariaceae
Danae

Danae (plant)

Danae is a monotypic genus of flowering plants with only one species, Danae racemosa. It is a slow-growing evergreen shrub about 60 cm in diameter and its common names are Alexandrian laurel and Poet's laurel. In the APG III classification system, Danae is placed in the family Asparagaceae,...


Medik.
Dasylirion

Dasylirion

Dasylirion is a genus of 17 species of flowering plants, all native to Mexico, with three species also extending into the southwestern United States...


Zucc.
Dracaenaceae
Disporopsis Hance
Convallariaceae
Dracaena

Dracaena (plant)

Dracaena is a genus of about 40 species of trees and succulent shrubs. In the APG III classification system, it is placed in the family Asparagaceae, subfamily Nolinoideae . It has also formerly been separated into the family Dracaenaceae or placed in the Agavaceae...


Vand. ex L.
Dracaenaceae, Agavaceae
Eriospermum

Eriospermum

Eriospermum is a genus of tuberous flowering plants from South Africa. "Eriospermum" is from the Greek erion for "wool" and sperma for "seed". In the APG III classification system, the genus is placed in the family Asparagaceae, subfamily Nolinoideae . It was formerly placed in its own family,...


Jacq.
Eriospermaceae
Heteropolygonatum M.N.Tamura & Ogisu
Convallariaceae
Liriope

Liriope (genus)

Liriope is a genus of low, grass-like, flowering plants from East Asia. Some species are often used in landscaping in temperate latitudes. They may be called lilyturf in North America although neither a true grass nor lily...


Lour.
Convallariaceae
Maianthemum

Maianthemum

Maianthemum is a genus of about 30 species of rhizomatous herbaceous plants native to the understory of woodlands in North and Central America, northern Europe, northern and eastern Asia, and the Himalayas...


F.H.Wigg.
(including Oligobotrya Baker, Smilacina Desf.)
Convallariaceae
Nolina

Nolina

Nolina is a genus of tropical xerophytic flowering plants, with the principal distribution being in Mexico and extending into the southern United States. Some botanists have included the genus Beaucarnea in Nolina. In the APG III classification system, it is placed in the family Asparagaceae,...


Michx.
Dracaenaceae
Ophiopogon

Ophiopogon

Ophiopogon is a genus of herbaceous perennial plants with about 65 species, native to warm temperate to tropical east, southeast, and south Asia. The name of the genus is derived from Greek Όφις ophis, "snake", and πόγὦν pogon, "beard", most probably referring to its leaves and its tuffed growth...


Ker Gawl.
Convallariaceae
Peliosanthes

Peliosanthes

Peliosanthes is a genus of about 18 species of flowering plants found in in eastern Asia. In the APG III classification system, it is placed in the family Asparagaceae, subfamily Nolinoideae ....


Andrews
Convallariaceae
Pleomele

Pleomele (genus)

Pleomele is a genus of flowering plants, sometimes placed in the genus Dracaena. In the APG III classification system, both genera are placed in the family Asparagaceae, subfamily Nolinoideae...


Salisb.
(often included in Dracaena)
Dracaenaceae, Agavaceae
Polygonatum

Polygonatum

Polygonatum , King Solomon's-seal or Solomon's Seal, is a genus of about 50 species of flowering plants. In the APG III classification system, it is placed in the family Asparagaceae, subfamily Nolinoideae...


Mill.
Convallariaceae
Reineckea Kunth
Convallariaceae
Rohdea

Rohdea

Rohdea japonica, the sole species in the genus Rohdea, is a flowering plant, native to eastern Asia from southwestern China to Japan. Common names include Nippon Lily, Sacred Lily, and Japanese Sacred Lily; synonyms include Orontium japonicum, Rohdea esquirolii, and Rohdea sinensis...


Roth
(including Gonioscypha Baker)
Convallariaceae
Ruscus

Ruscus

Ruscus is a genus of six species of flowering plants, native to western and southern Europe , Macaronesia, northwest Africa, and southwestern Asia east to the Caucasus. In the APG III classification system, it is placed in the family Asparagaceae, subfamily Nolinoideae...


L.
Sansevieria

Sansevieria

Sansevieria is a genus of about 70 species of flowering plants, whose common names include mother-in-law's tongue, devil's tongue, jinn's tongue, bow string hemp, snake plant and snake tongue. It is often included in the genus Dracaena; in the APG III classification system, both genera are placed...


Thunb.
Dracaenaceae
Semele

Semele (plant)

Semele is a genus of one species of flowering plants found in the Canary Islands and Madeira. In the APG III classification system, it is placed in the family Asparagaceae, subfamily Nolinoideae ....


Kunth
Speirantha

Speirantha

Speirantha is a genus of one species of flowering plants found in in south-east China. In the APG III classification system, it is placed in the family Asparagaceae, subfamily Nolinoideae ....


Baker
Convallariaceae
Theropogon Maxim.
Convallariaceae
Tupistra

Tupistra

Tupistra is a genus of about 20 species of flowering plants found in in south Asia, from south China to Sumatra. In the APG III classification system, it is placed in the family Asparagaceae, subfamily Nolinoideae ....


Ker Gawl.
(including Campylandra Baker, Tricalistra Ridl.)
Convallariaceae
External links