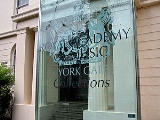 Royal Academy of Music
The
Royal Academy of Music
in
London
London
London is the capital city of :England and the :United Kingdom, the largest metropolitan area in the United Kingdom, and the largest urban zone in the European Union by most measures. Located on the River Thames, London has been a major settlement for two millennia, its history going back to its...
,
England
England
England is a country that is part of the United Kingdom. It shares land borders with Scotland to the north and Wales to the west; the Irish Sea is to the north west, the Celtic Sea to the south west, with the North Sea to the east and the English Channel to the south separating it from continental...
, is a
conservatoire
Music school
The term music school refers to an educational institution specialized in the study, training and research of music.Different terms refer to this concept such as school of music, music academy, music faculty, college of music, music department or conservatory.Music instruction can be provided...
, Britain's oldest degree-granting music school and a constituent college of the
University of London
University of London
-20th century:Shortly after 6 Burlington Gardens was vacated, the University went through a period of rapid expansion. Bedford College, Royal Holloway and the London School of Economics all joined in 1900, Regent's Park College, which had affiliated in 1841 became an official divinity school of the...
since 1999. The Academy was founded by
Lord Burghersh
John Fane, 11th Earl of Westmorland
General John Fane, 11th Earl of Westmorland GCB, GCH, PC , styled Lord Burghersh until 1841, was a British soldier, politician, diplomat and musician.-Background:...
in 1822 with the help and ideas of the French harpist and composer Nicolas Bochsa and in 1830 was granted a
Royal Charter
Royal Charter
A royal charter is a formal document issued by a monarch as letters patent, granting a right or power to an individual or a body corporate. They were, and are still, used to establish significant organizations such as cities or universities. Charters should be distinguished from warrants and...
by
King
Monarch
A monarch is the person who heads a monarchy. This is a form of government in which a state or polity is ruled or controlled by an individual who typically inherits the throne by birth and occasionally rules for life or until abdication...
George IV
George IV of the United Kingdom
George IV was the King of the United Kingdom of Great Britain and Ireland and also of Hanover from the death of his father, George III, on 29 January 1820 until his own death ten years later...
. It is a
registered charity
Charitable organization
A charitable organization is a type of non-profit organization . It differs from other types of NPOs in that it centers on philanthropic goals A charitable organization is a type of non-profit organization (NPO). It differs from other types of NPOs in that it centers on philanthropic goals A...
under English law.
The Academy's current facilities are situated on
Marylebone Road
Marylebone Road
Marylebone Road is an important thoroughfare in central London, within the City of Westminster. It runs east-west from the Euston Road at Regent's Park to the A40 Westway at Paddington...
in
central London
Central London
Central London is the innermost part of London, England. There is no official or commonly accepted definition of its area, but its characteristics are understood to include a high density built environment, high land values, an elevated daytime population and a concentration of regionally,...
adjacent to
Regent's Park
Regent's Park
Regent's Park is one of the Royal Parks of London. It is in the north-western part of central London, partly in the City of Westminster and partly in the London Borough of Camden...
.