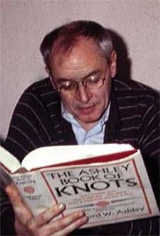 Ronald David Laing
Ronald David Laing
was a
Scottish
Scotland
Scotland is a country that is part of the United Kingdom. Occupying the northern third of the island of Great Britain, it shares a border with England to the south and is bounded by the North Sea to the east, the Atlantic Ocean to the north and west, and the North Channel and Irish Sea to the...
psychiatrist
Psychiatrist
A psychiatrist is a physician who specializes in the diagnosis and treatment of mental disorders. All psychiatrists are trained in diagnostic evaluation and in psychotherapy...
who wrote extensively on
mental illness
Mental illness
A mental disorder or mental illness is a psychological or behavioral pattern generally associated with subjective distress or disability that occurs in an individual, and which is not a part of normal development or culture. Such a disorder may consist of a combination of affective, behavioural,...
in particular, the experience of
psychosis
Psychosis
Psychosis means abnormal condition of the mind, and is a generic psychiatric term for a mental state often described as involving a "loss of contact with reality"...
. Laing's views on the causes and treatment of serious mental dysfunction, greatly influenced by existential philosophy, ran counter to the psychiatric orthodoxy of the day by taking the expressed
feelings
Emotion
Emotion is a complex psychophysiological experience of an individual's state of mind as interacting with biochemical and environmental influences. In humans, emotion fundamentally involves "physiological arousal, expressive behaviors, and conscious experience." Emotion is associated with mood,...
of the individual patient or client as valid descriptions of lived experience rather than simply as symptoms of some separate or underlying disorder.
We live in a moment of history where change is so speeded up that we begin to see the present only when it is already disappearing.

p. 1 of Introduction
Alienation as our present destiny is achieved only by outrageous violence perpetrated by human beings on human beings.

p. 3 of Introduction
Social phenomenology is the science of my own and of others' experience. It is concerned with the relation between my experience of you and your experience of me. That is, with inter-experience. It is concerned with your behaviour and my behaviour as I experience it, and your and my behaviour as you experience it.

Ch. 1 : Experience as evidence
Society highly values its normal man. It educates children to lose themselves and to become absurd, and thus to be normal. Normal men have killed perhaps 100,000,000 of their fellow normal men in the last fifty years.

p. 28