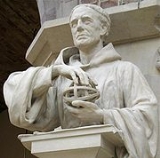 Roger Bacon
Roger Bacon
, O.F.M. (c. 1214–1294), also known as
Doctor Mirabilis
(medieval accolade, meaning "wonderful teacher"), was an
English
England
England is a country that is part of the United Kingdom. It shares land borders with Scotland to the north and Wales to the west; the Irish Sea is to the north west, the Celtic Sea to the south west, with the North Sea to the east and the English Channel to the south separating it from continental...
philosopher and
Franciscan
Franciscan
Most Franciscans are members of Roman Catholic religious orders founded by Saint Francis of Assisi. Besides Roman Catholic communities, there are also Old Catholic, Anglican, Lutheran, ecumenical and Non-denominational Franciscan communities....
friar who placed considerable emphasis on the study of nature through empirical methods. He is sometimes credited, mainly starting in the 19th century, as one of the earliest
Europe
Europe
Europe is, by convention, one of the world's seven continents. Comprising the westernmost peninsula of Eurasia, Europe is generally 'divided' from Asia to its east by the watershed divides of the Ural and Caucasus Mountains, the Ural River, the Caspian and Black Seas, and the waterways connecting...
an advocates of the modern
scientific method
Scientific method
Scientific method refers to a body of techniques for investigating phenomena, acquiring new knowledge, or correcting and integrating previous knowledge. To be termed scientific, a method of inquiry must be based on gathering empirical and measurable evidence subject to specific principles of...
inspired by the works of
Aristotle
Aristotle
Aristotle was a Greek philosopher and polymath, a student of Plato and teacher of Alexander the Great. His writings cover many subjects, including physics, metaphysics, poetry, theater, music, logic, rhetoric, linguistics, politics, government, ethics, biology, and zoology...
and later pseudo-Aristotelian works, possibly of Arabic origins.