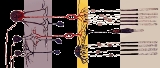 Rod cell
Rod cells
, or
rods
, are photoreceptor cells in the
retina
Retina
The vertebrate retina is a light-sensitive tissue lining the inner surface of the eye. The optics of the eye create an image of the visual world on the retina, which serves much the same function as the film in a camera. Light striking the retina initiates a cascade of chemical and electrical...
of the
eye
Human eye
The human eye is an organ which reacts to light for several purposes. As a conscious sense organ, the eye allows vision. Rod and cone cells in the retina allow conscious light perception and vision including color differentiation and the perception of depth...
that can function in less intense
light
Light
Light or visible light is electromagnetic radiation that is visible to the human eye, and is responsible for the sense of sight. Visible light has wavelength in a range from about 380 nanometres to about 740 nm, with a frequency range of about 405 THz to 790 THz...
than can the other type of visual photoreceptor,
cone cell
Cone cell
Cone cells, or cones, are photoreceptor cells in the retina of the eye that are responsible for color vision; they function best in relatively bright light, as opposed to rod cells that work better in dim light. If the retina is exposed to an intense visual stimulus, a negative afterimage will be...
s. Named for their cylindrical shape, rods are concentrated at the outer edges of the retina and are used in
peripheral vision
Peripheral vision
Peripheral vision is a part of vision that occurs outside the very center of gaze. There is a broad set of non-central points in the field of view that is included in the notion of peripheral vision...
. On average, there are approximately 90 million rod cells in the human retina. More sensitive than cone cells, rod cells are almost entirely responsible for night vision.
Rods are a little wider than cones but have the same structural basis.