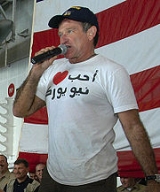 Robin Williams
Robin McLaurin Williams
(born July 21, 1951) is an American actor and comedian. Rising to fame with his role as the alien Mork in the TV series
Mork and Mindy
, and later stand-up comedy work, Williams has performed in many feature films since 1980. He won the
Academy Award for Best Supporting Actor
Academy Award for Best Supporting Actor
Performance by an Actor in a Supporting Role is one of the Academy Awards of Merit presented annually by the Academy of Motion Picture Arts and Sciences to recognize an actor who has delivered an outstanding performance while working within the film industry. Since its inception, however, the...
for his performance in the 1997 film
Good Will Hunting
Good Will Hunting
Good Will Hunting is a 1997 drama film directed by Gus Van Sant and starring Matt Damon, Robin Williams, Ben Affleck, Minnie Driver, and Stellan Skarsgård...
. He has also won two
Emmy Awards
Primetime Emmy Award
The Primetime Emmy Awards are awards presented by the Academy of Television Arts & Sciences in recognition of excellence in American primetime television programming...
, four Golden Globes, two Screen Actors Guild Awards and five
Grammy Award
Grammy Award
A Grammy Award — or Grammy — is an accolade by the National Academy of Recording Arts and Sciences of the United States to recognize outstanding achievement in the music industry...
s.
Williams was born in
Chicago
Chicago
Chicago is the largest city in the US state of Illinois. With nearly 2.7 million residents, it is the most populous city in the Midwestern United States and the third most populous in the US, after New York City and Los Angeles...
, Illinois.
The Second Amendment! It says you have the right to bear arms, or the right to arm bears, whatever the hell you want to do!

Unless you're passing a bowling ball, I don't think so. Unless you're trying to circumcise yourself with a chainsaw, I don't think so. Unless you're opening an umbrella up your ass, I don't think so!

On husbands sharing their wives' childbearing experience
Thank you. How-DY! Whoops, wrong opera house. How do you like the play, Mr. Abraham Lincoln|Lincoln? Duck!

The professor was on acid, and sometimes he'd shout, "I'm Lincoln!" And then, there'd be a kid in the back, "I'm John Wilkes Booth|Booth!"

And that's when you realize that God gave you a penis and a brain, and only enough blood to run one at a time.

The Swiss...the nice Germans, or as they like to say, the other white race. Now how can you trust an army—how butch is an army that has a wine opener on its knife? "Many of you have never opened Chardonnay under fire!"

And some people say Jesus wasn't Jewish. Of COURSE he was Jewish! 30 years old, single, lives with his parents, come on! He takes his father's business, his mom thought he was God's gift, he's Jewish! Give it up!