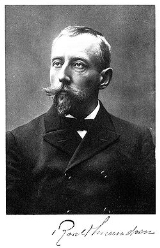 Roald Amundsen
Roald Engelbregt Gravning Amundsen
(ˈɾuːɑl ˈɑmʉnsən; 16 July 1872 –
c.
Circa
Circa , usually abbreviated c. or ca. , means "approximately" in the English language, usually referring to a date...
18 June 1928) was a Norwegian
explorer
Exploration
Exploration is the act of searching or traveling around a terrain for the purpose of discovery of resources or information. Exploration occurs in all non-sessile animal species, including humans...
of
polar region
Polar region
Earth's polar regions are the areas of the globe surrounding the poles also known as frigid zones. The North Pole and South Pole being the centers, these regions are dominated by the polar ice caps, resting respectively on the Arctic Ocean and the continent of Antarctica...
s. He led the first
Antarctic
expedition
Amundsen's South Pole expedition
The first expedition to reach the geographic South Pole was led by the Norwegian explorer Roald Amundsen. He and four others arrived at the pole on 14 December 1911, five weeks ahead of a British party led by Robert Falcon Scott...
to reach the
South Pole
South Pole
The South Pole, also known as the Geographic South Pole or Terrestrial South Pole, is one of the two points where the Earth's axis of rotation intersects its surface. It is the southernmost point on the surface of the Earth and lies on the opposite side of the Earth from the North Pole...
between 1910 and 1912 and he was the first person to (undisputedly) reach both the
North
North Pole
The North Pole, also known as the Geographic North Pole or Terrestrial North Pole, is, subject to the caveats explained below, defined as the point in the northern hemisphere where the Earth's axis of rotation meets its surface...
and South Poles. He is also known as the first to traverse the
Northwest Passage
Northwest Passage
The Northwest Passage is a sea route through the Arctic Ocean, along the northern coast of North America via waterways amidst the Canadian Arctic Archipelago, connecting the Atlantic and Pacific Oceans...
. He disappeared in June 1928 while taking part in a rescue mission.