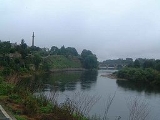 River Tweed
The
River Tweed
, or
Tweed Water
, is 97 miles (156.1 km) long and flows primarily through the
Borders
Scottish Borders
The Scottish Borders is one of 32 local government council areas of Scotland. It is bordered by Dumfries and Galloway in the west, South Lanarkshire and West Lothian in the north west, City of Edinburgh, East Lothian, Midlothian to the north; and the non-metropolitan counties of Northumberland...
region of
Great Britain
Great Britain
Great Britain or Britain is an island situated to the northwest of Continental Europe. It is the ninth largest island in the world, and the largest European island, as well as the largest of the British Isles...
. It rises on
Tweedsmuir
Tweedsmuir
The village of Tweedsmuir is a village and civil parish situated from the source of the River Tweed, in the Scottish Borders area of Scotland....
at Tweed's Well near where the
Clyde
River Clyde
The River Clyde is a major river in Scotland. It is the ninth longest river in the United Kingdom, and the third longest in Scotland. Flowing through the major city of Glasgow, it was an important river for shipbuilding and trade in the British Empire....
, draining northwest, and the
Annan
River Annan
The River Annan is a river in southwest Scotland. It rises at the foot of Hart Fell, five miles north of Moffat. A second fork rises on Annanhead Hill and flows through the Devil's Beef Tub before joining at the Hart Fell fork north of Moffat.From there it flows past the town of Lockerbie, and...
draining south also rise. "Annan, Tweed and Clyde rise oot the ae hillside" as the Border saying has it. It drains the entire Borders region. Its lower reaches are near
Berwick-upon-Tweed
Berwick-upon-Tweed
Berwick-upon-Tweed or simply Berwick is a town in the county of Northumberland and is the northernmost town in England, on the east coast at the mouth of the River Tweed. It is situated 2.5 miles south of the Scottish border....
. The Tweed is one of the great
salmon
Salmon
Salmon is the common name for several species of fish in the family Salmonidae. Several other fish in the same family are called trout; the difference is often said to be that salmon migrate and trout are resident, but this distinction does not strictly hold true...
rivers of Britain.