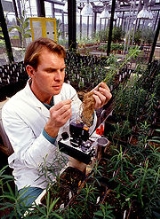 Rhizofiltration
Rhizofiltration
is a form of
bioremediation
Bioremediation
Bioremediation is the use of microorganism metabolism to remove pollutants. Technologies can be generally classified as in situ or ex situ. In situ bioremediation involves treating the contaminated material at the site, while ex situ involves the removal of the contaminated material to be treated...
that involves
filtering
Filtration
Filtration is commonly the mechanical or physical operation which is used for the separation of solids from fluids by interposing a medium through which only the fluid can pass...
water
Water
Water is a chemical substance with the chemical formula H2O. A water molecule contains one oxygen and two hydrogen atoms connected by covalent bonds. Water is a liquid at ambient conditions, but it often co-exists on Earth with its solid state, ice, and gaseous state . Water also exists in a...
through a mass of
root
Root
In vascular plants, the root is the organ of a plant that typically lies below the surface of the soil. This is not always the case, however, since a root can also be aerial or aerating . Furthermore, a stem normally occurring below ground is not exceptional either...
s to remove toxic substances or excess
nutrient
Nutrient
A nutrient is a chemical that an organism needs to live and grow or a substance used in an organism's metabolism which must be taken in from its environment. They are used to build and repair tissues, regulate body processes and are converted to and used as energy...
s.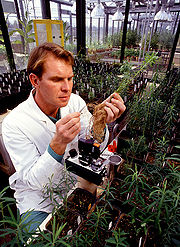 Overview
Rhizofiltration is a type of
phytoremediation
Phytoremediation
Phytoremediation Phytoremediation Phytoremediation (from the Ancient Greek , and Latin (restoring balance or remediation) describes the treatment of environmental problems (bioremediation) through the use of plants that mitigate the environmental problem without the need to excavate the...
, which refers to the approach of using hydroponically cultivated plant roots to remediate contaminated water through absorption, concentration, and precipitation of
pollutant
Pollutant
A pollutant is a waste material that pollutes air, water or soil, and is the cause of pollution.Three factors determine the severity of a pollutant: its chemical nature, its concentration and its persistence. Some pollutants are biodegradable and therefore will not persist in the environment in the...
s.It also filters through water and dirt.
The contaminated water is either collected from a waste site and brought to the plants, or the plants are planted in the contaminated area, where the roots then take up the water and the contaminants dissolved in it. Many plant species naturally uptake
heavy metals
Heavy metals
A heavy metal is a member of a loosely-defined subset of elements that exhibit metallic properties. It mainly includes the transition metals, some metalloids, lanthanides, and actinides. Many different definitions have been proposed—some based on density, some on atomic number or atomic weight,...
and excess
nutrient
Nutrient
A nutrient is a chemical that an organism needs to live and grow or a substance used in an organism's metabolism which must be taken in from its environment. They are used to build and repair tissues, regulate body processes and are converted to and used as energy...
s for a variety of reasons: sequestration,
drought
Drought
A drought is an extended period of months or years when a region notes a deficiency in its water supply. Generally, this occurs when a region receives consistently below average precipitation. It can have a substantial impact on the ecosystem and agriculture of the affected region...
resistance, disposal by leaf
abscission
Abscission
Abscission is a term used in several areas of biology. In plant sciences it most commonly refers to the process by which a plant drops one or more of its parts, such as a leaf, fruit, flower or seed...
, interference with other plants, and defense against
pathogen
Pathogen
A pathogen gignomai "I give birth to") or infectious agent — colloquially, a germ — is a microbe or microorganism such as a virus, bacterium, prion, or fungus that causes disease in its animal or plant host...
s and
herbivore
Herbivore
Herbivores are organisms that are anatomically and physiologically adapted to eat plant-based foods. Herbivory is a form of consumption in which an organism principally eats autotrophs such as plants, algae and photosynthesizing bacteria. More generally, organisms that feed on autotrophs in...
s. Some of these species are better than others and can accumulate extraordinary amounts of these contaminants. Identification of such plant species has led environmental researchers to realize the potential for using these plants for remediation of contaminated soil and
wastewater
Wastewater
Wastewater is any water that has been adversely affected in quality by anthropogenic influence. It comprises liquid waste discharged by domestic residences, commercial properties, industry, and/or agriculture and can encompass a wide range of potential contaminants and concentrations...
.
Process
This process is very similar to phytoextraction in that it removes contaminants by trapping them into harvestable plant
biomass
Biomass
Biomass, as a renewable energy source, is biological material from living, or recently living organisms. As an energy source, biomass can either be used directly, or converted into other energy products such as biofuel....
. Both phytoextraction and rhizofiltration follow the same basic path to remediation. First, plants are put in contact with the contamination. They absorb contaminants through their root systems and store them in root biomass and/or transport them up into the stems and/or leaves. The plants continue to absorb contaminants until they are harvested. The plants are then replaced to continue the growth/harvest cycle until satisfactory levels of contaminant are achieved. Both processes are also aimed more toward concentrating and precipitating heavy metals than organic contaminants. The major difference between rhizofiltration and phytoextraction is that rhizofiltration is used for treatment in aquatic environments, while phytoextraction deals with soil remediation.
Applications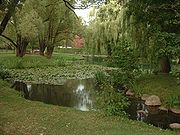 Rhizofiltration may be applicable to the treatment of surface water and groundwater, industrial and residential effluents, downwashes from power lines, storm waters,
acid mine drainage
Acid mine drainage
Acid mine drainage , or acid rock drainage , refers to the outflow of acidic water from metal mines or coal mines. However, other areas where the earth has been disturbed may also contribute acid rock drainage to the environment...
, agricultural runoffs, diluted sludges, and
radionuclide
Radionuclide
A radionuclide is an atom with an unstable nucleus, which is a nucleus characterized by excess energy available to be imparted either to a newly created radiation particle within the nucleus or to an atomic electron. The radionuclide, in this process, undergoes radioactive decay, and emits gamma...
-contaminated solutions.
Plants suitable for rhizofiltration applications can efficiently remove toxic metals from a solution using rapid-growth root systems. Various
terrestrial plant
Terrestrial plant
A terrestrial plant is one that grows on land. Other types of plants are aquatic , epiphytic , lithophytes and aerial ....
species have been found to effectively remove toxic metals such as Cu
2+
, Cd
2+
, Cr
6+
, Ni
2+
, Pb
2+
, and Zn
2+
from aqueous solutions. It was also found that low level radioactive contaminants can successfully be removed from liquid streams. A system to achieve this can consist of a "feeder layer" of soil suspended above a contaminated stream through which plants grow, extending the bulk of their roots into the water. The feeder layer allows the plants to receive fertilizer without contaminating the stream, while simultaneously removing heavy metals from the water.
Tree
Tree
A tree is a perennial woody plant. It is most often defined as a woody plant that has many secondary branches supported clear of the ground on a single main stem or trunk with clear apical dominance. A minimum height specification at maturity is cited by some authors, varying from 3 m to...
s have also been applied to remediation. Trees are the lowest cost plant type. They can grow on land of marginal quality and have long life-spans. This results in little or no maintenance costs. The most commonly used are
willow
Willow
Willows, sallows, and osiers form the genus Salix, around 400 species of deciduous trees and shrubs, found primarily on moist soils in cold and temperate regions of the Northern Hemisphere...
s and
poplar
Poplar
Populus is a genus of 25–35 species of deciduous flowering plants in the family Salicaceae, native to most of the Northern Hemisphere. English names variously applied to different species include poplar , aspen, and cottonwood....
s, which can grow 6 - 8' per year and have a high flood tolerance. For deep contamination, hybrid poplars with roots extending 30 feet deep have been used. Their roots penetrate microscopic scale pores in the soil matrix and can cycle 100 L of water per day per tree. These trees act almost like a pump and treat remediation system.
Cost
Rhizofiltration is cost-effective for large volumes of water having low concentrations of contaminants that are subjected to stringent standards. It is relatively inexpensive, yet potentially more effective than comparable technologies. The removal of radionuclides from water using
sunflower
Sunflower
Sunflower is an annual plant native to the Americas. It possesses a large inflorescence . The sunflower got its name from its huge, fiery blooms, whose shape and image is often used to depict the sun. The sunflower has a rough, hairy stem, broad, coarsely toothed, rough leaves and circular heads...
s was estimated to cost between $2 and $6 per thousand gallons of water treated, including waste disposal and capital costs.
Advantages
Rhizofiltration is a treatment method that may be conducted
in situ
In situ
In situ is a Latin phrase which translated literally as 'In position'. It is used in many different contexts.-Aerospace:In the aerospace industry, equipment on board aircraft must be tested in situ, or in place, to confirm everything functions properly as a system. Individually, each piece may...
, with plants being grown directly in the contaminated water body. This allows for a relatively inexpensive procedure with low capital costs. Operation costs are also low but depend on the type of contaminant. This treatment method is also aesthetically pleasing and results in a decrease of water infiltration and
leaching
Leaching (agriculture)
In agriculture, leaching refers to the loss of water-soluble plant nutrients from the soil, due to rain and irrigation. Soil structure, crop planting, type and application rates of fertilizers, and other factors are taken into account to avoid excessive nutrient loss.Leaching may also refer to ...
of contaminants.
After harvesting, the crop may be converted to biofuel briquette, a substitute for fossil fuel.
Disadvantages
This treatment method has its limits. Any contaminant that is below the rooting depth will not be extracted. The plants used may not be able to grow in highly contaminated areas. Most importantly, it can take years to reach regulatory levels. This results in long-term maintenance. Also, most contaminated sites are polluted with many different kinds of contaminants. There can be a combination of metals and organics, in which treatment through rhizofiltration will not suffice.
Plants grown on polluted water and soils become a potential threat to human and animal health, and therefore, careful attention must be paid to the harvesting process and only non-fodder crop should be chosen for the rhizofiltration remediation method.
See also
External links