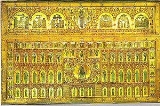 Retable
A
retable
is a framed
altarpiece
Altarpiece
An altarpiece is a picture or relief representing a religious subject and suspended in a frame behind the altar of a church. The altarpiece is often made up of two or more separate panels created using a technique known as panel painting. It is then called a diptych, triptych or polyptych for two,...
, raised slightly above the back of the altar or
communion table
Communion table
A Communion table is used by many Protestant churches, particularly from Reformed, Baptist, Congregational, and non-denominational traditions, for the preparation of the Eucharist ....
, on which are placed the
cross
Cross
A cross is a geometrical figure consisting of two lines or bars perpendicular to each other, dividing one or two of the lines in half. The lines usually run vertically and horizontally; if they run obliquely, the design is technically termed a saltire, although the arms of a saltire need not meet...
, ceremonial
candlestick
Candlestick
A candlestick, chamberstick, or candelabrum is a holder for one or more candles, used for illumination, rituals, or decorative purposes. The name 'candlestick' derives from the fact that it is usually tall and stick-shaped.Candlesticks are also called candle holders...
s and other ornaments.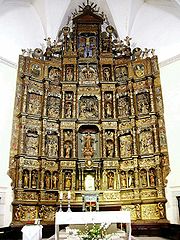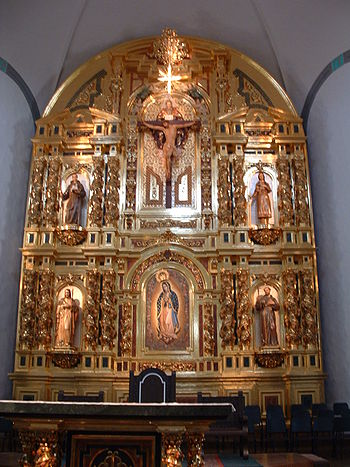 Foreign usage of the term, as in
French
French language
French is a Romance language spoken as a first language in France, the Romandy region in Switzerland, Wallonia and Brussels in Belgium, Monaco, the regions of Quebec and Acadia in Canada, and by various communities elsewhere. Second-language speakers of French are distributed throughout many parts...
, is different, and where the word is kept with this foreign application, the distinction should be observed. The Middle Latin
retrotabulum
(modernized
retabulum
) was applied to an architectural feature set up at the back of an altar, and generally taking the form of a screen framing a picture, carved or sculptured work in wood or stone, or
mosaic
Mosaic
Mosaic is the art of creating images with an assemblage of small pieces of colored glass, stone, or other materials. It may be a technique of decorative art, an aspect of interior decoration, or of cultural and spiritual significance as in a cathedral...
, or of a movable feature such as the
Pala d'Oro
Pala d'Oro
Pala d'Oro is the high altar retable of the Basilica di San Marco in Venice. It is universally recognized as one of the most refined and accomplished works of Byzantine craftsmanship, with both front and rear sides decorated.-Description and history:The altarpiece consists of two parts...
in
St Mark's Basilica
St Mark's Basilica
The Patriarchal Cathedral Basilica of Saint Mark is the cathedral church of the Roman Catholic Archdiocese of Venice, northern Italy. It is the most famous of the city's churches and one of the best known examples of Byzantine architecture...
,
Venice
Venice
Venice is a city in northern Italy which is renowned for the beauty of its setting, its architecture and its artworks. It is the capital of the Veneto region...
, of gold, jewels and enamels. The foreign retable is, therefore, what should in English be called a
reredos
Reredos
thumb|300px|right|An altar and reredos from [[St. Josaphat's Roman Catholic Church|St. Josaphat Catholic Church]] in [[Detroit]], [[Michigan]]. This would be called a [[retable]] in many other languages and countries....
, though that is not in modern usage a movable feature.