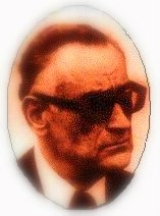 Research and Analysis Wing
The
Research and Analysis Wing
(
R&AW
or
RAW
) is
India
India
India , officially the Republic of India , is a country in South Asia. It is the seventh-largest country by geographical area, the second-most populous country with over 1.2 billion people, and the most populous democracy in the world...
's
external
Foreign relations of India
India has formal diplomatic relations with most nations, as the world's second most populous country and the world's most-populous democracy and recently has one of the fastest economic growth rates in the world...
intelligence agency
Intelligence agency
An intelligence agency is a governmental agency that is devoted to information gathering for purposes of national security and defence. Means of information gathering may include espionage, communication interception, cryptanalysis, cooperation with other institutions, and evaluation of public...
. It was formed in September 1968 after the poor performance of the
Intelligence Bureau
Intelligence Bureau (India)
The Intelligence Bureau also known as IB is India's internal intelligence agency and reputedly the world's oldest intelligence agency. It was recast as the Central Intelligence Bureau in 1947 under the Ministry of Home Affairs...
(which handled both internal and external intelligence) in the
Sino-Indian war of 1962
Sino-Indian War
The Sino-Indian War , also known as the Sino-Indian Border Conflict , was a war between China and India that occurred in 1962. A disputed Himalayan border was the main pretext for war, but other issues played a role. There had been a series of violent border incidents after the 1959 Tibetan...
and the
India-Pakistani war of 1965
Indo-Pakistani War of 1965
The Indo-Pakistani War of 1965 was a culmination of skirmishes that took place between April 1965 and September 1965 between Pakistan and India. This conflict became known as the Second Kashmir War fought by India and Pakistan over the disputed region of Kashmir, the first having been fought in 1947...
convinced the then government of India that a specialized, independent agency was required for competent external intelligence gathering.
The primary function of the R&AW is
collection of external intelligence
Intelligence (information gathering)
Intelligence assessment is the development of forecasts of behaviour or recommended courses of action to the leadership of an organization, based on a wide range of available information sources both overt and covert. Assessments are developed in response to requirements declared by the leadership...
,
counter-terrorism
Counter-terrorism
Counter-terrorism is the practices, tactics, techniques, and strategies that governments, militaries, police departments and corporations adopt to prevent or in response to terrorist threats and/or acts, both real and imputed.The tactic of terrorism is available to insurgents and governments...
and
covert operation
Covert operation
A covert operation is a military, intelligence or law enforcement operation that is carried clandestinely and, often, outside of official channels. Covert operations aim to fulfill their mission objectives without any parties knowing who sponsored or carried out the operation...
s.