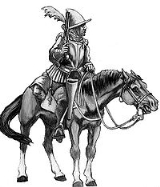 Reiter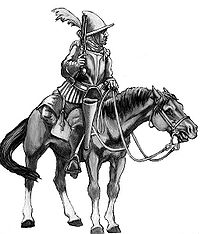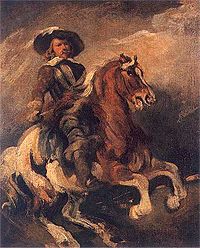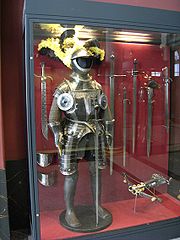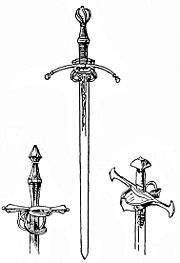 Reiters
were a type of
cavalry
Cavalry
Cavalry or horsemen were soldiers or warriors who fought mounted on horseback. Cavalry were historically the third oldest and the most mobile of the combat arms...
, which appeared in the armies of
Western Europe
Western Europe
Western Europe is a loose term for the collection of countries in the western most region of the European continents, though this definition is context-dependent and carries cultural and political connotations. One definition describes Western Europe as a geographic entity—the region lying in the...
in the 16th century in place of the outmoded
lance
Lance
A Lance is a pole weapon or spear designed to be used by a mounted warrior. The lance is longer, stout and heavier than an infantry spear, and unsuited for throwing, or for rapid thrusting. Lances did not have tips designed to intentionally break off or bend, unlike many throwing weapons of the...
-armed
knight
Knight
A knight was a member of a class of lower nobility in the High Middle Ages.By the Late Middle Ages, the rank had become associated with the ideals of chivalry, a code of conduct for the perfect courtly Christian warrior....
s, at the same time that
cuirassier
Cuirassier
Cuirassiers were mounted cavalry soldiers equipped with armour and firearms, first appearing in late 15th-century Europe. They were the successors of the medieval armoured knights...
s and
dragoon
Dragoon
The word dragoon originally meant mounted infantry, who were trained in horse riding as well as infantry fighting skills. However, usage altered over time and during the 18th century, dragoons evolved into conventional light cavalry units and personnel...
s began to attain typological distinction from other kinds of cavalry. The reiters raised
firearm
Firearm
A firearm is a weapon that launches one, or many, projectile at high velocity through confined burning of a propellant. This subsonic burning process is technically known as deflagration, as opposed to supersonic combustion known as a detonation. In older firearms, the propellant was typically...
s to the status of primary weapons, as opposed to earlier Western European heavy cavalry which primarily relied upon
mêlée
Mêlée
Melee , generally refers to disorganized close combat involving a group of fighters. A melee ensues when groups become locked together in combat with no regard to group tactics or fighting as an organized unit; each participant fights as an individual....
weapons.
The reiter's main weapons were two or more
pistol
Pistol
When distinguished as a subset of handguns, a pistol is a handgun with a chamber that is integral with the barrel, as opposed to a revolver, wherein the chamber is separate from the barrel as a revolving cylinder. Typically, pistols have an effective range of about 100 feet.-History:The pistol...
s and a
sword
Sword
A sword is a bladed weapon used primarily for cutting or thrusting. The precise definition of the term varies with the historical epoch or the geographical region under consideration...
; most wore
helmet
Helmet
A helmet is a form of protective gear worn on the head to protect it from injuries.Ceremonial or symbolic helmets without protective function are sometimes used. The oldest known use of helmets was by Assyrian soldiers in 900BC, who wore thick leather or bronze helmets to protect the head from...
s and
cuirass
Cuirass
A cuirass is a piece of armour, formed of a single or multiple pieces of metal or other rigid material, which covers the front of the torso...
es and often additional armor for the arms and legs; sometimes they also carried a long cavalry firearm known as an
arquebus
Arquebus
The arquebus , or "hook tube", is an early muzzle-loaded firearm used in the 15th to 17th centuries. The word was originally modeled on the German hakenbüchse; this produced haquebute...
or a
carbine
Carbine
A carbine , from French carabine, is a longarm similar to but shorter than a rifle or musket. Many carbines are shortened versions of full rifles, firing the same ammunition at a lower velocity due to a shorter barrel length....
(although this type of horsemen soon became regarded as a separate class of cavalry—the arquebusier or in Britain harquebusier).
In general, the reiters were expected to be able to engage their opponents both with firearms and sword. In the 16th century and up to about 1620, reiters often formed up in deep blocks and used their firearms in a
caracole
Caracole
The caracole or caracol is a turning manoeuvre on horseback in dressage and, previously, in military tactics.- Dressage caracole :...
attack in the hopes of disordering the enemy infantry before charging home and engaging in hand-to-hand combat. However, enterprising commanders such as
Henry IV
Henry IV of France
Henry IV , Henri-Quatre, was King of France from 1589 to 1610 and King of Navarre from 1572 to 1610. He was the first monarch of the Bourbon branch of the Capetian dynasty in France....
and Gustavus Adolphus preferred to employ their reiters and other heavy cavalry in a more aggressive manner, ordering them to press the charge and fire their pistols at point-blank range (especially against well-armored enemies) or use their swords instead. Using either or both of these tactics, Reiters could be incredibly effective when properly employed. A particular case in point is the
Battle of Turnhout
Battle of Turnhout (1597)
The Battle of Turnhout, 1597 occurred during the Eighty Years' War where Turnhout was in the border area between the Northern and Southern Netherlands. Though the town had not been walled, Turnhout was an important strategic town...
, where a force of Dutch ruyters under Maurice of Nassau defeated the opposing Spanish cavalry and then successfully engaged the Spanish infantry with a combination of pistol volleys and sword-in-hand charges.
The Reiters mostly consisted of
Germans
Germans
The Germans are a Germanic ethnic group native to Central Europe. The English term Germans has referred to the German-speaking population of the Holy Roman Empire since the Late Middle Ages....
and served in the armies of the German states,
Sweden
Sweden
Sweden , officially the Kingdom of Sweden , is a Nordic country on the Scandinavian Peninsula in Northern Europe. Sweden borders with Norway and Finland and is connected to Denmark by a bridge-tunnel across the Öresund....
as "raitars",
Poland
Poland
Poland , officially the Republic of Poland , is a country in Central Europe bordered by Germany to the west; the Czech Republic and Slovakia to the south; Ukraine, Belarus and Lithuania to the east; and the Baltic Sea and Kaliningrad Oblast, a Russian exclave, to the north...
as
Polish
Polish language
Polish is a language of the Lechitic subgroup of West Slavic languages, used throughout Poland and by Polish minorities in other countries...
: "rajtaria", and elsewhere. There were also Reiter
regiment
Regiment
A regiment is a major tactical military unit, composed of variable numbers of batteries, squadrons or battalions, commanded by a colonel or lieutenant colonel...
s in
Russia
Russia
Russia or , officially known as both Russia and the Russian Federation , is a country in northern Eurasia. It is a federal semi-presidential republic, comprising 83 federal subjects...
between 1630s and late 17th century (see
Regiments of the new order
).
In the later 17th century the Reiters gradually merged into generic cavalry regiments and were no longer seen as a distinct class of horseman.