 Reichsberufswettkampf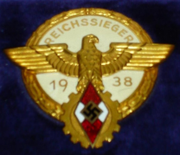 The
Reichsberufswettkampf
(National Vocational Competition) was an annual vocational competition held in
Nazi Germany
Nazi Germany
Nazi Germany , also known as the Third Reich , but officially called German Reich from 1933 to 1943 and Greater German Reich from 26 June 1943 onward, is the name commonly used to refer to the state of Germany from 1933 to 1945, when it was a totalitarian dictatorship ruled by...
as part of the
Gleichschaltung
Gleichschaltung
Gleichschaltung , meaning "coordination", "making the same", "bringing into line", is a Nazi term for the process by which the Nazi regime successively established a system of totalitarian control and tight coordination over all aspects of society. The historian Richard J...
of German society.
The competition was organised by the
German Labour Front
German Labour Front
The German Labour Front was the National Socialist trade union organisation which replaced the various trade unions of the Weimar Republic after Adolf Hitler's rise to power....
with the aid of the
Hitler Youth
Hitler Youth
The Hitler Youth was a paramilitary organization of the Nazi Party. It existed from 1922 to 1945. The HJ was the second oldest paramilitary Nazi group, founded one year after its adult counterpart, the Sturmabteilung...
and the
National Socialist German Students' League
National Socialist German Students' League
The National Socialist German Students' League was founded in 1926 as a division of the NSDAP with the mission of integrating University-level education and academic life within the framework of the National Socialist worldview...
. It was held at the local,
Gau
Reichsgau
A Reichsgau was an administrative subdivision created in a number of the areas annexed to Nazi Germany between 1938 and 1945...
and national level, and was subdivided into numerous vocational and academic branches. Competitors were tested in the theory and practice of their profession, as well as in their adherence to Nazi ideology. Women were also tested in
housekeeping
Housekeeping
Housekeeping is the act of cleaning the rooms and furnishings of a home. It is one of the many chores included in the term housework. Housecleaning includes activities such as disposing of rubbish, cleaning dirty surfaces, dusting and vacuuming. It may also involve some outdoor chores, such as...
. The winners were presented to Labour Front head
Robert Ley
Robert Ley
Robert Ley was a Nazi politician and head of the German Labour Front from 1933 to 1945. He committed suicide while awaiting trial for war crimes.- Early life :...
and to Hitler in person, and could expect substantial professional advancement.
The number of competitors grew from some 500,000 in 1934 at the first competition to 3,500,000 in 1939. Students were admitted in 1935 and adults in 1938. The competition was suspended at the outbreak of
World War II
World War II
World War II, or the Second World War , was a global conflict lasting from 1939 to 1945, involving most of the world's nations—including all of the great powers—eventually forming two opposing military alliances: the Allies and the Axis...
in 1939, with the exception of a wartime competition (
Kriegsreichsberufswettkampf
) in 1944.