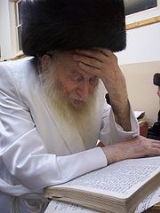 Rebbe
Rebbe , which means
master, teacher, or mentor,
is a Yiddish word derived from the
Hebrew
Hebrew language
Hebrew is a Semitic language of the Afroasiatic language family. Culturally, is it considered by Jews and other religious groups as the language of the Jewish people, though other Jewish languages had originated among diaspora Jews, and the Hebrew language is also used by non-Jewish groups, such...
word
Rabbi
Rabbi
In Judaism, a rabbi is a teacher of Torah. This title derives from the Hebrew word רבי , meaning "My Master" , which is the way a student would address a master of Torah...
. It often refers to the leader of a
Hasidic
Hasidic Judaism
Hasidic Judaism or Hasidism, from the Hebrew —Ḥasidut in Sephardi, Chasidus in Ashkenazi, meaning "piety" , is a branch of Orthodox Judaism that promotes spirituality and joy through the popularisation and internalisation of Jewish mysticism as the fundamental aspects of the Jewish faith...
Jewish movement. In accordance with Yiddish pronunciation norms, the stress is on the first syllable and the final vowel is sometimes reduced to a
schwa
Schwa
In linguistics, specifically phonetics and phonology, schwa can mean the following:*An unstressed and toneless neutral vowel sound in some languages, often but not necessarily a mid-central vowel...
, but is other times pronounced "ee."
Whilst Rebbe is a term that refers to many leaders of Jewry, 'Rebbe' or 'Rebbi' when mentioned in the
Talmud
Talmud
The Talmud is a central text of mainstream Judaism. It takes the form of a record of rabbinic discussions pertaining to Jewish law, ethics, philosophy, customs and history....
is a reference to the redactor of the Mishna, Rabbi Yehudah Hanasi.