 Rapid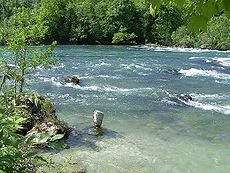 A
rapid
is a section of a
river
River
A river is a natural watercourse, usually freshwater, flowing towards an ocean, a lake, a sea, or another river. In a few cases, a river simply flows into the ground or dries up completely before reaching another body of water. Small rivers may also be called by several other names, including...
where the river bed has a relatively steep
gradient
Stream gradient
Stream gradient is the grade measured by the ratio of drop in a stream per unit distance, usually expressed as feet per mile or metres per kilometre.-Hydrology and geology:A high gradient indicates a steep slope and rapid flow of water Stream gradient is the grade (slope) measured by the ratio of...
causing an increase in water
velocity
Velocity
In physics, velocity is speed in a given direction. Speed describes only how fast an object is moving, whereas velocity gives both the speed and direction of the object's motion. To have a constant velocity, an object must have a constant speed and motion in a constant direction. Constant ...
and
turbulence
Turbulence
In fluid dynamics, turbulence or turbulent flow is a flow regime characterized by chaotic and stochastic property changes. This includes low momentum diffusion, high momentum convection, and rapid variation of pressure and velocity in space and time...
. A rapid is a
hydrological
Hydrology
Hydrology is the study of the movement, distribution, and quality of water on Earth and other planets, including the hydrologic cycle, water resources and environmental watershed sustainability...
feature between a
run
(a smoothly flowing part of a
stream
Stream
A stream is a body of water with a current, confined within a bed and stream banks. Depending on its locale or certain characteristics, a stream may be referred to as a branch, brook, beck, burn, creek, "crick", gill , kill, lick, rill, river, syke, bayou, rivulet, streamage, wash, run or...
) and a
cascade
. A rapid is characterised by the river becoming shallower and having some
rock
Rock (geology)
In geology, rock or stone is a naturally occurring solid aggregate of minerals and/or mineraloids.The Earth's outer solid layer, the lithosphere, is made of rock. In general rocks are of three types, namely, igneous, sedimentary, and metamorphic...
s exposed above the flow surface. As flowing water splashes over and around the rocks, air bubbles become mixed in with it and portions of the surface acquire a white colour, forming what is called "
whitewater
Whitewater
Whitewater is formed in a rapid, when a river's gradient increases enough to disturb its laminar flow and create turbulence, i.e. form a bubbly, or aerated and unstable current; the frothy water appears white...
". Rapids occur where the
bed material
Stream bed
A stream bed is the channel bottom of a stream, river or creek; the physical confine of the normal water flow. The lateral confines or channel margins, during all but flood stage, are known as the stream banks or river banks. In fact, a flood occurs when a stream overflows its banks and flows onto...
is highly resistant to the erosive power of the stream in comparison with the bed downstream of the rapids. Very young streams flowing across solid rock may be rapids for much of their length.
Rapids are categorized in
classes
International Scale of River Difficulty
The International Scale of River Difficulty is a standardized scale used to rate the safety of a stretch of river, or a single rapid. The grade reflects the technical difficulty and skill level required associated with the section of river...
, generally running from I to VI. A Class 5 rapid may be categorized as Class 5.1-5.9. While class I rapids are easy to negotiate and require no maneuvering, class VI rapids pose threat to life with little or no chance for rescue.
See also