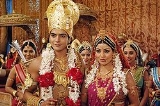 Ramayan (2008 TV series)
Ramayan
, based on
Valmiki
Valmiki
Valmiki is celebrated as the poet harbinger in Sanskrit literature. He is the author of the epic Ramayana, based on the attribution in the text of the epic itself. He is revered as the Adi Kavi, which means First Poet, for he discovered the first śloka i.e...
's
Ramayana
Ramayana
The Ramayana is an ancient Sanskrit epic. It is ascribed to the Hindu sage Valmiki and forms an important part of the Hindu canon , considered to be itihāsa. The Ramayana is one of the two great epics of India and Nepal, the other being the Mahabharata...
and
Tulsidas
Tulsidas
Tulsidas , was a Hindu poet-saint, reformer and philosopher renowned for his devotion for the god Rama...
's
Ramcharitmanas
, as well as Chakbasta's
Urdu Ramayana
, is an Indian television series produced by Sagar Arts which airs on
NDTV Imagine
NDTV Imagine
Imagine TV is a Hindi general entertainment channel, owned by Turner Broadcasting System based in Mumbai.- History :The channel was established by NDTV Group under the stewardship of former STAR India CEO Sameer Nair. The channel, was launched in India on January 21, 2008 as NDTV Imagine...
. It is also partly derived from portions of Kambar's
Kambaramayanam
Kambaramayanam
Ramavataram , popularly referred to as Kamba Ramayanam , is a Tamil epic that was written by Kamban during the 12th century. Based on Valmiki's Ramayana in Sanskrit, the story describes the life of King Rama of Ayodhya...
.
It is a remake of the highly successful
Ramayan
Ramayan (TV series)
Ramayan is a highly successful Indian television series created, written, and directed by Ramanand Sagar. The 78-episode series originally aired weekly on Doordarshan from January 25, 1987, to July 31, 1988, on Sundays at 9:30 a.m...
that was created, written, and directed by
Ramanand Sagar
Ramanand Sagar
Ramanand Sagar was an Indian film director. He is most famous for making the extremely popular Ramayan television series, a television adaptation of the ancient Indian epic of the same name, starring Arun Govil as Lord Ram and Deepika Chikhalia as Sita.Sagar was born at Asal Guru-Ke near Lahore...
and which aired on
Doordarshan
DoorDarshan
Doordarshan is an Indian public service broadcaster, a division of Prasar Bharati. It is one of the largest broadcasting organizations in India in terms of the infrastructure of studios and transmitters. Recently, it has also started Digital Terrestrial Transmitters. On September 15, 2009,...
from 1987 to 1988.
The show won the "Most Promising New Show of the Year" award at theIndiantelevision.com's New Talent Awards.
Such a lovely face... - Tekken 5

My pleasure. - Tekken 5

I don't have time to play games with you. - Tekken 5

What an utter disappointment. - Tekken 5

You Bitch! Ergh! Ergh! - Tekken 5

Oooh, baby! - Tekken 3

Come and get me! - Tekken 5

Let's get this over with. - Tekken 5

You're sure? You're sure you wanna fight me? - Tekken 5

Don't hold anything back! - Tekken 5