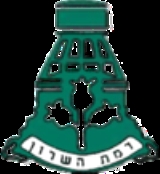 Ramat Hasharon
Ramat HaSharon
is a city located on
Israel
Israel
The State of Israel is a parliamentary republic located in the Middle East, along the eastern shore of the Mediterranean Sea...
's central coastal strip in the south of the
Sharon
Sharon, Israel
The Sharon Plain is the northern half of the coastal plain of Israel. Its largest city is Netanya.The Plain lies between the Mediterranean Sea to the west and the Samarian Hills, to the east. It stretches from Haifa and Mount Carmel in the north to the Yarkon River in the south, at the edge of...
region, bordering
Tel Aviv
Tel Aviv
Tel Aviv , officially Tel Aviv-Yafo , is the second most populous city in Israel, with a population of 404,400 on a land area of . The city is located on the Israeli Mediterranean coastline in west-central Israel. It is the largest and most populous city in the metropolitan area of Gush Dan, with...
to the south and
Herzliya
Herzliya
Herzliya is a city in the central coast of Israel, at the western part of the Tel Aviv District. It has a population of 87,000 residents. Named after Theodor Herzl, the founder of modern Zionism, Herzliya covers an area of 26 km²...
and
Kibbutz Glil Yam
Glil Yam
Glil Yam is a kibbutz in central Israel. Located in the Sharon plain between Ramat HaSharon and Herzliya, it falls under the jurisdiction of Hof HaSharon Regional Council. In 2006 it had a population of 327....
to the north. It is part of the
Tel Aviv District
Tel Aviv District
The Tel Aviv District is the smallest and most densely populated of six administrative districts of Israel with a population of 1.2 million residents...
, within
Gush Dan
Gush Dan
The Tel Aviv Metropolitan Area , or Gush Dan , is a metropolitan area including areas from both the Tel Aviv and the Central Districts of Israel. The area is closely linked to the city of Tel Aviv through social, economic, and cultural ties. It is located along the Israeli Mediterranean coastline...
metropolitan area. In 2009, the city had a population of 40,600.
History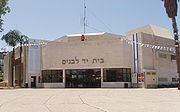 Ramat HaSharon, originally
Ir Shalom
, was a
moshava
Moshava
A moshava , plural: Moshavot is a form of rural settlement in Israel.In a moshava, as opposed to communal settlements like the kibbutz and the moshav, all the land and property are privately-owned. The first moshavot, described as "colonies" in professional literature, were established by...
established in 1923 by olim from Poland. It was built on 2,000 dunams (2 square kilometre (0.77220431718507 sq mi)) of land purchased for 5 Egyptian pounds per dunam. In the
1931 census
1931 census of Palestine
The 1931 census of Palestine was the second census carried out by the authorities of the British Mandate of Palestine. It was carried out on 18 November 1931 under the direction of Major E. Mills. The first census had been conducted in 1922...
, the village had a population of 312.
In 1932, the city was renamed Kfar Ramat HaSharon (Heights of Sharon village). By 1950, the population was up to 900. Rapid population growth in the 1960s and 70s led to construction of many new roadways, schools and parks. Several distinct neighborhood evolved in the 1970s, including Morasha on the southern edge, one with many military and air force personnel in the eastern edge, and many successful professionals moved into the developing city. Ramat HaSharon became a highly desirable place to live in the 1980s as a very safe place, containing many gardens and wide boulevards, and attracting many upper middle class suburban families.
Economy
Until the 1960s, it was primarily a farming community, known for its strawberry fields and citrus groves. Ramat HaSharon is also home to
Israel Military Industries
Israel Military Industries
Israel Weapons Industries , formerly the "Magen" division of the Israel Military Industries Ltd. is an Israeli firearms manufacturer. In 2005, the Small Arms Division of IMI was privatized....
, the manufacturer of weapons and small arms for the
Israel Defense Forces
Israel Defense Forces
The Israel Defense Forces , commonly known in Israel by the Hebrew acronym Tzahal , are the military forces of the State of Israel. They consist of the ground forces, air force and navy. It is the sole military wing of the Israeli security forces, and has no civilian jurisdiction within Israel...
and the world market.
Education
Ramat Hasharon has six elementary schools, two middle schools and two high schools. HaMidrasha, an art teachers training college, and Rimon School of Jazz and Contemporary Music are located in the city.
Sports
Ramat HaSharon is home to the
Israel Tennis Center
Israel Tennis Centers
Israel Tennis Centers is the largest tennis program for children in the world, reaching more than 350,000 families—5% of the Israeli population...
, founded in 1975, which hosts and organizes international, national and regional tennis tournaments. Along with tennis facilities, which include 24 illuminated courts, and stands which seat up to 4,500 spectators, the central management of the organization, which manages 13 other tennis centers around the country, is located in the town. It also is home to Canada Stadium, where most
Davis Cup
Davis Cup
The Davis Cup is the premier international team event in men's tennis. It is run by the International Tennis Federation and is contested between teams of players from competing countries in a knock-out format. The competition began in 1900 as a challenge between Britain and the United States. By...
and other significant Israeli matches have been played since the mid-1970s.
Electra Ramat HaSharon, is the city's women basketball team, one of the leading teams in the Israeli league and a former European champion.
The city's football team, Hapoel Ramat HaSharon, plays in
Ligat Ha'al
Ligat ha'Al
The Israeli Premier League is an Israeli professional league for association football clubs. At the top of the Israeli football league system, it is the country's primary football competition. Contested by 16 clubs, it operates on a system of promotion and relegation with Liga Leumit. Seasons run...
, the premiere league of
Israeli football
Football in Israel
Football is the most popular sport in Israel. Football as an organised sport first developed in the United Kingdom who controlled Israel during the days of the British Mandate. Israel will be hosting the UEFA U-21 Championship in 2013....
.
"Alumim", one of the city's junior high schools, has won many trophies in sports, especially for achievements in
track and field
Track and field
Track and field is a sport comprising various competitive athletic contests based around the activities of running, jumping and throwing. The name of the sport derives from the venue for the competitions: a stadium which features an oval running track surrounding a grassy area...
.
Notable residents
Chava Alberstein

Chava Alberstein

Chava Alberstein is an Israeli singer, lyricist, composer, and musical arranger.-Biography:Chava Alberstein, born in Szczecin, Poland, moved to Israel with her family in 1950. She grew up in Kiryat Haim....


, singer, lyricist, composer, and musical arranger
Haim Bar-Lev, Israel Defense Forces Chief of Staff and government minister
Mike Burstyn, American actor
Shay Doron

Shay Doron

Shay Doron is an Israeli professional basketball player in the Israeli league. She plays for Elitzur Ramla.-Biography:Doron was born in Ramat Hasharon, Israel, to Yehuda and Tamari Doron...


, WNBA basketball guard (New York Liberty

New York Liberty

The New York Liberty is a professional basketball team based in New York City, playing in the Eastern Conference in the Women's National Basketball Association . The team was one of the eight original franchises of the league...


)
Dubi Gal
Yehoram Gaon

Yehoram Gaon

Yehoram Gaon is a Jewish Israeli singer, actor, director, producer, TV and radio host, and public figure...


, singer, actor, director, producer, and TV and radio host
Gidi Gov

Gidi Gov

Gidi Gov , is an Israeli singer, TV host, entertainer and actor.Gov is married to playwright Anat Gov, with whom he has three children.- Early life :...


, singer, TV host, entertainer, and actor
Rami Kleinstein

Rami Kleinstein

-Biography:Rami Kleinstein was born in New York. He moved to Israel with his family in 1970. As a child, he studied piano and classical music. In 1988, he married the Israeli singer Rita, with whom he performed as a duo during their military service in the early 1980s. Kleinstein subsequently...


, singer and composer
Amos Mansdorf

Amos Mansdorf

Amos Mansdorf is a former professional tennis player.His best singles world ranking of 18 was the highest ever for any male, Israeli tennis player, reached in November 1987. His best doubles world ranking was 67, reached in May 1986.-Early life:...


, tennis player
Haim Moshe

Haim Moshe

Haim Moshe born 1956)is an Israeli singer whose musical style has crossed over from Yemenite and Mediterranean "ethnic" music to include mainstream Israeli and western pop elements. He has helped Mizrahi music achieve wide popularityboth in Israel...


, singer
Orna Ostfeld

Orna Ostfeld

Orna Ostfeld is an Israeli former basketball player and current basketball coach.-Early life and non-basketball activities :Ostfeld is Jewish, and was born in Jerusalem, Israel....


, basketball player and coach
Svika Pick

Svika Pick

Svika Pick is an Israeli pop singer and composer.-Biography:Henrik Zvi Pick was born in Wrocław, Poland. He studied music at the Conservatory of Ramat Gan and started to perform at the age of 15.Pick was married to Israeli songwriter Mirit Shem-Or...


, singer and composer
Haim Ramon

Haim Ramon

Haim Ramon is an Israeli politician who served as a member of the Knesset between 1983 and 2009, and as both Vice Prime Minister and Minister in the Prime Minister's Office with responsibility for state policy.-Biography:...


, member of the Knesset and Vice Prime Minister
Rita, singer and actress
Dudu Topaz

Dudu Topaz

Dudu Topaz was an Israeli TV personality, comedian, actor, screenwriter, playwright, author and radio and television host. In August 2009 he committed suicide during his arrest, after being criminally charged with conspiring violence against prominent media figures in Israel.In 2005, he was voted...


, comedian, actor, author, and TV and radio host
Ezer Weizman

Ezer Weizman

' was the seventh President of Israel, first elected in 1993 and re-elected in 1998. Before the presidency, Weizman was commander of the Israeli Air Force and Minister of Defense.-Biography:...


, commander of the Israeli Air Force, Minister of Defense, and President of Israel
Eli Yatzpan

Eli Yatzpan

Eliyahu Yatzpan is an Israeli television host and comedian, best known as the host of the Channel 3 late-night talk show/variety show Yatzpan between 2001 and 2006.-Early life:...


, TV host and comedian
Rehavam Zeevi

Rehavam Zeevi

' 20 June 1926 - 17 October 2001) was an Israeli general, politician, and historian who founded the right-wing nationalist Moledet party, mainly advocating population transfer....


, general, politician, and historian
Naor Zion

Naor Zion

Naor Zion is an Israeli comedian, actor, writer and director. Zion was the creator, head writer and an actor for the Israeli sitcom television series "Naor's Friends".- Biography :...


, comedian, actor, writer and director
Twin towns
Ramat HaSharon is
twinned
Town twinning
Twin towns and sister cities are two of many terms used to describe the cooperative agreements between towns, cities, and even counties in geographically and politically distinct areas to promote cultural and commercial ties.- Terminology :...
with: Tallahassee,
Florida
Florida
Florida is a state in the southeastern United States, located on the nation's Atlantic and Gulf coasts. It is bordered to the west by the Gulf of Mexico, to the north by Alabama and Georgia and to the east by the Atlantic Ocean. With a population of 18,801,310 as measured by the 2010 census, it...
Georgsmarienhütte
Georgsmarienhütte
Georgsmarienhütte is a town in the district of Osnabrück, in Lower Saxony, Germany. It is situated in the Teutoburg Forest, approx. 7 km south of Osnabrück.- History :...
, Germany
Dunkirk
, France
Saint-Maur-des-Fossés
Saint-Maur-des-Fossés
Saint-Maur-des-Fossés is a commune in the southeastern suburbs of Paris, France. It is located 11.7 km. from the center of Paris.-The abbey:...
, France
External links