 Ralph Johnstone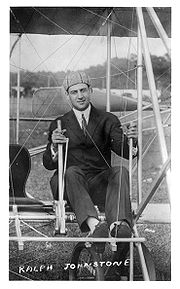 Ralph Johnstone
was a pioneering early aviator who died in a crash.
Biography
He was born in
Kansas City, Missouri
Kansas City, Missouri
Kansas City, Missouri is the largest city in the U.S. state of Missouri and is the anchor city of the Kansas City Metropolitan Area, the second largest metropolitan area in Missouri. It encompasses in parts of Jackson, Clay, Cass, and Platte counties...
in 1886. He started as a
vaudeville
Vaudeville
Vaudeville was a theatrical genre of variety entertainment in the United States and Canada from the early 1880s until the early 1930s. Each performance was made up of a series of separate, unrelated acts grouped together on a common bill...
trick bicycle rider. With a signature finale of performing a mid-air forward somersault. He became a
Wright exhibition team
Wright Exhibition Team
The Wright Exhibition Team was a group of early aviators trained by the Wright brothers at Wright Flying School in Montgomery, Alabama in March 1910.-History:The group was formed in 1910 at the suggestion of Augustus Roy Knabenshue....
pilot. He and
Archibald Hoxsey
Archibald Hoxsey
Archibald Hoxsey was an aviator for the Wright brothers.-Biography:He was born in Staunton, Illinois on October 15, 1884. He moved with his parents to Pasadena, California and by 1909-1910 his mechanical ability led to a meeting with the Wright Brothers...
were known as the "heavenly twins" for their attempts to break altitude records. On October 27, 1910, the International Aviation Tournament was at the
Belmont Park
Belmont Park
Belmont Park is a major thoroughbred horse-racing facility located in Elmont in the Town of Hempstead in Nassau County, New York, on Long Island adjoining New York City. It first opened on May 4, 1905...
race track in
Elmont, New York
Elmont, New York
Elmont is an unincorporated census-designated place located in the northwest corner of the Town of Hempstead in Nassau County, New York, along its border with the borough of Queens in New York City...
. The meet offered $3,750 for the highest altitude, another $1,000 for a world record and a $5,000 bonus for exceeding 10,000 feet. Johnstone set a new American
flight altitude record
Flight altitude record
These are the records set for going the highest in the atmosphere from the age of ballooning onward. Some records are certified by Fédération Aéronautique Internationale.-Fixed-wing aircraft:-Piston-driven propeller aeroplane:...
of 8,471. feet.
http://www.newsday.com/community/guide/lihistory/ny-past1031,0,6229656.story?coll=ny-lihistory-navigation
During the flight, a gust of wind forced him to fly backwards, and he landed near
Artist Lake
Artist Lake
Artist Lake is a glacial kettle hole lake located in Middle Island, New York south of Middle Country Road in central Long Island.Artist Lake holds a diverse warm water fish community including largemouth bass and pickerel...
in
Middle Island, New York
Middle Island, New York
Middle Island is a hamlet in Suffolk County, New York, United States. The population was 9,702 at the 2000 census. It is situated between the towns of Coram and Ridge, to the west and east, respectively, and Rocky Point and Yaphank to the north and south...
. A New York State Historic Plaque commemorating the event can be found at the lake along
New York State Route 25
New York State Route 25
New York State Route 25 is an east–west state highway in downstate New York in the United States. The route extends for just over from east midtown Manhattan in New York City to the Cross Sound Ferry terminal at Orient Point on the end of Long Island's North Fork...
in Middle Island. On the ground Ralph was pals with Hoxsey and rival Curtiss team member Eugene Ely.

He was the first of the Wright team to die. He was in a crash after he failed to recover from a dive in Denver on November 17, 1910. Surviving Ralph were his wife and two young children.
External links