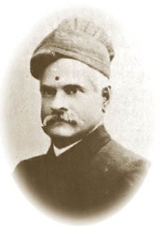 Raja Ravi Varma
Raja Ravi Varma
(April 29, 1848 - October 2, 1906) was an
India
India
India , officially the Republic of India , is a country in South Asia. It is the seventh-largest country by geographical area, the second-most populous country with over 1.2 billion people, and the most populous democracy in the world...
n
painter
Painting
Painting is the practice of applying paint, pigment, color or other medium to a surface . The application of the medium is commonly applied to the base with a brush but other objects can be used. In art, the term painting describes both the act and the result of the action. However, painting is...
from the
princely state
Princely state
A Princely State was a nominally sovereign entitity of British rule in India that was not directly governed by the British, but rather by an Indian ruler under a form of indirect rule such as suzerainty or paramountcy.-British relationship with the Princely States:India under the British Raj ...
of
Travancore
Travancore
Kingdom of Travancore was a former Hindu feudal kingdom and Indian Princely State with its capital at Padmanabhapuram or Trivandrum ruled by the Travancore Royal Family. The Kingdom of Travancore comprised most of modern day southern Kerala, Kanyakumari district, and the southernmost parts of...
who achieved recognition for his depiction of scenes from the
epics
Epic poetry
An epic is a lengthy narrative poem, ordinarily concerning a serious subject containing details of heroic deeds and events significant to a culture or nation. Oral poetry may qualify as an epic, and Albert Lord and Milman Parry have argued that classical epics were fundamentally an oral poetic form...
of the
Mahabharata
Mahabharata
The Mahabharata is one of the two major Sanskrit epics of ancient India and Nepal, the other being the Ramayana. The epic is part of itihasa....
and
Ramayana
Ramayana
The Ramayana is an ancient Sanskrit epic. It is ascribed to the Hindu sage Valmiki and forms an important part of the Hindu canon , considered to be itihāsa. The Ramayana is one of the two great epics of India and Nepal, the other being the Mahabharata...
. His paintings are considered to be among the best examples of the fusion of Indian traditions with the techniques of European
academic art
Academic art
Academic art is a style of painting and sculpture produced under the influence of European academies of art. Specifically, academic art is the art and artists influenced by the standards of the French Académie des Beaux-Arts, which practiced under the movements of Neoclassicism and Romanticism,...
.
Varma is most remembered for his paintings of beautiful
sari
Sari
A sari or sareeThe name of the garment in various regional languages include: , , , , , , , , , , , , , is a strip of unstitched cloth, worn by females, ranging from four to nine metres in length that is draped over the body in various styles. It is popular in India, Bangladesh, Nepal,...
-clad women, who were portrayed as shapely and graceful.