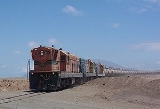 Rail transport in Bolivia
The
Bolivia

Bolivia

Bolivia officially known as Plurinational State of Bolivia , is a landlocked country in central South America. It is the poorest country in South America...


n rail network
has had a peculiar development throughout its history, owing to losses of land, prestige and credit rating due to the failure of the
War of the Pacific
War of the Pacific
The War of the Pacific took place in western South America from 1879 through 1883. Chile fought against Bolivia and Peru. Despite cooperation among the three nations in the war against Spain, disputes soon arose over the mineral-rich Peruvian provinces of Tarapaca, Tacna, and Arica, and the...
, railway development came late to Bolivia. The demand for mineral wealth and communication to the inland city of
La Paz
La Paz
Nuestra Señora de La Paz is the administrative capital of Bolivia, as well as the departmental capital of the La Paz Department, and the second largest city in the country after Santa Cruz de la Sierra...
, encouraged capitalists, mainly British, to build railways. However, into this mix came the experience of railway building in adjacent
Peru
Peru
Peru , officially the Republic of Peru , is a country in western South America. It is bordered on the north by Ecuador and Colombia, on the east by Brazil, on the southeast by Bolivia, on the south by Chile, and on the west by the Pacific Ocean....
, whereby overbuilding of
standard gauge
Standard gauge
The standard gauge is a widely-used track gauge . Approximately 60% of the world's existing railway lines are built to this gauge...
line across the high
Andes
Andes
The Andes is the world's longest continental mountain range. It is a continual range of highlands along the western coast of South America. This range is about long, about to wide , and of an average height of about .Along its length, the Andes is split into several ranges, which are separated...
meant that Peru went bankrupt.
Lines were built to furnish the nitrate deposits at
Arica
Arica
Arica is a city in northern Chile. "Arica" may also refer to:Places* Arica and Parinacota Region, Chile* Arica Airport , Chile* Arica, Amazonas, town in Colombia* Rio Aricá-açu, tributary of the Cuiabá River south of Cuiabá, BrazilOther...
, and later at
Antofagasta
Antofagasta
Antofagasta is a port city in northern Chile, about north of Santiago. It is the capital of Antofagasta Province and Antofagasta Region. According to the 2002 census, the city has a population of 296,905...
.
In a world where there is so much to be done, I felt strongly impressed that there must be something for me to do." -wikipedia:Dorothea Dix|Dorothea Dix