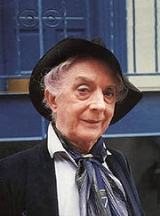 Quentin Crisp
Quentin Crisp
was an English writer and raconteur. He became a
gay icon
Gay icon
A gay icon is a public figure who is embraced by many within :lesbian, :gay, :bisexual and :transgender communities...
in the 1970s after publication of his memoir,
The Naked Civil Servant
The Naked Civil Servant (book)
The Naked Civil Servant is the first volume of an autobiography by the gay icon Quentin Crisp. It was later turned into a TV movie starring John Hurt, which was also titled The Naked Civil Servant....
.
Denis Charles Pratt
was born in
Sutton
Sutton, London
Sutton is a large suburban town in southwest London, England, and the administrative headquarters of the London Borough of Sutton. It is located south-southwest of Charing Cross and is one of the major metropolitan centres identified in the London Plan. The town was connected to central London by...
, Surrey, the fourth child of solicitor Spencer Charles Pratt (1871–1931) and former governess Frances Marion Pratt (née Phillips) (1873–1960); he changed his name to Quentin Crisp in his third decade after leaving home and cultivating his outlandishly effeminate appearance to a standard that both shocked contemporary Londoners and provoked
homophobic
Homophobia
Homophobia is a term used to refer to a range of negative attitudes and feelings towards lesbian, gay and in some cases bisexual, transgender people and behavior, although these are usually covered under other terms such as biphobia and transphobia. Definitions refer to irrational fear, with the...
attacks.
By his own account, Crisp was effeminate in behaviour from an early age and found himself the object of teasing at Kingswood Preparatory School in
Epsom
Epsom
Epsom is a town in the borough of Epsom and Ewell in Surrey, England. Small parts of Epsom are in the Borough of Reigate and Banstead. The town is located south-south-west of Charing Cross, within the Greater London Urban Area. The town lies on the chalk downland of Epsom Downs.-History:Epsom lies...
, from where he won a scholarship to
Denstone College
Denstone College
Denstone College is an independent, coeducational boarding school in Denstone,Staffordshire, England and a member school of the Headmasters' and Headmistresses' Conference. It is also a Woodard school and as such has a strong Anglo-Catholic tradition. It has continued to show impressive academic...
,
Uttoxeter
Uttoxeter
Uttoxeter is a historic market town in Staffordshire, in the West Midlands region of England. The current population is approximately 13,711, though new developments in the town will increase this figure. Uttoxeter lies close to the River Dove and is near the cities of Stoke-on-Trent, Derby and...
, in 1922.
Keeping up with the Joneses was a full-time job with my mother and father. It was not until many years later when I lived alone that I realized how much cheaper it was to drag the Joneses down to my level.

Ch. 1
The rest of the world in which I lived was still stumbling about in search of a weapon with which to exterminate this monster [homosexuality] whose shape and size were not yet known or even guessed at. It was thought to be Greek in origin, smaller than socialism but more deadly, especially to children.

Ch. 3
Exhibitionism is like a drug. Hooked in adolescence I was now taking doses so massive they would have killed a novice.

Ch. 7
Sometimes I wore a fringe so deep it obscured the way ahead. This hardly mattered. There were always others to look where I was going.

Ch. 7
To my disappointment I now realized that to know all is not to forgive all. It is to despise everybody.

Ch. 11
I started to shed the monstrous aesthetic affectation of my youth so as to make room for the monstrous philistine postures of middle age, but it was some years before I was bold enough to decline an invitation to "Hamlet" on the grounds that I knew who won.

Ch. 12
I acquiesced in this on the grounds that the most anyone can expect from a holiday is a change of agony.

Ch. 12
As someone remarked, when told the new atomic bombs would explode without a bang, "they can't leave anything alone."

Ch. 13
The distinction between indoors and outdoors, which in England is usually so marked, was temporarily suspended in a hot gauzy haze.

Ch. 13
The proprietor had hair so red that pigmentation had flowed out into every visible inch of his skin and even into the pinks of his eyes, as the colour of flowering cherry trees stains their leaves.

Ch. 13