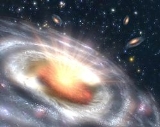 Quasar
A
quasi-stellar radio source
(
"quasar"
) is a very energetic and distant
active galactic nucleus
Active galactic nucleus
An active galactic nucleus is a compact region at the centre of a galaxy that has a much higher than normal luminosity over at least some portion, and possibly all, of the electromagnetic spectrum. Such excess emission has been observed in the radio, infrared, optical, ultra-violet, X-ray and...
. Quasars are extremely luminous and were first identified as being high
redshift
Redshift
In physics , redshift happens when light seen coming from an object is proportionally increased in wavelength, or shifted to the red end of the spectrum...
sources of electromagnetic energy, including
radio waves
Radio frequency
Radio frequency is a rate of oscillation in the range of about 3 kHz to 300 GHz, which corresponds to the frequency of radio waves, and the alternating currents which carry radio signals...
and
visible light
Visible spectrum
The visible spectrum is the portion of the electromagnetic spectrum that is visible to the human eye. Electromagnetic radiation in this range of wavelengths is called visible light or simply light. A typical human eye will respond to wavelengths from about 390 to 750 nm. In terms of...
, that were point-like, similar to
star
Star
A star is a massive, luminous sphere of plasma held together by gravity. At the end of its lifetime, a star can also contain a proportion of degenerate matter. The nearest star to Earth is the Sun, which is the source of most of the energy on Earth...
s, rather than extended sources similar to
galaxies
Galaxy
A galaxy is a massive, gravitationally bound system that consists of stars and stellar remnants, an interstellar medium of gas and dust, and an important but poorly understood component tentatively dubbed dark matter. The word galaxy is derived from the Greek galaxias , literally "milky", a...
.
While the nature of these objects was controversial until as recently as the early 1980s, there is now a
scientific consensus
Scientific consensus
Scientific consensus is the collective judgment, position, and opinion of the community of scientists in a particular field of study. Consensus implies general agreement, though not necessarily unanimity. Scientific consensus is not by itself a scientific argument, and it is not part of the...
that a quasar is a compact region in the center of a massive galaxy surrounding its central
supermassive black hole
Supermassive black hole
A supermassive black hole is the largest type of black hole in a galaxy, in the order of hundreds of thousands to billions of solar masses. Most, and possibly all galaxies, including the Milky Way, are believed to contain supermassive black holes at their centers.Supermassive black holes have...
.