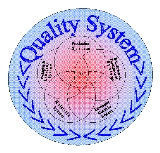 Quality management system
A
quality management system
(QMS) can be expressed as the organizational structure, procedures, processes and resources needed to implement
quality management
Quality management
The term Quality management has a specific meaning within many business sectors. This specific definition, which does not aim to assure 'good quality' by the more general definition , can be considered to have four main components: quality planning, quality control, quality assurance and quality...
.
Organizational structure
Responsibilities
Methods
Data Management
Processes
Resources
Customer Satisfaction
Continuous Improvement
Product Quality
Maintenance
The concept of quality as we think of it now first emerged out of the
Industrial Revolution
Industrial Revolution
The Industrial Revolution was a period from the 18th to the 19th century where major changes in agriculture, manufacturing, mining, transportation, and technology had a profound effect on the social, economic and cultural conditions of the times...
.