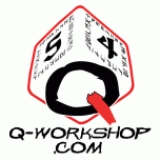 Q-workshop
Q-workshop
is a
Polish
Poland
Poland , officially the Republic of Poland , is a country in Central Europe bordered by Germany to the west; the Czech Republic and Slovakia to the south; Ukraine, Belarus and Lithuania to the east; and the Baltic Sea and Kaliningrad Oblast, a Russian exclave, to the north...
company located in
Poznań
Poznan
Poznań is a city on the Warta river in west-central Poland, with a population of 556,022 in June 2009. It is among the oldest cities in Poland, and was one of the most important centres in the early Polish state, whose first rulers were buried at Poznań's cathedral. It is sometimes claimed to be...
that specializes in design
and production of
polyhedral
Polyhedron
In elementary geometry a polyhedron is a geometric solid in three dimensions with flat faces and straight edges...
dice
Dice
A die is a small throwable object with multiple resting positions, used for generating random numbers...
and dice accessories for use in various games (
role-playing game
Role-playing game
A role-playing game is a game in which players assume the roles of characters in a fictional setting. Players take responsibility for acting out these roles within a narrative, either through literal acting, or through a process of structured decision-making or character development...
s,
board game
Board game
A board game is a game which involves counters or pieces being moved on a pre-marked surface or "board", according to a set of rules. Games may be based on pure strategy, chance or a mixture of the two, and usually have a goal which a player aims to achieve...
s and tabletop
wargame
Wargaming
A wargame is a strategy game that deals with military operations of various types, real or fictional. Wargaming is the hobby dedicated to the play of such games, which can also be called conflict simulations, or consims for short. When used professionally to study warfare, it is generally known as...
s). They also run an
online retail store
Online shop
Online shopping is the process whereby consumers directly buy goods or services from a seller in real-time, without an intermediary service, over the Internet. It is a form of electronic commerce...
and maintain
an active
forum
Internet forum
An Internet forum, or message board, is an online discussion site where people can hold conversations in the form of posted messages. They differ from chat rooms in that messages are at least temporarily archived...
community.
Q-workshop was established in 2001 by Patryk Strzelewicz – a student from Poznań. Initially,
the company sold its products via online
auction
Auction
An auction is a process of buying and selling goods or services by offering them up for bid, taking bids, and then selling the item to the highest bidder...
services, but in 2005 a website and online store were
established.
A friend is a person with whom I may be sincere. Before him, I may think aloud.

Ralph Waldo Emerson, in "Friendship" in Essays, First series (1841)
Faithful are the wounds of a friend, But deceitful are the kisses of an enemy.

The Bible, Proverbs 27:6 (NASB)
A friendship that can be ended didn't ever start.

Mellin de Saint-Gelais, Oeuvres poétiques
A friend in need is a friend indeed.

Scots proverb, as published in Beauties of Allan Ramsay: Being a Selection of the Most Admired Pieces of that Celebrated Author, viz. The Gentle Shepherd; Christ's Kirk on the Green; The Monk, and the Miller's Wife; with his valuable collection of Scots Proverbs (1815), "Scots Proverbs" Ch. 1; also quoted in Pure Morning|Pure Morning, a song by Placebo|Placebo.
A friend loves at all times, and kinsfolk are born to share adversity.

The Bible, Proverbs 17:17 (NRSV)
A man of many companions may come to ruin, but there is a friend who sticks closer than a brother.

Proverbs 18:24, The Bible (New International Version)
It is amazing how you can surround yourself with so many people you can call friends, and yet actually only have one or two real ones.

Jerry Grant Blakeney
Each friend represents a world in us, a world possibly not born until they arrive, and it is only by this meeting that a new world is born.

Anaïs Nin, Diary entry, March 1937
A faithful friend is a sturdy shelter;he who finds one finds a treasure.A faithful friend is beyond price,no sum can balance his worth.

Sirach 6:14-15 (The New American Bible)
Friendship is not for merriment but for stern reproach when friends go astray.

Tiruvalluvar, Tirukkural: 784