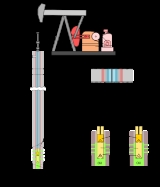 Pumpjack
A
pumpjack
is the overground drive for a reciprocating piston
pump
Pump
A pump is a device used to move fluids, such as liquids, gases or slurries.A pump displaces a volume by physical or mechanical action. Pumps fall into three major groups: direct lift, displacement, and gravity pumps...
in an
oil well
Oil well
An oil well is a general term for any boring through the earth's surface that is designed to find and acquire petroleum oil hydrocarbons. Usually some natural gas is produced along with the oil. A well that is designed to produce mainly or only gas may be termed a gas well.-History:The earliest...
.
It is used to mechanically lift liquid out of the well if there is not enough bottom hole pressure for the liquid to flow all the way to the surface. The arrangement is commonly used for onshore wells producing little oil. Pumpjacks are common in
oil-rich areas
Oil field
An oil field is a region with an abundance of oil wells extracting petroleum from below ground. Because the oil reservoirs typically extend over a large area, possibly several hundred kilometres across, full exploitation entails multiple wells scattered across the area...
.
Depending on the size of the pump, it generally produces 5 to 40 litres of liquid at each stroke.