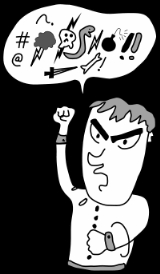 Profanity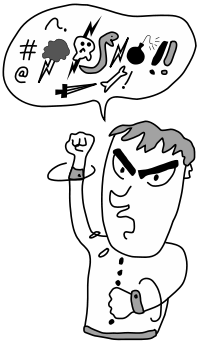 Profanity
is a show of disrespect, or a desecration or debasement of someone or something. Profanity can take the form of words, expressions, gestures, or other
social behavior
Social behavior
In physics, physiology and sociology, social behavior is behavior directed towards society, or taking place between, members of the same species. Behavior such as predation which involves members of different species is not social...
s that are socially constructed or interpreted as
insult
Insult
An insult is an expression, statement which is considered degrading and offensive. Insults may be intentional or accidental...
ing,
rude
Rude
Rude has many meanings:Behavior*Rudeness, disrespect for and failure to behave within the context of a society or a group of people's social laws or etiquettePeople*François Rude , a French sculptor...
,
vulgar
VULGAR
Vulgar is the fourth studio album released by Dir En Grey on September 10, 2003 in Japan and on February 21, 2006 in Europe. A limited edition containing an additional DVD was also released. It featured the video of the song "Obscure", albeit a censored version...
,
obscene
Obscenity
An obscenity is any statement or act which strongly offends the prevalent morality of the time, is a profanity, or is otherwise taboo, indecent, abhorrent, or disgusting, or is especially inauspicious...
, desecrating, or other forms.
The original meaning of the adjective profane (Latin: "in front of", "outside the temple") referred to items not belonging to the church, e.g., "The fort is the oldest profane building in the town, but the local monastery is older, and is the oldest building," or "besides designing churches, he also designed many profane buildings". Over time, the meaning has changed.
Statistics
Analyses of recorded conversations reveal that roughly 80–90 spoken words each day – 0.5% to 0.7% of all words – are swear words, with usage varying from between 0% to 3.4%. In comparison, first-person plural pronouns (we, us, our) make up 1% of spoken words.
As blasphemy
The original meaning of the term was restricted to
blasphemy
Blasphemy
Blasphemy is irreverence towards religious or holy persons or things. Some countries have laws to punish blasphemy, while others have laws to give recourse to those who are offended by blasphemy...
,
sacrilege
Sacrilege
Sacrilege is the violation or injurious treatment of a sacred object. In a less proper sense, any transgression against the virtue of religion would be a sacrilege. It can come in the form of irreverence to sacred persons, places, and things...
or saying God's name (or an identifier such as "
Lord
Lord
Lord is a title with various meanings. It can denote a prince or a feudal superior . The title today is mostly used in connection with the peerage of the United Kingdom or its predecessor countries, although some users of the title do not themselves hold peerages, and use it 'by courtesy'...
" or "
God
God
God is the English name given to a singular being in theistic and deistic religions who is either the sole deity in monotheism, or a single deity in polytheism....
") in
vain
Vanity
In conventional parlance, vanity is the excessive belief in one's own abilities or attractiveness to others. Prior to the 14th century it did not have such narcissistic undertones, and merely meant futility. The related term vainglory is now often seen as an archaic synonym for vanity, but...
. Profanity represented secular indifference to religion or religious figures, while blasphemy was a more offensive attack on religion and religious figures, considered
sin
Sin
In religion, sin is the violation or deviation of an eternal divine law or standard. The term sin may also refer to the state of having committed such a violation. Christians believe the moral code of conduct is decreed by God In religion, sin (also called peccancy) is the violation or deviation...
ful, and a direct violation of The Ten Commandments.
Profanities in the original meaning of
blasphemous profanity
are part of the ancient tradition of the comic cults, which laughed and scoffed at the deity or deities. An example from
Gargantua and Pantagruel
Gargantua and Pantagruel
The Life of Gargantua and of Pantagruel is a connected series of five novels written in the 16th century by François Rabelais. It is the story of two giants, a father and his son and their adventures, written in an amusing, extravagant, satirical vein...
is "Christ, look ye, its
Mere de
...
merde
... shit, Mother of God."
Research into swearing
Swearing and cursing are modes of speech existing in all human languages. They perform certain social and psychological functions, and utilize particular linguistic and neurological mechanisms; all these are avenues of research. Functionally similar behavior can be observed in chimpanzees, and may contribute to our understanding, notes New York Time author Natalie Angier.
Angier also notes that swearing is a widespread but perhaps underappreciated anger management technique; that "men generally curse more than women, unless said women are in a sorority, and that university provosts swear more than librarians or the staff members of the university day care center"; and that linguistic research has shown that the physiological reactions of individuals who are proud of their education are similar between exposure to obscene words and exposure to bad grammar.
Profane language is by no means a recent phenomenon. The Bible sometimes uses strong language, such as mention of men who "eat their own dung, and drink their own piss" in the Authorized King James Version of 1611's close translation of Hebrew text of 2 Kings 18:27. Shakespeare is replete with vulgarisms, though many are no longer readily recognized. Even the oldest traces of human writing include swear words.
Keele University
Keele University
Keele University is a campus university near Newcastle-under-Lyme in Staffordshire, England. Founded in 1949 as an experimental college dedicated to a broad curriculum and interdisciplinary study, Keele is most notable for pioneering the dual honours degree in Britain...
researchers Stephens, Atkins, and Kingston found that swearing relieves the effects of physical pain. Stephens said "I would advise people, if they hurt themselves, to swear".
However, the overuse of swear words tends to diminish this effect. The team earned themselves the
Ig Nobel Peace Prize
Ig Nobel Prize
The Ig Nobel Prizes are an American parody of the Nobel Prizes and are given each year in early October for ten unusual or trivial achievements in scientific research. The stated aim of the prizes is to "first make people laugh, and then make them think"...
in 2010 for the research.
Swearing in the workplace (UK)
In the United Kingdom, swearing in the workplace can be an act of gross misconduct under certain circumstances. In particular, this is the case when swearing accompanies insubordination against a superior or humiliation of an inferior employee. However, in other cases it may not be grounds for instant dismissal. According to a UK site on work etiquette, the "fact that swearing is a part of everyday life means that we need to navigate a way through a day in the office without offending anyone, while still appreciating that people do swear. Of course, there are different types of swearing and, without spelling it out, you really ought to avoid the 'worst words' regardless of who you're talking to". With respect to swearing between colleagues, the site explains that "[a]lthough it may sound strange, the appropriateness [of] swearing [...] is influenced largely by the industry you are in and the individuals you work with". The site continues to explain that, even in a workplace in which swearing is the norm, there is no need to participate in it. The site stresses that swearing is, in generally, more problematic in asymmetric situations, such as in the presence of senior management or clients, but it also mentions that a "holier than thou" attitude towards clients may be problematic.
The Guardian
The Guardian
The Guardian, formerly known as The Manchester Guardian , is a British national daily newspaper in the Berliner format...
reported that "36% of the 308 UK senior managers and directors having responded to a survey accepted swearing as part of workplace culture", but warned about specific inappropriate uses of swearing such as when it is discriminatory or part of bullying behaviour. The article ends with a quotation from Ben Wilmott (Chartered Institute of Personnel and Development): "Employers can ensure professional language in the workplace by having a well drafted policy on bullying and harassment that emphasises how bad language has potential to amount to
harassment
Harassment
Harassment covers a wide range of behaviors of an offensive nature. It is commonly understood as behaviour intended to disturb or upset, and it is characteristically repetitive. In the legal sense, it is intentional behaviour which is found threatening or disturbing...
or bullying."
Severity
The relative severity of various British profanities, as perceived by the public, was studied on behalf of the British
Broadcasting Standards Commission
Ofcom
Ofcom is the government-approved regulatory authority for the broadcasting and telecommunications industries in the United Kingdom. Ofcom was initially established by the Office of Communications Act 2002. It received its full authority from the Communications Act 2003...
,
Independent Television Commission
Independent Television Commission
The Independent Television Commission licensed and regulated commercial television services in the United Kingdom between 1 January 1991 and 28 December 2003....
, BBC and
Advertising Standards Authority
Advertising Standards Authority (United Kingdom)
The Advertising Standards Authority is the self-regulatory organisation of the advertising industry in the United Kingdom. The ASA is a non-statutory organisation and so cannot interpret or enforce legislation. However, its code of advertising practice broadly reflects legislation in many instances...
; the results of this jointly commissioned research were published in December 2000 in a paper called
"Delete expletives?"
. It listed the profanities in order of decreasing severity.
A similar survey was carried out in 2009 by New Zealand's
Broadcasting Standards Authority
Broadcasting Standards Authority
The Broadcasting Standards Authority is a New Zealand Crown Entity created by the Broadcasting Act 1989 to develop and uphold standards of broadcasting for radio, free-to-air and pay television.The main functions of the BSA are:...
. The results were published in March 2010, in a report called
"What Not to Swear"
. According to the Authority, the findings "measured how acceptable the public finds the use of swear words, blasphemies, and other expletives in broadcasting".
Notable instances in popular culture
See also
Blasphemy

Blasphemy

Blasphemy is irreverence towards religious or holy persons or things. Some countries have laws to punish blasphemy, while others have laws to give recourse to those who are offended by blasphemy...



Bleep censor

Bleep censor

A bleep censor is the replacement of profanity or classified information with a beep sound , in television or radio...



Damnation

Damnation

Damnation is the concept of everlasting divine punishment and/or disgrace, especially the punishment for sin as threatened by God . A damned being "in damnation" is said to be either in Hell, or living in a state wherein they are divorced from Heaven and/or in a state of disgrace from God's favor...



English profanity (category)
Minced oath

Minced oath

A minced oath is an expression based on a profanity or a taboo term that has been altered to reduce the objectionable characteristics.Many languages have such expressions...



Obscenity

Obscenity

An obscenity is any statement or act which strongly offends the prevalent morality of the time, is a profanity, or is otherwise taboo, indecent, abhorrent, or disgusting, or is especially inauspicious...



Profanum

Profanum

Profanum is the Latin word for "profane." Central to the social reality of major western religion is the distinction made by Émile Durkheim between the sacred and the profane....



Profanity in Science Fiction

Profanity in science fiction

Profanity in science fiction shares all of the issues of profanity in fiction in general, but has several unique aspects of its own, including the use of alien profanities .- The level of profanity in SF :In his advice to other SF writers,...



Seven Dirty Words

Seven dirty words

The seven dirty words are seven English language words that American comedian George Carlin first listed in 1972 in his monologue "Seven Words You Can Never Say on Television". The words include: shit, piss, fuck, cunt, cocksucker, motherfucker, and tits...



Swear filter

Swear filter

A swear filter, also known as a profanity filter or language filter is a software subsystem which modifies text to remove words deemed offensive by the administrator or community of an online forum. Swear filters are common in custom-programmed chat rooms and online video games, primarily MMORPGs...



Verbal abuse

Verbal abuse

Verbal abuse is best described as a negative defining statement told to you or about you; or by withholding any response thus defining the target as non-existant...



Other languages
Profanity by language (category)
Profanity in American Sign Language
Dutch profanity

Dutch profanity

Dutch profanity can be divided into several categories. Often, the words used in profanity are based around various names for diseases. In many cases, these words have evolved into slang, and many euphemisms for diseases are in common use....



Esperanto profanity

Esperanto profanity

Esperanto profanity is the profane or indecent vocabulary of Esperanto. Some profane words in Esperanto were formulated out of the core vocabulary established in this constructed language; or by giving specific profane or indecent senses to regularly formed Esperanto words...



Finnish profanity

Finnish profanity

Many Finns frequently use profanity in everyday speech even though their culture is considered more high context. While not all Finns swear, frequent swearing is a mark of youth culture...



Italian profanity

Italian profanity

Italian profanity refers to a set of words considered blasphemous or inflammatory in the Italian language....



Latin profanity

Latin profanity

Latin profanity is the profane, indecent, or impolite vocabulary of Latin, and its uses. The profane vocabulary of early Vulgar Latin was largely sexual and scatological: the abundance of religious profanity found in some of the Romance languages is a Christian development, and as such does not...



Spanish profanity

Spanish profanity

This article is a summary of Spanish profanity, referred to in the Spanish language as lenguaje soez , maldiciones , malas palabras , insultos , vulgaridades , juramentos , palabrotas , tacos , palabras sucias ,...



External links