 Prinz-Carl-Palais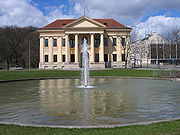 The
Prinz Carl Palais
in
Munich
Munich
Munich The city's motto is "" . Before 2006, it was "Weltstadt mit Herz" . Its native name, , is derived from the Old High German Munichen, meaning "by the monks' place". The city's name derives from the monks of the Benedictine order who founded the city; hence the monk depicted on the city's coat...
is a mansion built in the style of early
Neoclassicism
Neoclassicism
Neoclassicism is the name given to Western movements in the decorative and visual arts, literature, theatre, music, and architecture that draw inspiration from the "classical" art and culture of Ancient Greece or Ancient Rome...
in 1804-1806. It was also known as the
Palais Salabert
and the
Palais Royal
, after its former owners.
The Prinz-Carl-Palais was planned in 1803 by the young architect
Karl von Fischer
Karl von Fischer
Karl [Carl] von Fischer was a German architect. His drafts had enormous influence on the architecture of classicism in South Germany....
for Abbé Pierre de Salabert, a former teacher of King Maximilian I Joseph of Bavaria. On the death of the Abbé Salabert in 1807, Maximilian I Joseph acquired the building. After his death in 1825, his son,
Ludwig I
Ludwig I of Bavaria
Ludwig I was a German king of Bavaria from 1825 until the 1848 revolutions in the German states.-Crown prince:...
, gave the building to his brother
Prince Carl
Prince Karl Theodor of Bavaria
Prince Karl Theodor of Bavaria was a member of the Wittelsbach dynasty. He was the second son and fifth child of Maximilian I Joseph of Bavaria and Augusta Wilhelmine of Hesse-Darmstadt .Prince Karl joined the Bavarian Army and rose to be Field Marshal in 1841...
. He ordered Jean-Baptiste Métevier and Anton Schwanthaler to decorate the rooms. After Carl's death the Palais served as Diplomatic mission for Austria-Hungary from 1876 onwards before it became a residence for the
Bavarian Prime Ministers
in 1924.