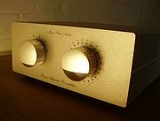 Preamplifier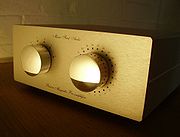 A
preamplifier
is an
electronic amplifier
Electronic amplifier
An electronic amplifier is a device for increasing the power of a signal.It does this by taking energy from a power supply and controlling the output to match the input signal shape but with a larger amplitude...
that prepares a small electrical signal for further amplification or processing. A preamplifier is often placed close to the
sensor
Sensor
A sensor is a device that measures a physical quantity and converts it into a signal which can be read by an observer or by an instrument. For example, a mercury-in-glass thermometer converts the measured temperature into expansion and contraction of a liquid which can be read on a calibrated...
to reduce the effects of
noise
Noise (electronics)
Electronic noise is a random fluctuation in an electrical signal, a characteristic of all electronic circuits. Noise generated by electronic devices varies greatly, as it can be produced by several different effects...
and
interference
Electromagnetic interference
Electromagnetic interference is disturbance that affects an electrical circuit due to either electromagnetic induction or electromagnetic radiation emitted from an external source. The disturbance may interrupt, obstruct, or otherwise degrade or limit the effective performance of the circuit...
. It is used to boost the signal strength to drive the cable to the main instrument without significantly degrading the
signal-to-noise ratio
Signal-to-noise ratio
Signal-to-noise ratio is a measure used in science and engineering that compares the level of a desired signal to the level of background noise. It is defined as the ratio of signal power to the noise power. A ratio higher than 1:1 indicates more signal than noise...
(SNR). The noise performance of a preamplifier is critical; according to Friss' formula, when the gain of the preamplifier is high, the SNR of the final signal is determined by the SNR of the input signal and the
noise figure
Noise figure
Noise figure is a measure of degradation of the signal-to-noise ratio , caused by components in a radio frequency signal chain. The noise figure is defined as the ratio of the output noise power of a device to the portion thereof attributable to thermal noise in the input termination at standard...
of the preamplifier.
Description
In general, the function of a preamplifier is to
amplify
Amplifier
Generally, an amplifier or simply amp, is a device for increasing the power of a signal.In popular use, the term usually describes an electronic amplifier, in which the input "signal" is usually a voltage or a current. In audio applications, amplifiers drive the loudspeakers used in PA systems to...
a low-level signal to line-level.
A list of common low-level signal sources would include a pickup,
microphone
Microphone
A microphone is an acoustic-to-electric transducer or sensor that converts sound into an electrical signal. In 1877, Emile Berliner invented the first microphone used as a telephone voice transmitter...
,
turntable
Phonograph
The phonograph record player, or gramophone is a device introduced in 1877 that has had continued common use for reproducing sound recordings, although when first developed, the phonograph was used to both record and reproduce sounds...
or other transducers.
Equalization
Equalization (audio)
Equalization is the process commonly used in sound recording and reproduction to alter the frequency response of an audio system using linear filters. Most hi-fi equipment uses relatively simple filters to make bass and treble adjustments. Graphic and parametric equalizers have much more...
and tone control may also be applied.
In a home audio system, the term 'preamplifier' may sometimes be used to describe equipment which merely
switch
Switch
In electronics, a switch is an electrical component that can break an electrical circuit, interrupting the current or diverting it from one conductor to another....
es between different
line level
Line level
Line level is a term used to denote the strength of an audio signal used to transmit analog sound between audio components such as CD and DVD players, TVs, audio amplifiers, and mixing consoles, and sometimes MP3 players....
sources and applies a
volume control
Attenuation
In physics, attenuation is the gradual loss in intensity of any kind of flux through a medium. For instance, sunlight is attenuated by dark glasses, X-rays are attenuated by lead, and light and sound are attenuated by water.In electrical engineering and telecommunications, attenuation affects the...
, so that no actual amplification may be involved. In an audio system, the second amplifier is typically a power amplifier (power amp). The preamplifier provides
voltage
Voltage
Voltage, otherwise known as electrical potential difference or electric tension is the difference in electric potential between two points — or the difference in electric potential energy per unit charge between two points...
gain (e.g. from 10 millivolts to 1 volt) but no significant
current
Electric current
Electric current is a flow of electric charge through a medium.This charge is typically carried by moving electrons in a conductor such as wire...
gain. The power amplifier provides the higher current necessary to drive loudspeakers.
Preamplifiers may be:
incorporated into the housing or chassis of the amplifier they feed
in a separate housing
mounted within or near the signal source, such as a turntable, microphone or musical instrument

Musical instrument

A musical instrument is a device created or adapted for the purpose of making musical sounds. In principle, any object that produces sound can serve as a musical instrument—it is through purpose that the object becomes a musical instrument. The history of musical instruments dates back to the...


.
Examples
External links