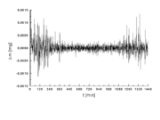 Signal-to-noise ratio
Signal-to-noise ratio
is a measure used in science and engineering that compares the level of a desired signal to the level of background
noise
Noise
In common use, the word noise means any unwanted sound. In both analog and digital electronics, noise is random unwanted perturbation to a wanted signal; it is called noise as a generalisation of the acoustic noise heard when listening to a weak radio transmission with significant electrical noise...
. It is defined as the ratio of signal power to the noise power. A ratio higher than 1:1 indicates more signal than noise. While SNR is commonly quoted for electrical signals, it can be applied to any form of signal (such as isotope levels in an
ice core
Ice core
An ice core is a core sample that is typically removed from an ice sheet, most commonly from the polar ice caps of Antarctica, Greenland or from high mountain glaciers elsewhere. As the ice forms from the incremental build up of annual layers of snow, lower layers are older than upper, and an ice...
or biochemical signaling between cells).
Signal-to-noise ratio is sometimes used informally to refer to the ratio of useful information to false or irrelevant data in a conversation or exchange.